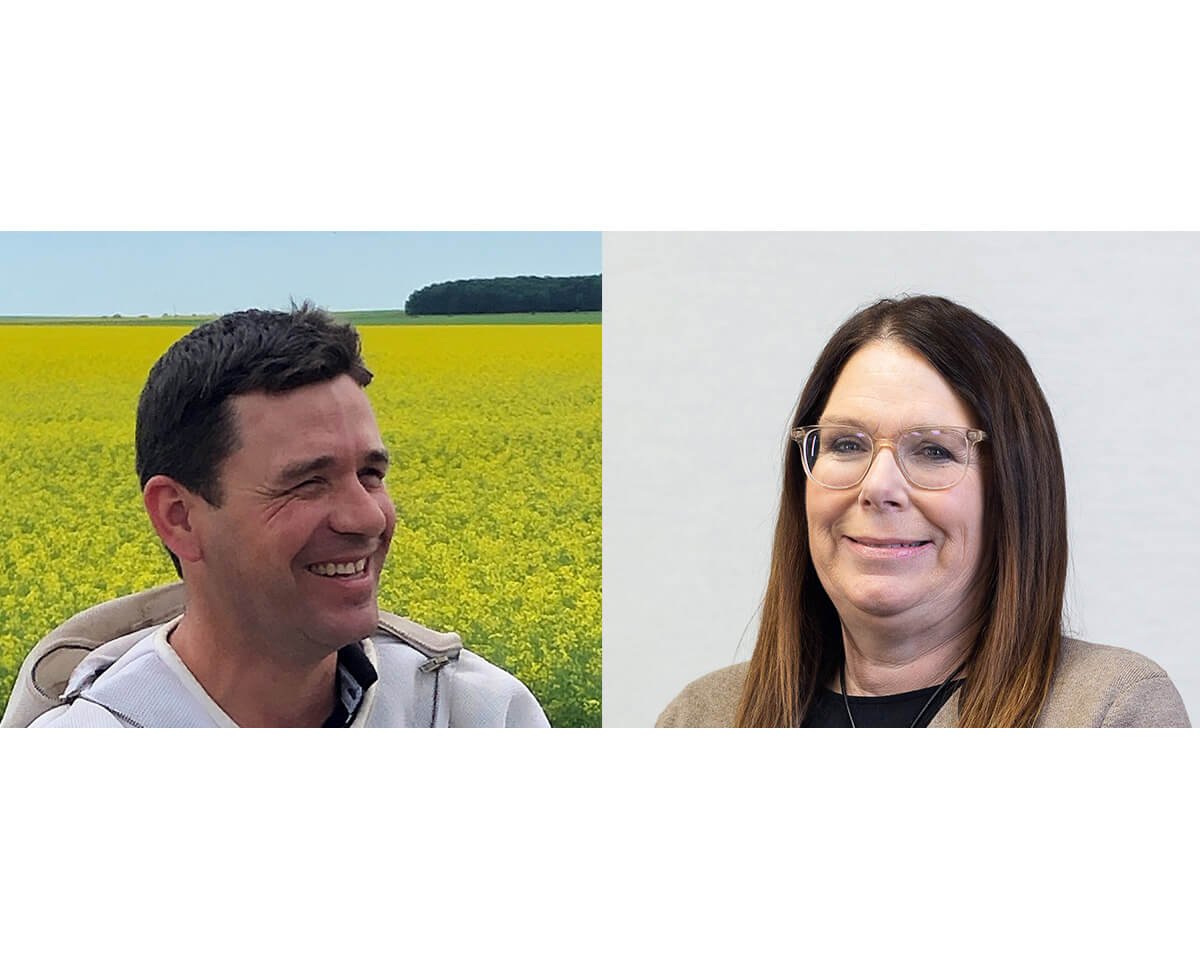 Alumni presented with Certificates of Merit for leadership and service
June 2, 2023 —
Two Faculty of Agricultural and Food Sciences alumni were honoured for their outstanding professional contributions and public service at a celebration held at the University of Manitoba on June 1.
Jill Verwey and Ian Steppler received Certificates of Merit, presented by the Faculty and the School of Agriculture in recognition of leadership with agricultural organizations and outstanding service to the community at large. To date, 90 individuals have been acknowledged for their contributions since the award was first presented in 1981.
Jill Verwey
Jill Verwey was raised on her family's mixed farm northwest of Neepawa, which has been owned and operated by her family for over 147 years. She completed the Diploma in Agriculture program at the University of Manitoba in 1988.
After graduation, Jill spent 13 years in agricultural and commercial lending, before shifting her focus to the multigeneration, family-owned crop, dairy, and beef farm operated by her husband, Ray, and his brothers south of Portage la Prairie, MB. Jill and Ray also raised four children: Rachael, Lindsay, Brice, and Randi.
Jill's main role on the farm is financial management, record keeping, human resources, and acting as the farm's representative in many commodity organizations. That role prompted Jill to join the advisory committee for the Dairy Farmers of Manitoba. With Keystone Agricultural Producers, she began as a district delegate, a member of grains and oilseed committee, and then chair of committees related to finance, livestock, human resource, and rural policy. She was elected to KAP's board of directors and then elected as vice president. In January 2023, Jill became the first woman to be elected as president of KAP.
Through her role as KAP's president, she was elected to the board of the Canadian Federation of Agriculture where she sits as western representative on the board's executive. Jill also was nominated by KAP as grain producer for the Western Grains Research Foundation board of directors, where she is a member of the governance committee and Manitoba's representative on the WGRF executive. Jill supports local agricultural research through the Crop Research Organization of Portage, which is a local not-for-profit organization responsible for local research for its farmer members in Portage area.
Jill has always been an advocate for agriculture. She volunteered with Ag in the Classroom, helped with breakfast programs at local schools, and hosted tours of the Verweys' farm for local school classes and agriculture students from the University of Manitoba. Jill also hosted the general public on their farm during Open Farm Day. Jill and Ray always encouraged their children to participate in their local 4H club, and Jill volunteered as a 4H club leader for many years.
Jill's other community contributions include service on boards to the Portage Curling Club, the Homestead Coop and the Portage General Hospital Foundation. She has also assisted with community fund-raising, beginning with helping to organize a ladies' snowmobile ride for breast cancer awareness for several years. Jill and her Verwey family farm partners also hosted the first "Growing for STARS" fundraising event for STARS Air Ambulance service in Manitoba. The Verwey farm was the first farm to do so and now it continues as an important event for STARS, raising awareness and support for this important service in rural Manitoba.
In 2020, the Verweys' farm was recognized Manitoba's Farm Family of the Year at the Royal Manitoba Winter Fair. Jill was also honored in 2020 with an Excellence in Agriculture Award presented by the Chamber of Commerce in Portage la Prairie for her "outstanding contribution to Agriculture."
Jill has maintained a strong and supportive connection with the University of Manitoba. She serves regularly as a panel member for the Diploma farm management presentations. Three of Jill's and Ray's children have furthered their education in agriculture at the U of M, with Lindsay and Brice completing their Agriculture Diplomas and Rachael completing her B.Sc. in Agriculture.
Ian Steppler
Ian Steppler grew up near Deerwood, MB, on a multi-generational family farm. Ian's grandfather purchased the farm in 1921, and Ian's parents Dan and Pat built a grain and purebred Charolais cattle operation, on which they raised their four sons. Through succession planning and incorporation, the farm was restructured into a large grain, cattle, and beekeeping operation called Steppler Farms, with the brothers each managing different elements.
After high school, Ian graduated from the Diploma in Agriculture program at the University of Manitoba in 1999. His passion for keeping honey bees which got its start from his time as a student in the School of Agriculture. A pivotal decision to take the beekeeping course – as a way to achieve his final two credit hours needed to graduate – led him to purchase four colonies of honey bees in 1999, which turned into over 200 colonies in 2002. He rapidly expanded to the point where he now manages over 1500 colonies as part of Steppler Farms honey operations and is a full-time commercial beekeeper. They produce 400-450 barrels annually, and hire a full time staff member and 5-6 local students every summer season.
His dedication to the beekeeping industry is immense and he has played a transformative role through his many contributions. He has served as Vice President and President of the Manitoba Beekeepers Association (MBA), guiding the industry through difficult issues related to colony losses, as well as bee and labour shortages. He is also leading new initiatives that will serve the industry going forward. For example, as Chair of the MBA research committee, Ian was the driving force behind the establishment of the Knowledge Research Transfer Program (KRTP) a program that will provide extension services to help mitigate future losses of bees as well as conduct demonstration trials that will help to transfer research innovation to use by industry. He now additionally chairs the Steering committee for the KRTP and is overseeing its continuing formation and funding.
He has contributed to service in the broader agricultural community beyond just "bees". For example, in 2022 he was invited to join the Agricultural Advisory Committee established by the then Minister of Agriculture Ralph Eichler to facilitate communication between the government and agricultural commodity organizations. Ian has also served as a director of the Deerwood Watershed Authority. His concerns over environmental stewardship were recognized through the Canadian Federation of Agriculture "Farmer Rancher Pollination Conservation Award" in 2020. Steppler Farms was also presented with the 2018 Pembina Valley Conservation Award.
Ian has a strong philosophy of giving back by mentoring young farmers and budding beekeepers, and he is extraordinarily generous with his time. He has been a regular final presentation panelist for the School of Agriculture and has also presented to the School's small business classes on several occasions.
He is known as a "rock star" in the bee world. His Canadian Beekeepers Blog on YouTube has over 85,000 subscribers, and his regular videos (he has posted over 1,000) have collectively gained over 30 million views. He is regularly invited to speak at conferences on beekeeping and has done so both live and by video conference at locations in Canada, the United States and Europe where he shares his unique perspectives on the industry.
Ian and wife Sandy currently live with their five children Lori, Michael, April, Charlie, and Lea on the farm.