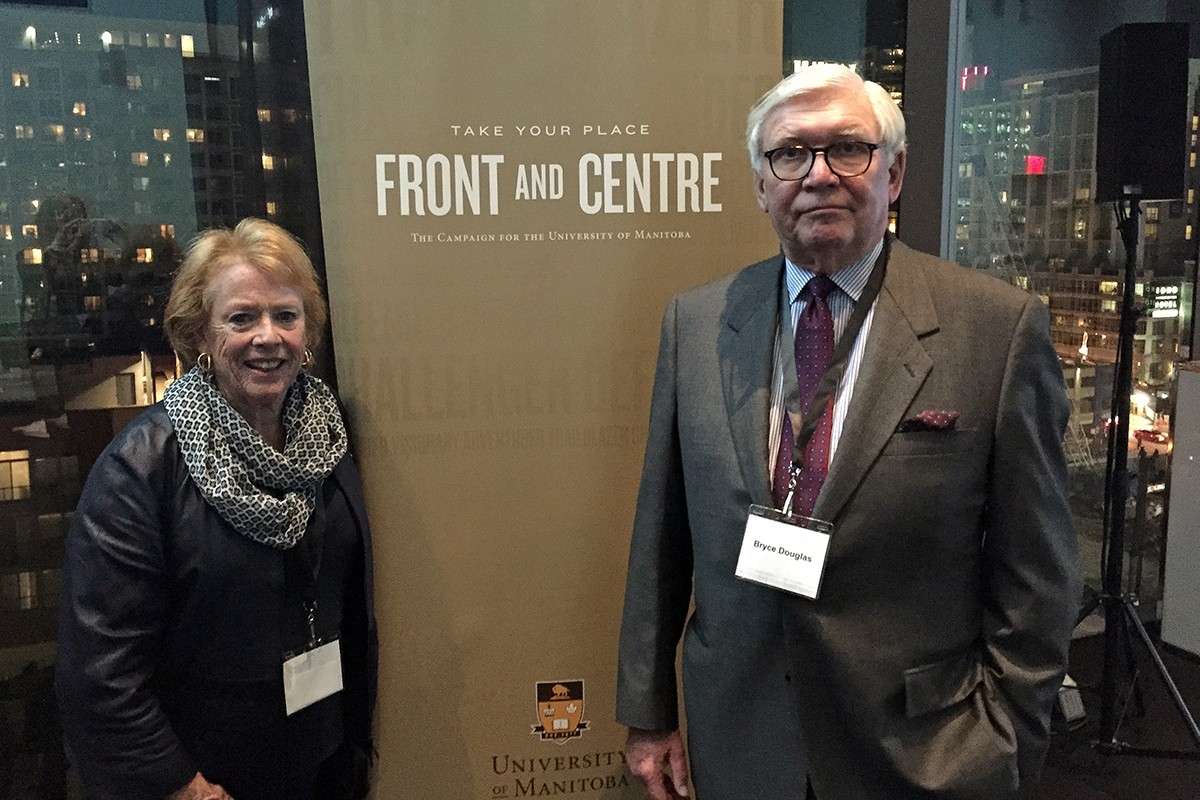 Alumni gather at special reception held in Toronto
November 20, 2015 —
A special alumni reception was held in Toronto yesterday, bringing together nearly 100 University of Manitoba alumni living in the Greater Toronto Area for an evening of stories, music, and one big announcement.
President and Vice-Chancellor David Barnard addressed the group, introduced everyone to Front and Centre: the Campaign for the University of Manitoba, and invited a number of distinguished guests to share their stories.
"I could provide countless examples of U of M trailblazers who are changing the world of business, contributing to our country's artistic and cultural identity, and advancing international research priorities," said Barnard, "but I think it's much more effective to hear it from the experts themselves."
Dr. Jamie Blanchard [MD/86, BSc(Med)/86], professor of Community Health Sciences and Medical Microbiology, and a renowned epidemiologist and public health specialist focusing on global health and the control of HIV/AIDS, discussed how his important research is helping to improve access to health services around the world, and how the U of M is uniquely positioned to lead in the field of Global Public Health.
Chris Couture [BComm/83, CA/86], an Asper School of Business grad, member of the Front and Centre President's Campaign Team, and co-host for the evening shared what it meant for her and her husband Gerry Couture [BES/81, MCP/86] to take a leadership role in the campaign.
The big announcement of the evening came from Bryce Douglas. A pioneer in finance, the former deputy chairman and managing director of RBC Dominion Securities Inc., and one of the country's foremost philanthropic leaders, Douglas discussed what inspired him and his wife Nicki to give $2 million to transform the existing Bryce Douglas Professorship in Finance (which they established in 2002 with a $1 million gift) into an endowed research chair.
"I saw this as an opportunity to invest in tomorrow's business leaders," Douglas said. "It is my hope that this chair will attract the best researchers to join the University of Manitoba's community of innovators, which will enhance the scope and quality of teaching in the Asper School's finance program, and provide students with more opportunities to excel in the corporate world."
"It really has been an incredible couple of months, and I feel privileged to have met and worked with many of the notable donors and community leaders who've taken their place front and centre," Barnard said of the campaign, "donors like Bryce Douglas and his wife Nicki."
To conclude the evening's events, guests were treated to a performance by the accomplished Dr. Marcel Desautels [B.A.(Lat.Ph.)/55, LL.B./59, LL.M./65, LL.D./99], accompanied by Dr. Edmund Dawe, dean of the Desautels Faculty of Music, on piano. A distinguished U of M graduate, national business leader, and the visionary who singlehandedly transformed the Faculty of Music with a $20 million gift, Dr. Desautels also happens to be a passionate and gifted opera singer.
Alumni receptions similar to this one will be held in Calgary on November 26, in Victoria on November 28, and Vancouver on December 7. To learn more about these upcoming events, visit umanitoba.ca/alumni.