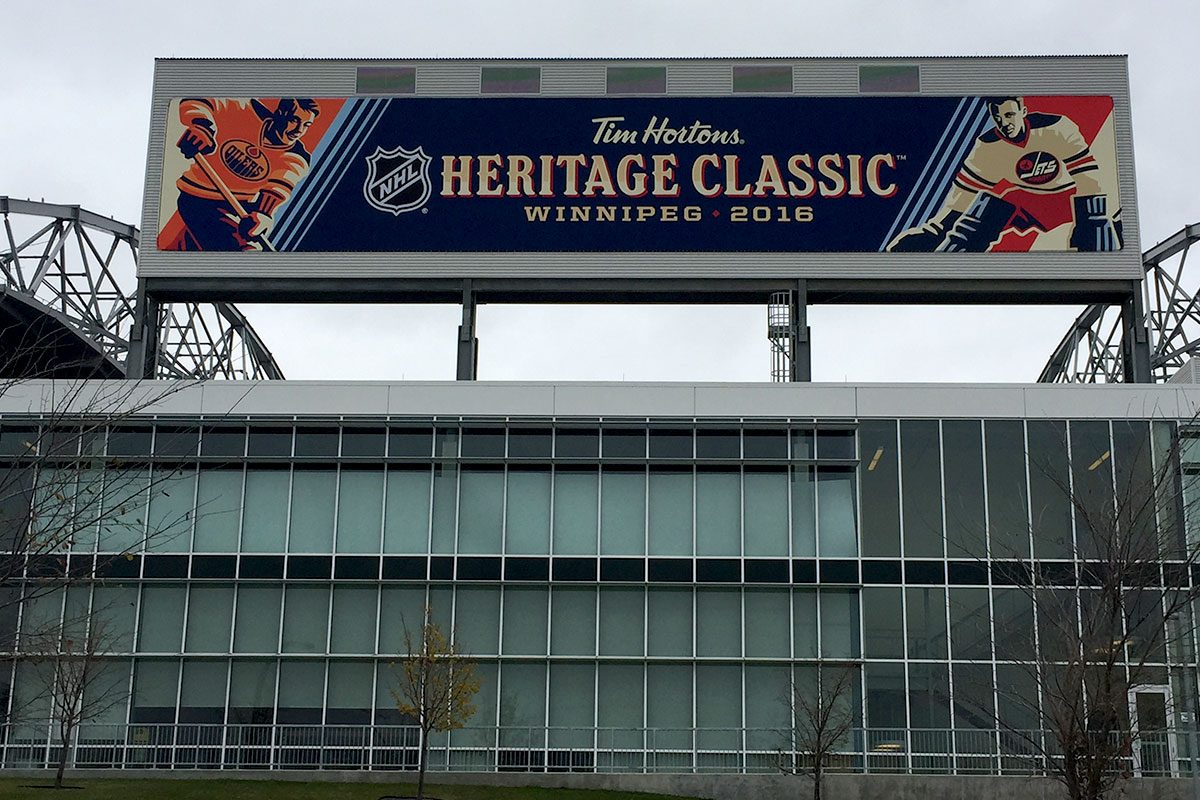 Alumni, faculty contribute behind scenes of star-studded NHL Heritage Classic
October 20, 2016 —
The University of Manitoba will welcome some familiar faces when the Winnipeg Jets take on the Edmonton Oilers in the National Hockey League's Heritage Classic.
The two-day celebration of Manitoba hockey takes place at Fort Garry Campus Oct. 22 and 23. The festivities include two outdoor hockey games played at Investors Group Field and an interactive spectator plaza in U lot (student parking).
While Saturday's event brings together professional hockey legends for a special game between Jets and Oilers alumni (including Teemu Selanne, Dale Hawerchuk, Wayne Gretzky, and Mark Messier), U of M alumni and faculty will be back on campus playing important roles in the NHL match-up on Sunday afternoon.
The Winnipeg Jets have seven training staff, and three are our athletic therapy graduates. Rob Milette [BESS/02]  is Head Athletic Therapist, Bradley Shaw [BESS/04]  is Assistant Athletic Therapist, and Mark Grehan [BESS/04] is in charge of equipment.
"I'm extremely proud of all our graduates," Jacqueline (Jacki) Elliot, an instructor in the Faculty of Kinesiology and Recreation Management, said. "I think the program prepares them very well – especially with the placements we give students — but it's also about how hard they work. These students are extremely motivated individuals. They don't get to this level by just being good."
Half of the team's medical staff are faculty members.
Peter MacDonald, professor of surgery in the Rady Faculty of Health Sciences, is the team's head physician. Also on his team is Anthony Kaufmann, James Dubberley, Greg Stranges, all assistant professors of surgery in the Faculty of Health Science's College of Medicine. Swee Tao, from the department of family medicine, and Lesley Ritchie, clinical health psychology, also help keep the players healthy – mentally and physically.
Further Reading
Jets Head Coach Paul Maurice speaks at the Asper School and tells you to wear the damn tie.
Yell "Go Jets Go!" without damaging your voice with voice coach Mel Braun
David Thomson to receive the Asper School of Business' International Distinguished Entrepreneur Award.