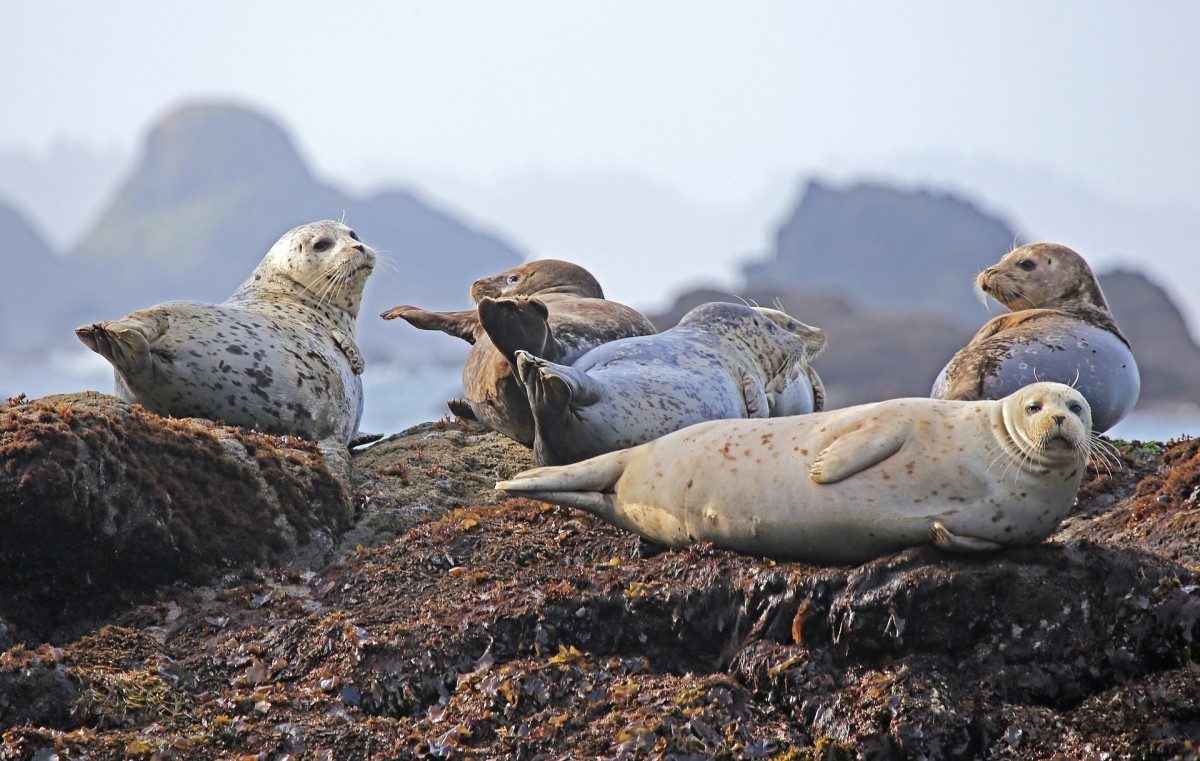 Alumni Abroad: Science to the extreme
What we can learn from some of the cutest animals in the sea?
March 4, 2019 —
Allyson Hindle can tell you a lot about mammals in extreme environments. After all, she is one: a prairie girl ­­­­living in the Nevada desert who can also be found doing scientific research in Antarctica.
Hindle [BSc(Hons)/00, MSc/02] – an assistant professor of biology at the University of Nevada, Las Vegas – studies seals, sea lions, and hibernators who thrive in extreme conditions, in an effort to understand how humans can overcome our own physiological challenges. Earlier this year, she received an Honoured Alumni Award from the U of M's Faculty of Science.
For World Wildlife Day, UM Today spoke to Hindle about what we can learn from some of the cutest animals in the sea.
WINNIPEG IS THE FURTHEST AWAY FROM THE OCEAN AS YOU CAN GET. HOW DID YOU BECOME INTERESTED IN THESE MARINE ANIMALS?
Actually, we have a couple of really iconic diving mammals right at home in Manitoba. I had a chance to begin my studies working with diving muskrats while at the U of M. We have so much water in our province and I suppose I grew up loving our lakes and rivers. Working with marine animals later in my career was not as big a jump you might expect.
HOW DID THE U OF M SHAPE YOUR PATH IN SCIENCE?
U of M was instrumental in allowing me to gain a broad foundation of knowledge. Research was interesting and accessible within my undergrad program. As I moved into a graduate degree, I learned to think about research questions to understand how animals thrive within their ecosystems, using a combination of lab and field approaches. This integrative style of thinking has continued to define my research.
THIS YEAR, WORLD WILDLIFE DAY IS FOCUSING ON MARINE SPECIES TO RAISE AWARENESS OF THEIR IMPORTANCE TO HUMAN DEVELOPMENT. CAN YOU GIVE AN EXAMPLE OF WHAT WE CAN LEARN FROM THEM?
One very interesting thing we have learned is that marine mammals are natural ocean explorers. When you think about it, I guess it is not that surprising! So, instead of traveling around the ocean ourselves taking measurements of water quality and content, some research groups have started to deploy miniaturized ocean monitors onto the backs of seals. These animals then travel to important ocean hotspots, teaching us both where they are and carrying instruments that will collect data about the water conditions there.
AS CLIMATE CHANGE PRODUCES MORE EXTREME CLIMATES AND WEATHER EVENTS, ARE YOU LEARNING ANYTHING THAT COULD HELP HUMANS ADAPT?
One thing that humans do very well is to modify our own environments when conditions are not optimal. That is a really powerful method of adaption. I worry most about how other species all over our planet will be forced to move or adapt. I truly hope that we can address some of these upcoming problems with new, green technologies.
AS SOMEONE WHO'S PARTICIPATED IN ASTRONAUT TRAINING, YOU KNOW THAT SPACE IS ALSO AN INCREDIBLY EXTREME ENVIRONMENT. HAVE YOU LEARNED ANYTHING FROM ANIMALS THAT COULD HELP US IN SPACE ONE DAY?
Absolutely! One example is that hibernating animals can teach us quite a lot about how to survive long-duration spaceflight. These animals seem to be able to resist muscle and bone atrophy while they are dormant throughout the winter. These are difficulties that astronauts face when they are away from Earth's gravity for long periods. If we can understand some of the genetic and physiological strategies of hibernators to protect their bones and muscles, we may get clues that will help to keep astronauts healthy.
YOU CLEARLY KNOW MORE ABOUT MARINE ANIMALS THAN THE AVERAGE PERSON. WHAT OTHER COOL FACTS DO YOU BRING OUT AT PARTIES?
Elephant seals can hold their breath for over two hours. Seals can follow the wake trails of swimming fish using just their whiskers.
WHAT HAS BEEN YOUR MOST MEMORABLE ADVENTURE SO FAR?
I have worked with seals and sea lions from the North Pacific all the way to Antarctica. It's hard to pick just one memorable moment… any experience where you get to just watch the animals do what they do best in their natural environment is pretty special. My most memorable experience is of a species that I wasn't in the field to study. While tracking seals near the edge of the sea ice in Antarctica, a small group of killer whales approached us from the open water. They spy-hopped right up out of the water to get a closer look – they were watching us as much as we were watching them. In hindsight I realize they were likely considering if it was possible to eat us for dinner. I suppose in hindsight it was also a defining moment for me as a developing field leader that taught me a key lesson in taking a measure of the safety of my team. But since no one was eaten in the end, most of what I remember now is how amazing it was to get such a close look at the apex predator of the local ecosystem.