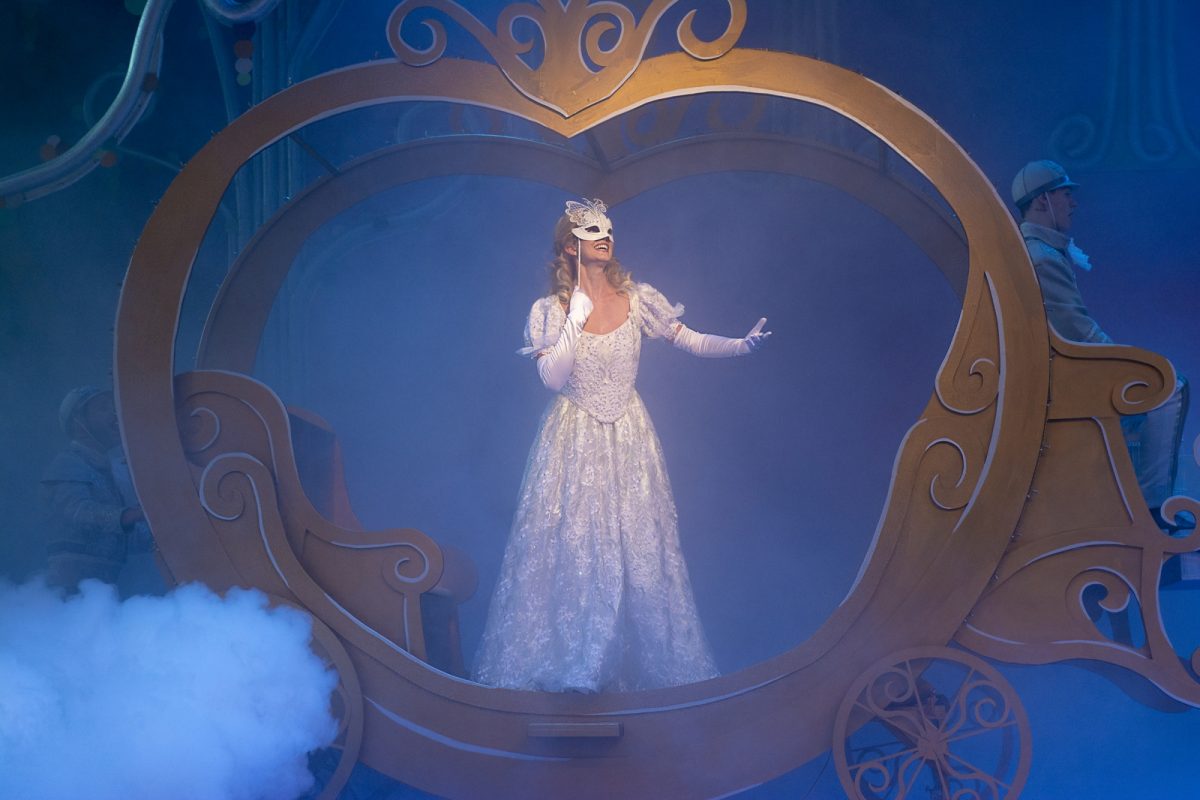 Alumna lands dream role on stage
Colleen Furlan stars as Cinderella in Rainbow Stage's 65th season spectacle
August 13, 2019 —
Colleen Furlan [BMus(Perf)/16] is donning glass slippers as the title character in Rodgers + Hammerstein's Cinderella at Rainbow Stage, August 14-30, 2019. Furlan is no stranger to the company. Her past roles include Ariel in The Little Mermaid, Cosette in Les Misérables and Sister Mary Robert in Sister Act.
UM Today caught up with Furlan to find out about her newest role, and to reflect on her time at the Desautels Faculty of Music.
Where were you when you were offered the role and how did you react?
I was actually on my way to another audition and I decided to look at my email as I was in the elevator of Portage place mall. I called my mom immediately! But I will tell you kind of a fun fact, there's a song called One Headlight by The Wallflowers and it has this lyric about "me and Cinderella" and I opened the door on that lyric after my Cinderella audition!
So this is different than the Disney version, right? How do you take that into consideration and take this iconic character and make it your own?
Cinderella was the first princess that I ever really found out about even before Ariel [from The Little Mermaid]. Cinderella is much more of a leader. She makes her own decisions. She's very courageous and quite fiery. Our show's director, Rob Herriot, has been fantastic to work with. I was so excited because I knew that I was going to learn and grow. Together with him, the script, myself, and working with other cast mates she has really developed into this cool character. It was a challenge to make that happen because I wanted to make sure that came through. She's different from Disney's Cinderella who's mostly left up to fate. She definitely leads her own journey with the help of her friends, the fairy godmother and other characters who inspire her and help her.
Would you consider this a dream role?
Yes, I definitely would! Being in another Rodgers + Hammerstein musical [the first being South Pacific] is really awesome. Cinderella was the first princess I loved. She connects with nature. I love connecting with nature. There's a lot of similarities that I have with her. It's such a privilege to be able to play her.
Tell us about your time at the Desautels Faculty of music.
It's crazy that it's been three years since I graduated. I spent five years in the faculty. Some of my former classmates – Darren Martens [BMus(Perf)/12], Aaron Hutton [BMus(Perf)/11] and Nelson Bettencourt [BMus(Perf)/13] – are now castmates and we were all reflecting on our time there and how wonderful it was. My vocal pedagogy class from Karen Jensen, and being in the University Singers with Elroy Friesen, and Donna Fletcher in the Musical Theatre Ensemble were three of my favorite things. But I love music history so I just really enjoyed being in those classes and being able to get my classical foundation. In all my endeavors the U of M has always been there to cheer me on. Whether it's supporting the online, in person, with interviews, actually showing up to performances. They've been really amazing.
What would your message be to current students and new alumni who wish to follow in your footsteps?
I am a firm believer in education. So for me, I had the opportunity to not continue with my degree, and perform in a show. But I chose to continue university, and I'm really glad that I did. So, keep going when the going gets tough. Don't limit yourself to any different styles and genres. Sometimes it can be difficult because you're really focusing in on certain subjects, or things that have due dates. Try and find time to express your own creativity. Whatever you love, whether it's song-writing or whether it's a different style of music. I kept up my musical theater training while I was in school, and it really benefited me. Don't limit yourself and put the hard work in because it will pay off.
There are so many ups and downs to this career. You're not the only one that's facing them. And I say 'you' as in students and people in the business. This is a really high point for me, but I've had a really hard year and so you just have to really, really take your success and enjoy it when it's there for you.
Do you have any pre-show or opening rituals that you do prior to performing?
I am a person that likes to be very early and prompt. I know exactly what time I need to leave the house. And if I don't, I'll start freaking out! So I need to make sure that I give myself a lot of time. I like to visit my cast mates before we go on stage. We're community and we're a family, so I like to connect with each and every person before performing.
If you, like Cinderella, are granted three wishes that only last until midnight, what would they be?
I would wish for everybody in the world to have one wish that they could grant and have come true. Everybody has that one thing they wish they had or wish they could do, whether it's speaking up or whether it's an item that they want, or a person that they want. So I would I would ask whoever this deity – or Fairy Godmother – may be to give every person one wish.
For the second, I'd probably ask for an unlimited amount of cupcakes one day – because I love them so much and who wouldn't want that!
My third wish would be for me to be able to do my career for the rest of my life without any ailment. I love what I do and I'm always looking forward to the next adventure!
---
Paula Potosky [BMus/04, BEd/04] also performs in Cinderella as Marie. Paul DeGurse [BJazz/12] is the show's music director. For tickets to Cinderella, call the Rainbow Stage box office at 204-988-0888 or visit their website here.