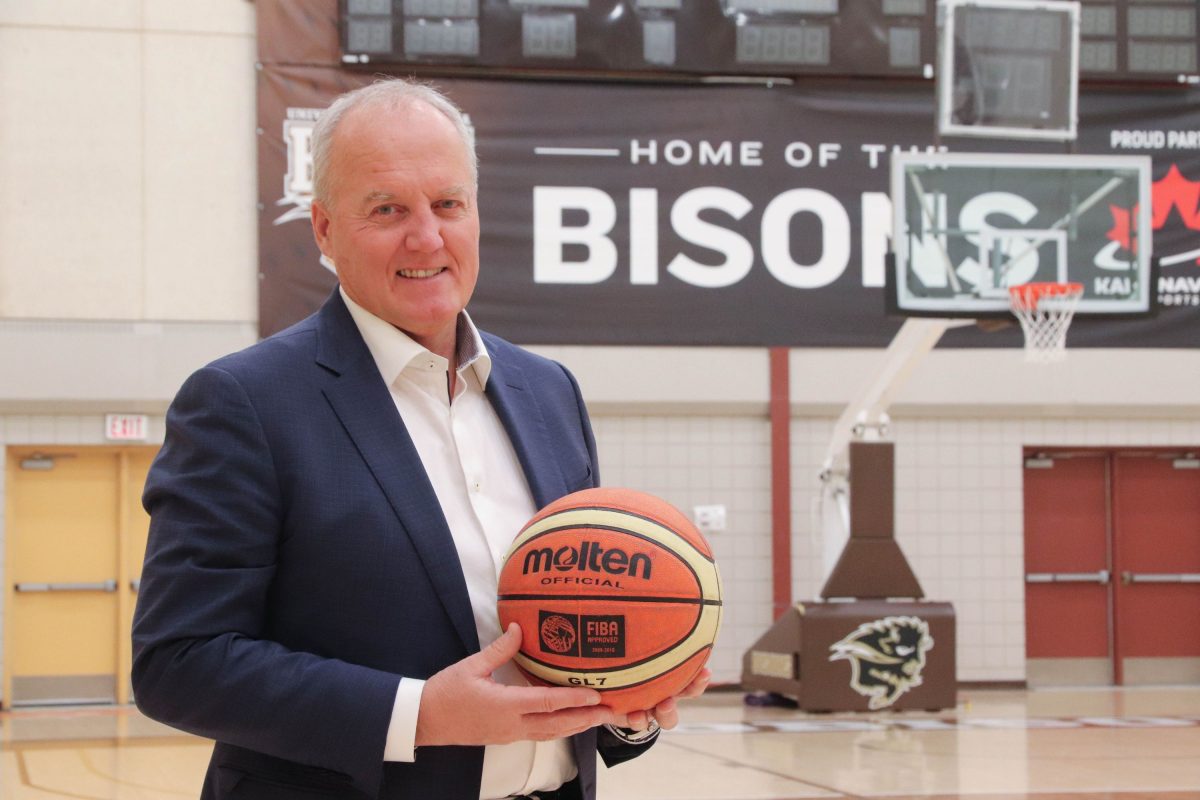 Allan Edie is planting seeds
Faculty of Kinesiology and Recreation Management Alumn Allan Edie, wants to help grow the Bisons program for the next generation of student-athletes
November 6, 2023 —
It's late February 2023, and the Canada West Men's Basketball Championship is in full swing as the Bisons take on the Wesmen inside a sold-out Investors Group Athletic Centre. With packed stands and an electric crowd, the cross-town rivals go blow-for-blow trying to make their shot to play for the conference banner.
In the crowd, Bisons alum Allan Edie is surrounded by Wesmen fans. In the stands, he can spot old teammates, friends, colleagues and former Bisons cheering on homegrown talent on both teams. Perhaps more than anything else he saw that night, Edie saw a vision of the future. A glimpse at what the Bisons could be. A vision he's trying to help make a reality.
"This is what Bisons Sports is, or could be," said Edie. "But if we don't honour that, we could lose it."
Edie knows first-hand the impact and opportunity the Bisons can give someone. Edie was part of the men's volleyball team from 1976-81, securing two national championship titles during his time (1978 and 1980). He said his time with the Bisons influenced him far beyond the lines of the court.
"It's a different venue or a different environment, but the expectations are the same," said Edie, now president of Edie & Associates, a real estate development and property leasing company operating across Canada. "The expected mission is you're going to succeed."
Edie's success off the court has allowed him to help give back to an organization that meant so much to him. He said it was on his fiftieth birthday when he saw other business leaders his age putting on extravagant parties, and he decided to do something more lasting.
"What if we do something that goes into perpetuity?" Edie said. "Set the precedent that this goes past my lifetime."
It's why, in 2008, he contributed $300,000 to an endowment fund for the men's volleyball program, an endowment that has grown past $1.1 million. He also assisted with the women's hockey program, which now has a scholarship fund surpassing $200,000, helping give players, both rural and urban, the opportunity to join the Bisons.
Edie's latest endeavour is with the men's basketball team. He said watching head coach Kirby Schepp and the team lay their hearts on the court during the 2023 Canada West Championship was inspiring, reminding him of his time with the Bisons. Edie has now pledged $100,000 of matching money for the men's basketball scholarship endowment, Teammates for Life, intending to reach $1 million.
Edie said he hopes the work he is doing is just the start. He recognizes the cost of running these varsity programs, but more than that, he sees what they can do for so many people.
"It's about the kids that are coming up that want to wear Bisons jerseys," said Edie. "Because if we don't plant those seeds today, these programs are going to go away."
Edie said he knows everyone's ability to give is different, but he encouraged all those former Bisons to try and give within their means. In volleyball vernacular, Edie said it's time to take a swing.
Start planting the seeds.
"I'm extending an invitation to every former Bisons athlete to step up. Everybody that went on a trip, everybody that got meal money. Bisons invested in you. I'm asking for you to pay it forward."
The Bisons men's basketball team next plays at home on Friday, Nov. 24, 2023 at 8:00 p.m. and is set to host the 2024 Canada West Men's Basketball Championship from Feb. 21-25, 2023.
Find out more about how you can join the Teammates for Life Campaign.