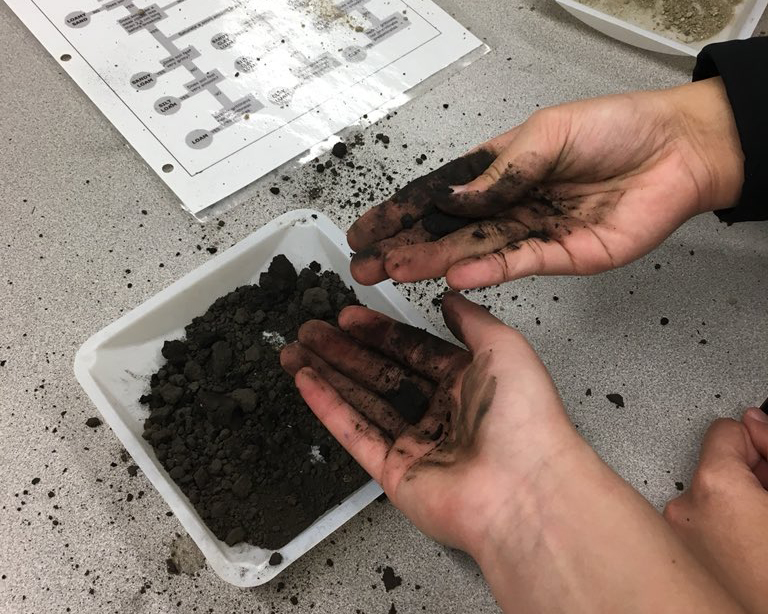 Agro Ecology Day engages high school students
April 20, 2018 —
Students literally got their hands dirty at the 9th annual High School Agro Ecology day held April 19 at the University of Manitoba's Ian N. Morrison Research Farm in Carman, MB.
The day involved 85 Grade 10 students and teachers from Miami, Carman and Elm Creek Collegiates participating in hands-on learning about entomology, soils, 4-H and livestock, agrometeorology, riparian areas and water quality. Students also explored careers in agricultural and food sciences in a presentation by Brittany Pankiw, student ambassador for the Faculty of Agricultural and Food Sciences.
Among day's presenters were Manitoba Agriculture staff members John Gavloski, John Heard, Marla Riekman, Mitch Timmerman, Timi Ojo, Adam Jorgensen and Kevin Johannesson. As well, students heard from Clayton Robins of 4-H Manitoba, Trevor Carlson from Up the Creek Cattle Farm (who brought some four-legged friends), and Kent Lewarne of South Central Eco Institute & Nutrients for Life.
University of Manitoba staff that assisted with the day included Alvin Iverson, Terrance Anseeuw, and summer students Mychaela Lehmann and Genelle Saltel.
The day was made possible with support from sponsors Monsanto, Farm Credit Canada, Prairie Rose School Division, and University of Manitoba. The students were treated to door prizes from Wallinga, Greenland Equipment, 4-H Manitoba, University of Manitoba and Richardson Pioneer.
Participants were encouraged to tweet about the day's activities – you can check it out at #carmanagro. Photo credits to @ecsmrscsclass, @SCEI_Riverwatch and @Chantal_G134.