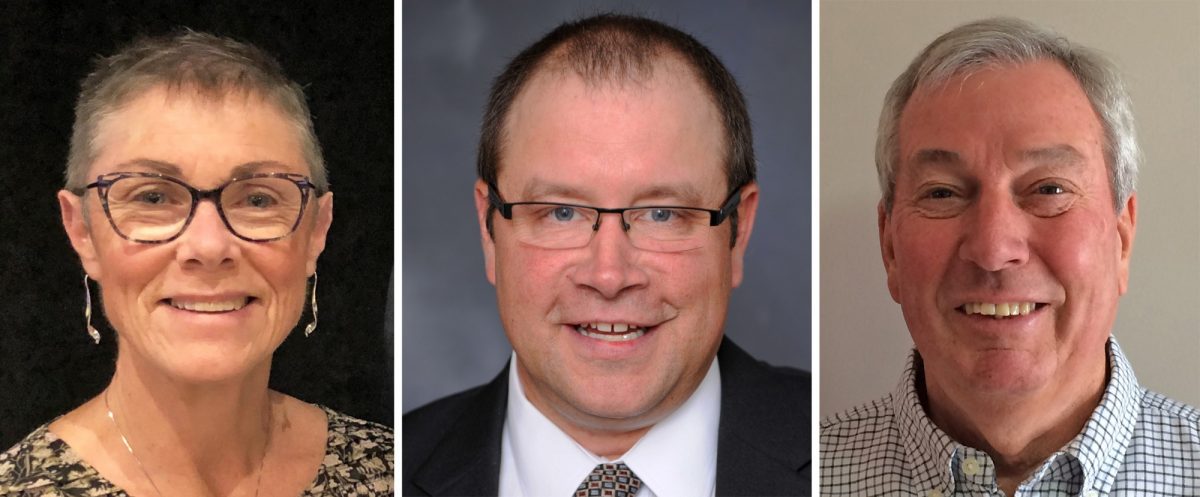 Agricultural and Food Sciences alumni honoured for community service
June 2, 2022 —
Three Faculty of Agricultural and Food Sciences alumni were honoured for their outstanding professional contributions and public service at a June 2 celebration held at the University of Manitoba.
The Certificate of Merit is presented in recognition of leadership with agricultural organizations and outstanding service to the community at large. The 2022 recipients are Curtis Evenson and Laura and Henry Holtmann.
Curtis Evenson was raised on a farm south of Morden, and attended the University of Manitoba where he graduated with a Bachelor of Science in Agriculture degree in Agricultural Economics in 1972.
After graduation he worked for Northern Sales, a special crop company in Winnipeg where he contracted farmers for mustard seed in Manitoba and Saskatchewan and canola in North Dakota.
In 1975, Curtis and wife Pat moved south of Morris to farm with Pat's brother Robert and after five years, they began to farm on their own. Pat and Curtis raised four children, all of whom attended UM: son Craig (currently operating the farm) – Diploma in Agriculture, daughters Nancy – Bachelor of Education & Masters in Library & Information Studies, Leanne – B.Sc. in Agroecology and M.Sc. in Plant Science, and Shelley – Bachelor of Nursing.
Curtis taught grain marketing at Assiniboine Community College and for several years, ran a grain elevator for Allstate Grain at Emerson. Pat and Curtis started and operated Valley Seed Laboratory from 1986 to 2010 – a federally approved and audited seed testing laboratory. He has been a long-time member of the Manitoba Institute of Agrologists and served a term on the board. Curtis (along with Pat) became Honorary Life Members of the Manitoba Seed Growers Association in 2011.
Curtis joined the Valley Agricultural Society (VAS), host of the Manitoba Stampede (the Big M). He served on the dairy committee of the Big M, then joined the board and served as president. He was a founding member of the Manitoba Association of Agricultural Societies (MAAS) and served as president for two years, and as administrator from 1990 to today.
On behalf of MAAS, Curtis administered many federal and provincial programs over the years including the Federal Fairs & Exhibition Program, the Canadian Farm Business Management Program, the Canadian Farm Safety Program and the Agri-food Research & Development Initiative (ARDI) of the Canadian Ag Policy Framework. Curtis developed and administered over 800 agreements, and paid – on behalf of the governments – approximately $85 million dollars to recipients while interacting with hundreds of potential and successful applicants of research projects as small as $500 and up to $3 million.
A strong supporter of his home community of Morris, Curtis has been a dedicated volunteer including as Cub Leader, Sunday School Youth Leader, and Church Board member, chair and trustee. He is a Red Hat recipient for his long involvement with the Big M. He has also been board member of the Morris Community Development Corporation and Morris & District Handi Van, and is currently vice-chair of the Morris Area Foundation.
Today Curtis and Pat spend their time with their four grandchildren, continue to help on the farm and hope to do more traveling.
Henry Holtmann was raised on the home dairy farm in Rosser, a farm started by Henry's grandfather who came to Canada in 1929 from Germany. Henry's parents took over the farm in 1961 and continued in dairy with purebred Holsteins.
Laura Holtmann was raised in Winnipeg, where her passion for agriculture began in her teen years spending time on family friends' chicken farm south in Iles des Chenes.
Henry and Laura met at the University of Manitoba, where Henry received his Bachelor of Science in Agriculture from the University of Manitoba in 1984, and Laura graduated in 1985 with her Bachelor of Science in Agriculture.
After graduation from the University of Manitoba, Henry served as a quality control inspector at Canada Packers, and then as sales representative for Western Breeders for Manitoba/Saskatchewan from 1986 to 1991.
Laura worked for Monsanto as a sales representative in Saskatchewan and then at the dairy lab at the Agriculture Services Complex in Manitoba.
Since 1995, Henry and Laura, in partnership with Henry's brother Tony and his wife Kim, have owned and operated Rosser Holsteins Ltd., a third-generation 650-cow dairy and 3200-acre grain and forage operation located in the municipality of Rosser, MB. The farm's values include being family focused, producing quality milk, feed, and purebred Holsteins as well as advocating for the dairy farmer and agriculture, all done in a sustainable fashion. Today, the fourth generation of Holtmanns are actively involved including sons Eric and Ben, Ben's wife Kelly, and Henry's nephew, Joseph. Ben and Kelly, Eric and Joseph all have Diplomas in Agriculture from the Faculty of Agricultural and Food Sciences.
Henry and Laura are active leaders in the agri-food and local community. Henry was elected to the board of Dairy Farmers of Manitoba in 2007 and has been Vice Chair since 2012 where he serves as a key advisor on dairy policy to both the provincial and federal governments. Henry is also the chair of the Western Canada Milk Pool, which seeks to increase milk processing capacity across the four western provinces, and helped to establish Dairy Innovation West, a milk-concentrating facility that is expected to open in 2024 in Blackfalds, Alberta.
Henry has served as a volunteer for 4-H in his community, as Woodland 4-H Dairy Club Leader and Rosser Guys and Gals Dairy Project Leader. Henry also served on as chair of the Citizens Liaison Group on siting Prairie Green Landfill in their rural municipality; and has been a director for 10 years and chair for four years with Starbuck Credit Union.
Laura has made contributions through venues committed to bringing agriculture to the public. She has served on the board and is currently President of Agriculture in the Classroom-Manitoba, an organization of volunteers that strives to help students and teachers become more agriculture literate in Manitoba. A volunteer in the Red River Exhibition Association for 21 years, Laura is the current chair of the Agriculture and Agri-Food Scholarship committee, a member of the Red River Exhibition Farm Family selection committee, as well as member on the board of directors of the Red River Exhibition Association. Laura has also served on the board of directors of the Manitoba Agricultural Hall of Fame.
In her community, Laura worked at the Interlake School Division as an educational assistant in early years education. She has been involved in 4-H in various leadership roles and she has contributed her time and expertise as chair or a board member of various groups and organizations including Grosse Isle School, Warren Collegiate and Rosser Elementary Parent Advisory councils, University of Winnipeg Collegiate and Oak Park Safe Grad committee as well as Neptunes Water Polo Club. As well, Ronald McDonald House and the Ronald McDonald Family Room at Health Sciences Centre have kept Laura busy volunteering in various capacities for the last 10 years.
Both Laura and Henry enjoy representing the dairy sector to the public, and have participated in venues such as Discover Agriculture in the City at The Forks and the Food and Farm Discovery Centre at University of Manitoba's Glenlea Research Station. Laura and Henry, along with Tony and Kim Holtmann, were awarded the Red River Exhibition Farm Family of the Year in 1997.
Henry and Laura have both generously shared their time and expertise with their alma mater, and have both participated regularly as panellists during the School of Agriculture final presentations. Henry has hosted numerous degree, graduate student and faculty staff tours on the farm, has contributed in lectures and has facilitated graduate student and faculty research activities at Rosser Holsteins. Laura participated in the pilot of Human Resource Course in which students are expected to develop an HR plan for their farm.
Today, Henry and Laura are actively farming with their family and are enjoying time with their granddaughter June, family, and friends. Sharing their story continues to drive their passion for agriculture.