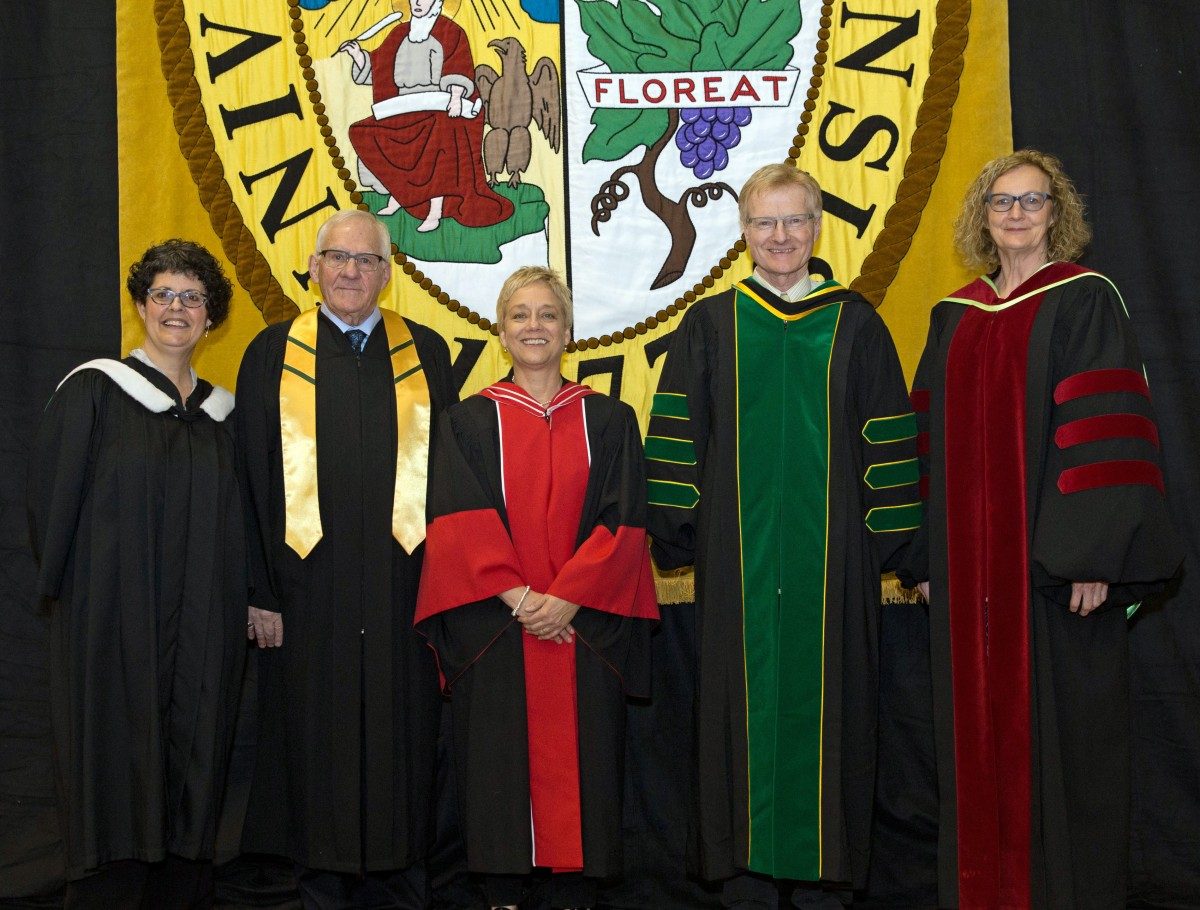 Agricultural alumni recognized for leadership and service contributions
May 8, 2017 —
Two alumni of the University of Manitoba's Faculty of Agricultural and Food Sciences were honoured Friday evening for their outstanding contributions to Manitoba's agricultural community.
Martin Entz, organic researcher and educator, and Jim Downey, former deputy premier, received Certificates of Merit from the Faculty of Agricultural and Food Sciences at the recent School of Agriculture convocation in recognition of leadership with agricultural organizations and outstanding service to the community at large.
Martin Entz received his Bachelor of Science and Master of Plant Science from the University of Manitoba and his Ph.D. from the University of Saskatchewan. He joined the Department of Plant Science at the U of M, and today nearly 30 years later is a respected professor and mentor, teaching courses in agroecology and organic crop production.
Martin's research focusses on ecologically-integrated farming systems, and he leads the Glenlea Long-Term Rotation Study – Canada's oldest organic vs. conventional farming systems experiment which celebrated 25 years in 2016. He is also the founder of the Natural Systems Agriculture program and is known for his collaborative approach to research. Martin has worked with traditional and organic research and producers in the areas of weed and fertility management, organic breeding and production and conservation agriculture. He has logged countless hours of outreach at field days, producer workshops and conferences, connecting with farmers and learning from their experiences.
Martin also participates in ecologically-integrated farming system research and development work in Central America, southern Africa, northwest China, and has volunteered with the Mennonite Central Committee in North Korea.
James (Jim) Downey completed the Diploma in Agriculture at the University of Manitoba and also graduated from the Western College of Auctioneering in Billings, Montana. He has farmed in the Melita area for over 50 years and in 1971 he founded the Melita Auction Mart Ltd, which he and his wife Linda operated.
Jim was elected to the provincial legislature in 1977, and was re-elected five times. During his time in office he served as Minister of Agriculture, Northern and Native Affairs, Rural Development, Energy and Mines and Industry, and Trade and Tourism, and was appointed Deputy Premier from 1990 to 1999.
In his long career with the Province of Manitoba, Jim was instrumental in several initiatives including the Maple Leaf hog processing plant in Brandon and several other industry expansions around Manitoba.  He participated in and led a number of trade missions around the world and was the lead provincial minister on Canada's internal trade agreement in 1995. After retiring from elected office, Jim worked in the private sector and in 2009, he became part owner of Shape Foods Inc., a state-of-the-art flaxseed crushing business in Brandon.