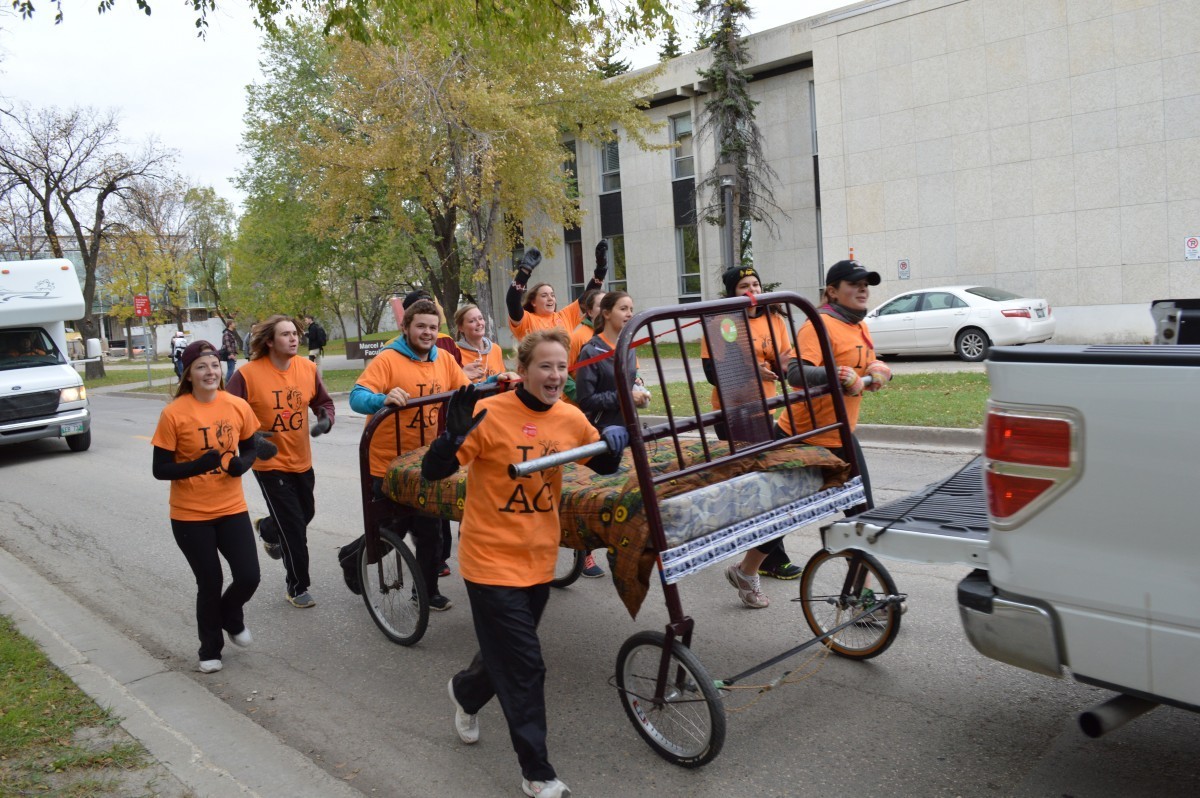 Aggies pushing to support CancerCare
Annual charity bedpush to raise money for unique fundraiser
September 29, 2015 —
The University of Manitoba's Faculty of Agricultural and Food Sciences student council will be holding its 34th annual charity fundraiser "Aggie Bedpush" in a number of Manitoba communities on Friday, October 2 and Saturday, October 3, this year in support of a unique fundraiser for CancerCare Manitoba Foundation.
Each year, a large team of Aggie students led by FASO (the Faculty of Agriculture Students' Organization) pushes a custom-made, burgundy-colored steel bed frame on wheels across the province in support of charity. This year the Bedpush will be traveling to the communities of Oakville, Portage, Gladstone, Neepawa, Minnedosa, Carberry, Glenboro and Carman – the hometowns of many of the students.
The 2015 Bedpush will be in support of fellow Aggie alumnus Darcy Miller, owner of Miller Agritec in Oakville, MB, who has started a fundraiser called Growing Support for Cancer Care. He has planted 90 acres of soybeans and the money he makes when he sells these soybeans at harvest will be going directly to the CancerCare Manitoba Foundation to support life-saving research.
Donations will be accepted along the route of the Bedpush in each of the individual towns and after for a period of time before they pack up to head to their next destination. Donations can be made online at https://uofmaggies.ca/bedpush/  or by mail (cheques payable to the "Faculty of Agriculture Students' Organization") to: FASO, 160-66 Dafoe Road, Winnipeg, MB  R3T 2N2.  Tax receipts will be issued to donations over $15.
The Aggie Bedpush has supported many charities over the years including STARS Foundation, Children's Wish Foundation, Children's Hospital Foundation of Manitoba, CancerCare Manitoba and the Manitoba Farm and Rural Stress Line.
BEDPUSH ITINERARY
Day One: Friday, October 2, 2015
The students will be starting at the University of Manitoba Administration Building loop at 9:15 am
Oakville: 11:00am
Portage: 2:00 pm
Gladstone: 3:30 pm
Neepawa: 6:00 pm
Day Two: Saturday, October 3, 2015
Minnedosa: 9-11:00am
Carberry: 12-2pm
Glenboro: 2:30-3pm
Carman:5-7:00pm
Follow them on Twitter! @UM_FASO  #bedpush15 #growingsupport15
For more information, please contact:
Carlene Dmytriw (204) 868-6070
Rachael Verwey (204) 871-2432