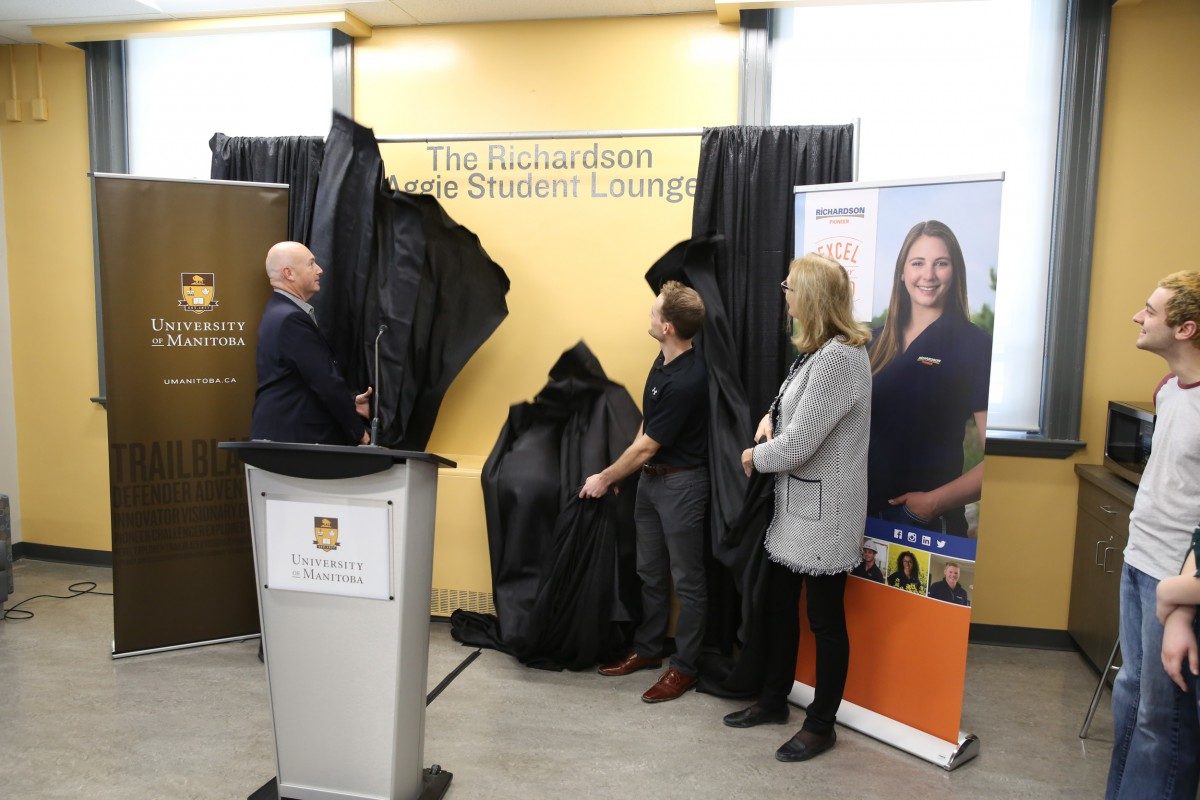 Aggie students welcome renovated space
February 8, 2018 —
Students in the Faculty of Agricultural and Food Sciences can now relax and study in style thanks to a recent renovation made possible by Richardson International Limited and the Richardson Foundation.
The new investment of $60,000 allowed the Faculty of Agriculture Students' Organization (FASO) to update the student lounge and council office located in the historic 105-year-old Agriculture Lecture Block building.
Before renovations, the lounge and office were furnished with odds and ends accumulated over decades of use. Today the renamed Richardson Aggie Student Lounge includes new couches, tables and chairs, a study counter equipped for multiple users, and a microwave. When students want to take a break, the space also features a pool table, television and sound system. The office on the second floor has been transformed into an inviting and professional space where FASO members can manage student council business, social activities and fundraising events.
"This lounge is a crucial part of the Aggie experience here at the University of Manitoba as it serves as a place for students to study, rest, meet new friends, and network. It allows students to come together, and help create the character and atmosphere that makes the Aggie experience so exceptional," said Brian Archibald, FASO Senior Stick.
"It means a lot to students to have support from our industry, and further strengthens the great reputation Richardson International Limited has as an industry leader in terms of generosity, professionalism, and student investment."
The Front and Centre campaign seeks to provide a world-class education in a world-class environment at the University of Manitoba. This gift, along with the Richardson Foundation's $10 million campaign gift announced in 2016, have already updated nearly 70 spaces across our campuses, helping promote and foster academic, professional and personal success for students, teachers and researchers.