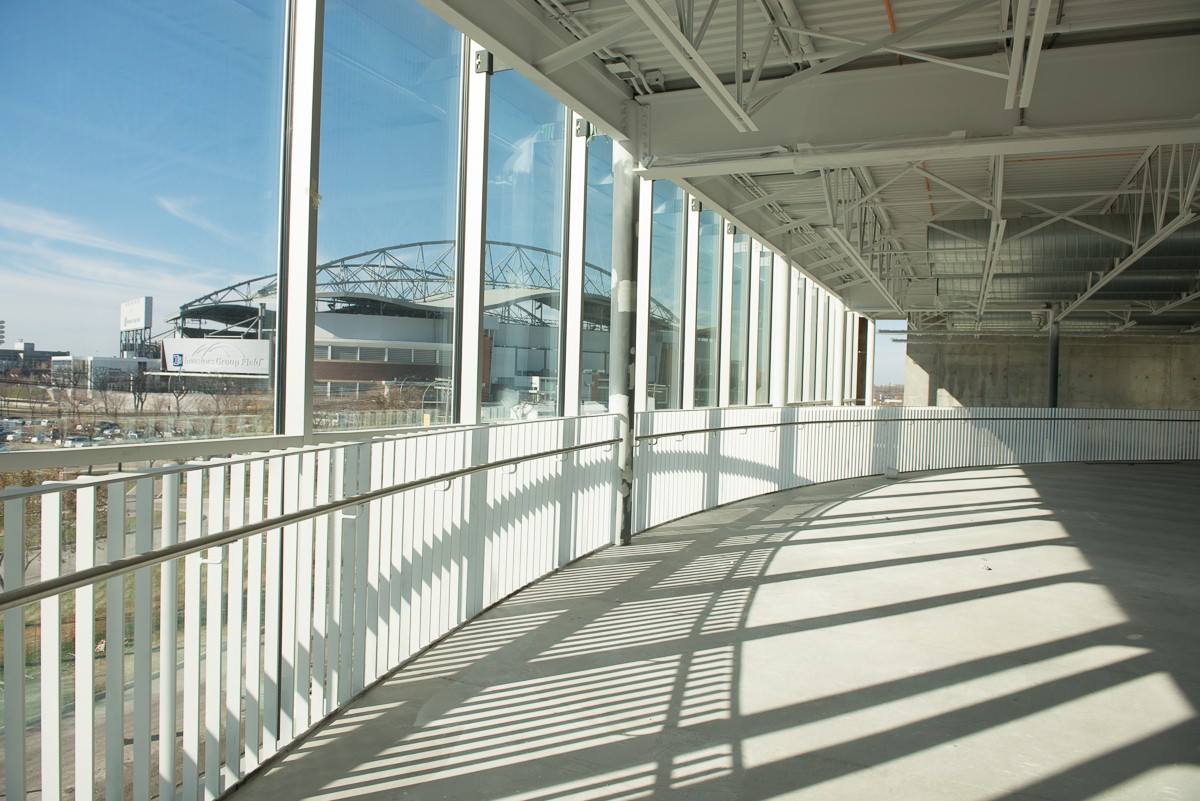 Active Living Centre will inspire physical activity
January 8, 2015 —
Getting fit is about to get a lot more pleasant at the University of Manitoba. After over two years of construction, the new Active Living Centre is due to open in February 2015.
Designed by Cibinel Architects in collaboration with Batteriid, this 100,000 square foot facility will house an indoor running track, a 40-foot climbing wall, high-performance centre, group workout area, multi-purpose studios, a social gathering area for students with food service and a space dedicated to research.
"It's an open and welcoming space for everyone," said Simon Wang, facilities manager for the Faculty of Kinesiology and Recreation Management. He notes that building planners wanted to maintain an open and airy feeling in the layout design. "We strategically placed the equipment to keep it open and welcoming. You don't want to have the strength equipment right in your face when you first walk in."
Speaking of the equipment, all of the fitness equipment will be brand new and feature the best technology. Equipment will include 160 pieces of cardio equipment, 64 pieces of resistance equipment, 49 pieces of strength equipment, 14 pieces of core and stretching equipment and over 1,000 pieces of free weights and accessories.
The planning process for the new equipment took into account industry standards and current ratios in other facilities, but also an assessment of how current equipment was used and user input.
New equipment available will be double what is currently available in the Grotto. "We kept in mind when selecting equipment that it would be equipment that would be catered to all types of users," said Simon Wang.
The difference for users between the current equipment and facility in the Grotto, and the new facility will be inspiring. The oldest piece of equipment in the Grotto that is still being used was originally purchased in 1994.
"Going from the Grotto into the new Active Living Centre, the difference in space is going to be unbelievable," affirmed Wang.
"I won't even try to avoid using corny comparisons or clichés to describe how this facility will impact the culture of health and wellness on the U of M campus," said Douglas Brown, dean of the Faculty of Kinesiology and Recreation Management. "Working out is, quite literally, emerging from an age of darkness. Our renaissance fitness cathedral consists of three entire walls of floor to ceiling windows."
Each year, more than 7,800 students and 1,000 staff and community members use the sport and recreation facilities at the U of M. The new space is expected to inspire a massive wave of new users.
Fitness experts say physical activity has been proven to make a significant positive impact on student success. Active students have better focus and lower levels of stress, which tend to translate to better grades.
>> To make it easier for students to access the sport and recreation facilities at the U of M, students will have the opportunity to activate a Recreation Services U of M Student Membership that will be included as part of their student fees with a Sport and Recreation Fee beginning in the Winter 2015 term.
Students who activate their memberships can access all sport and recreation facilities at the Bannatyne and Fort Garry Campuses during designated recreation time (new equipment will also be added to the Joe Doupe Centre, Bannatyne campus), including the state-of-the-art Active Living Centre, which will offer services to everyone from recreational to high-performance users.