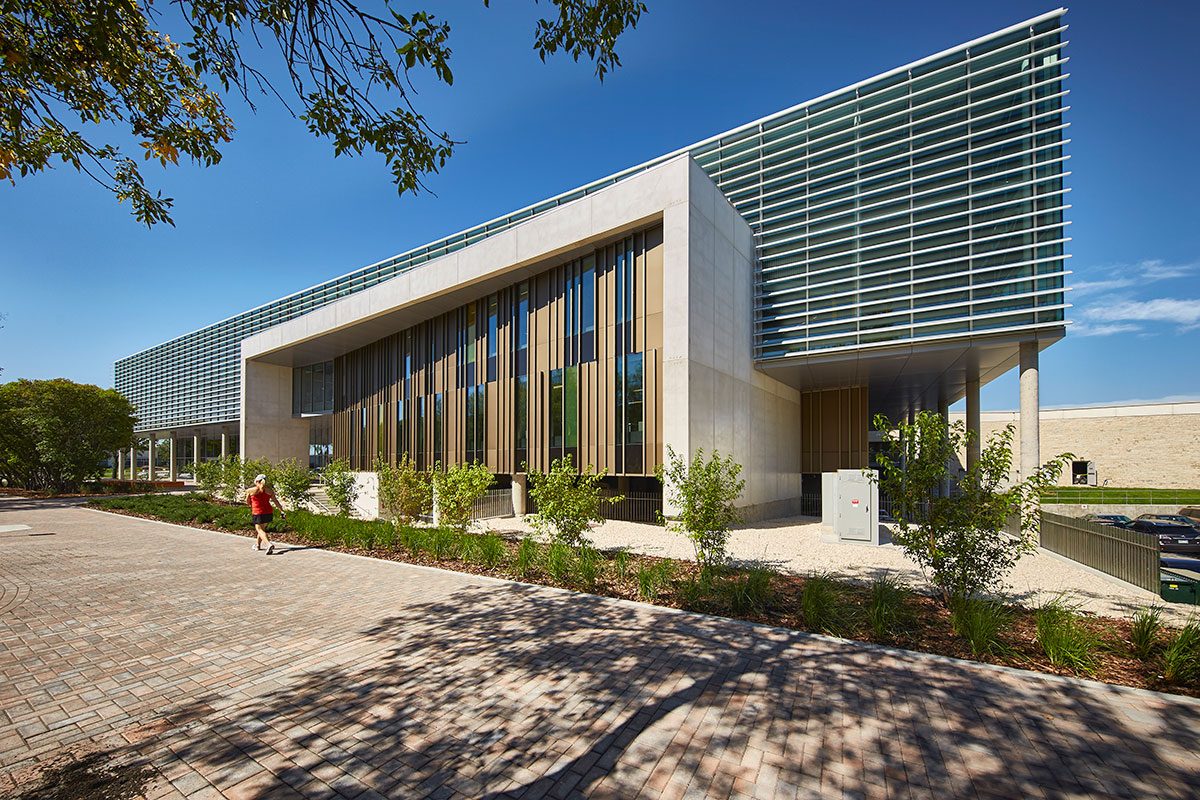 Active Living Centre achieves LEED® certification
March 14, 2017 —
The University of Manitoba is proud to announce the Active Living Centre (ALC) has been certified Leadership in Energy and Environmental Design (LEED) Silver by the Canadian Green Building Council, becoming the university's second LEED certified building.
This is the second commendation attributed to the ALC, following the National Intramural-Recreational Sports Association (NIRSA) 2016 Outstanding Sports Facility Award, representing the first time a Canadian building has won in nearly 30 years.
LEED is a third-party certification program and an internationally accepted benchmark for the design, construction and operation of high performance green buildings. LEED promotes a holistic approach to sustainability by recognizing performance in five key areas of human and environmental health, including site development, water and energy efficiency, materials selection and indoor environmental quality.
Green buildings have lower energy demand and greenhouse gas emissions, create healthier indoor environments and use more sustainable building materials, all of which are important parts of a sustainable built environment.
Initiated in 2010, the ALC certification process represents the latest effort of the university's ongoing mission to provide high quality learning and work environments that support environmental and resource sustainability.
The U of M's 2016-2018 Sustainability Strategy highlights green buildings as a priority action to drive integration of sustainability into new areas and promote high performance standards for new construction projects.
"As a member of the Association for the Advancement of Sustainability in Higher Education, green buildings like the Active Living Centre represent an important sustainability initiative for the University of Manitoba," says Andrew Konowalchuk, Associate Vice-President (Administration) at the University of Manitoba.
The ALC, designed by local architectural firm Cibinel Architecture, was to be as environmentally sustainable as possible while providing customers with a high quality fitness facility complete with open spaces and a connectedness to the outside."
Emphasis during design and construction was placed on sourcing local, regional and recycling products, energy conservation, water conservation and low VOC products and surface materials.
Some of the ALC's features include:
A full 90 per cent of the building provides views to the outside allowing for natural daylight and passive solar retention.
A building flush-out fully exchanged building air with fresh air over 800 times before the facility was opened.
High rates of fresh air are provided for customers while heat recovery technology saves 80 per cent of required energy.
Fresh air is monitored using carbon dioxide sensors ensuring high quality ventilation.
Many original trees remain, and new native and adaptive plants will not require irrigation.
A highly reflective roof surface reduces cooling costs and summer heat buildup on campus, including R40 insulation level and an average wall insulation level of R30.
Indoor water use is reduced by 40 per cent by using next generation water efficient technologies.
Energy consumption is reduced by 30 per cent over typical new construction, thanks to the building automation system which monitors all heating, ventilation and air conditioning and lighting systems.
The facility exceeds Manitoba Hydro's Power Smart new building design standards.
The building covers a total of 10,684 sq. metres and includes a high-performance training facility, an indoor running track and a 12-metre climbing wall. A research centre, strength and conditioning facilities, a gathering area for students and three group workout studios complete this state-of-the art facility.
Migizii Agamik—Bald Eagle Lodge was the first U of M building to become LEED certified, with a LEED Gold classification. Several other LEED projects are currently awaiting certification or are in the planning stage.
To find out more about green building initiatives on campus, visit umanitoba.ca/sustainability.
Places and Spaces is a pillar of Front and Centre — the campaign for the University of Manitoba, with $150 million directed toward this priority. Through planned improvements and development, U of M is creating much needed spaces that promote and foster academic, professional and personal success for students, professors and researchers.