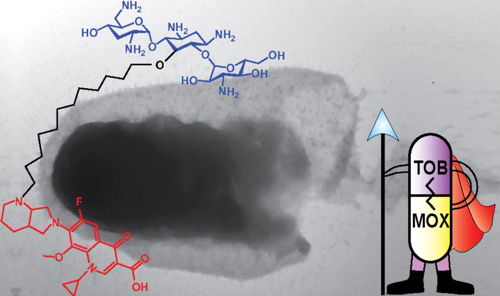 ACSH: Hybrid Antibiotic Created With Molecular 'Rope' Kills Resistant Bacteria
October 5, 2016 —
As the American Council on Science and Health reports:
Due to increasing antibiotic resistance, microbiologists are on the lookout for unconventional ways to kill bacteria. Atypical methods range from phage therapy, in which bacteria-killing viruses are unleashed upon the microbes, to the use of "bed-of-nails" surfaces that physically rip bacteria apart.
Such out-of-the-box thinking was displayed yet again by a team of scientists from the University of Manitoba who created a hybrid antibiotic by tying together two different antibiotics with a molecular "rope."
One strategy to fight resistance is to hit a bacterium with multiple antibiotics at the same time. The reasoning is that, while it is relatively simple for a bacterium to spontaneously mutate to avoid the lethal effect of one antibiotic, it is very unlikely that multiple mutations will occur simultaneously that protect it against more than one….So the team was curious to discover how exactly their hybrid antibiotic worked. Their investigation suggested that it operated in a completely different way than the original antibiotics. Instead of blocking protein synthesis (like tobramycin) or inhibiting DNA replication (like moxifloxacin), the hybrid exhibited an entirely new mode of action: It pokes holes in a bacterium's outer membrane and disrupts the electrical field potential (called the proton motive force) associated with the inner membrane.
Research at the University of Manitoba is partially supported by funding from the Government of Canada Research Support Fund.