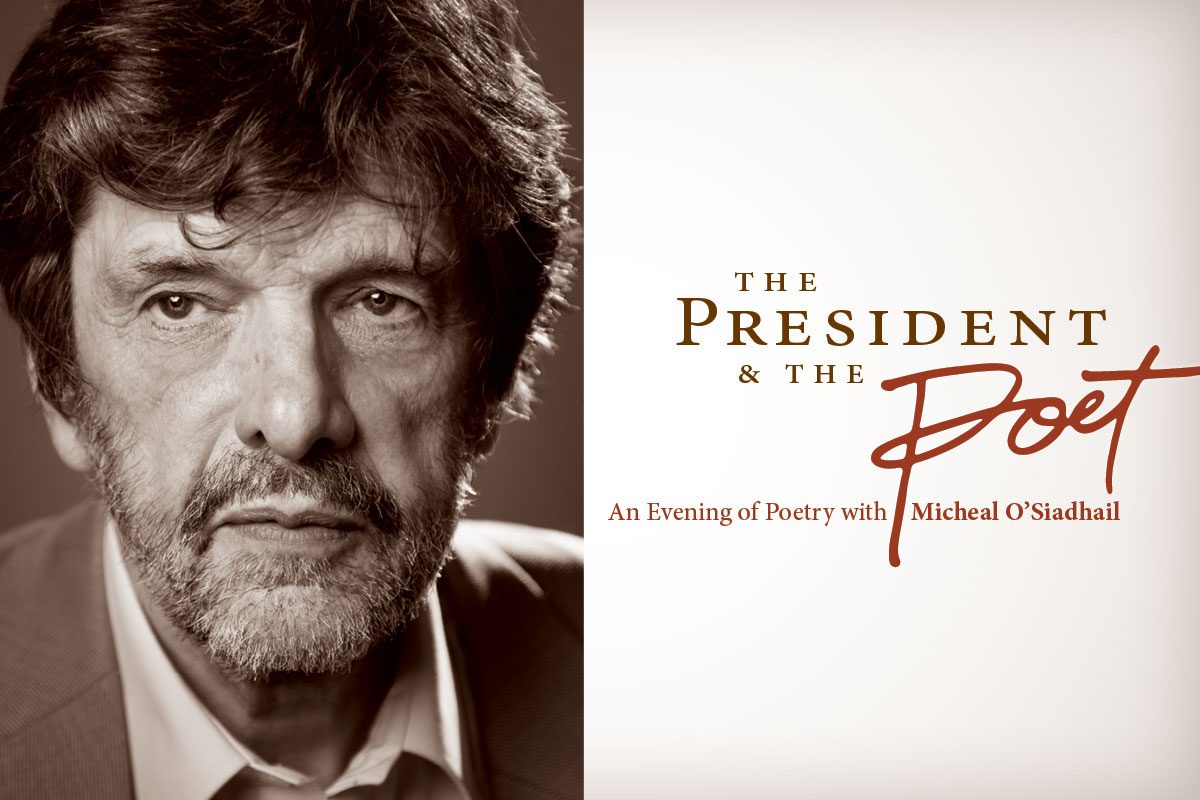 Acclaimed Irish poet Micheal O'Siadhail returning to U of M
October 12, 2017 —
Irish poet Micheal O'Siadhail is returning to the University of Manitoba campus for an evening of poetry reading and dialogue with President and Vice-Chancellor Dr. David T. Barnard on Monday, Oct. 16, 2017.
Micheal O'Siadhail (pronounced mee-hawl o'sheel) has published 16 collections of poetry over the span of nearly four decades. He has received an Irish American Cultural Institute prize for poetry and the Marten Toonder prize for Literature.
For twenty years, Micheal's beloved wife, Bríd, suffered from Parkinson's disease. One Crimson Thread, his latest work, is a true testament to their love and chronicles the last two years of her life, her death and his grief. His innovative, candid poems reflect life's lightness and darkness in equal measure.
"My interest in his poetry started almost 25 years ago when I heard someone read aloud his poem Hail! Madam Jazz," says Barnard. "We became friends after I asked him to write something for me to use on a special occasion. He is a person for who friendships are powerful bonds. A powerful and moving writer, he is also a wonderfully expressive reader."
O'Siadhail has given poetry readings and broadcast extensively in Ireland, Britain, Europe and North America. He has represented Ireland at the Poetry Society's European Poetry Festival in London and the Frankfurt Book Fair. An established speaker, he was invited to give the Vernam Hull lecture at Harvard and the Trumbull Lecture at Yale University, and spent time as the writer-in-residence at the Yeats Summer School. O'Siadhail is being honoured with an Honourary Doctor of Letters from the University of Manitoba at this fall's convocation ceremony.
Highlights of his published works include The Leap Year (1978), Hail! Madam Jazz: New and Selected Poems (1992), A Fragile City (1995), The Gossamer Wall (2002), Globe (2007), Tongues (2010), Collected Poems (2015) and One Crimson Thread (2015). His magnum opus, The Five Quintets, is forthcoming from Baylor University Press in the summer of 2018.
Please join President Barnard for an evening of poetry reading and dialogue with Micheal O'Siadhail on Monday, Oct. 16 at 7 p.m. in Marshall McLuhan Hall at the U of M Fort Garry campus.
Copies of One Crimson Thread will be available for purchase and signing for $20. All are welcome and there is no cost to attend. A reception will follow.
RSVP to rsvp [at] umanitoba [dot] ca or by calling 204-474-9071.