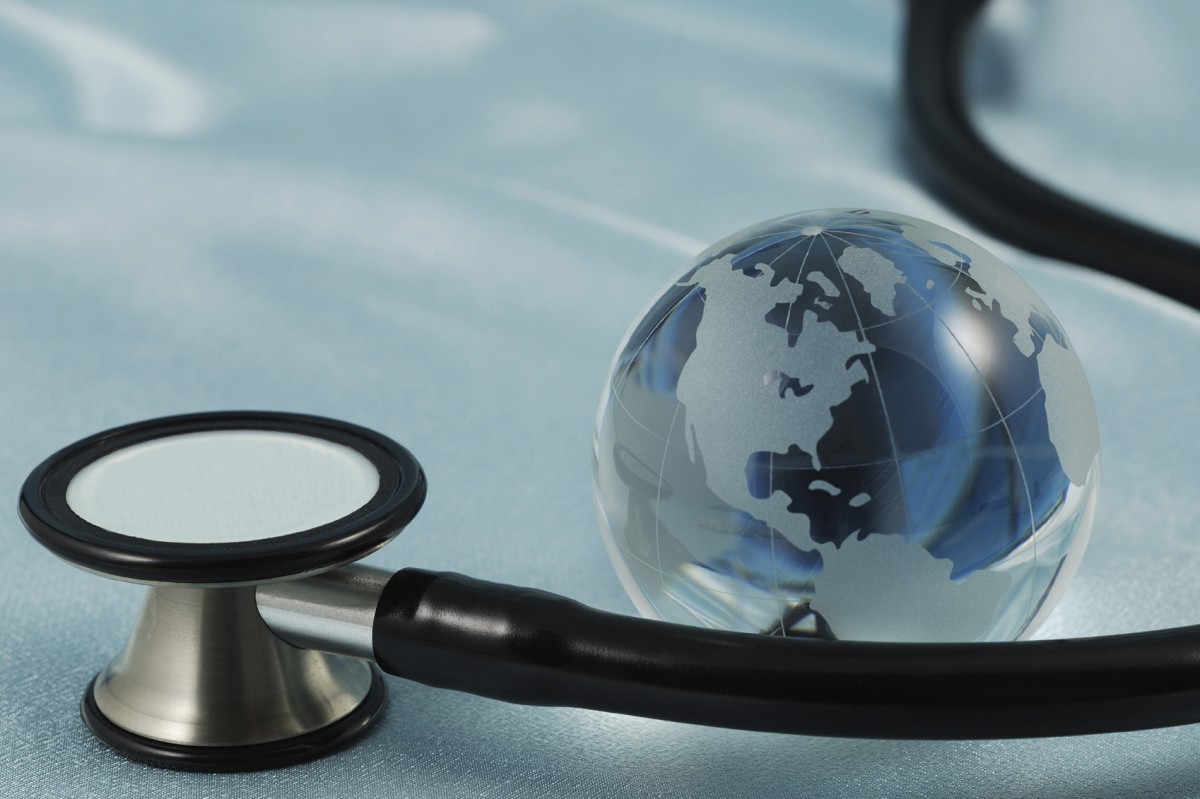 A vaccine against Ebola: The University of Manitoba connection
August 8, 2014 —
Most people know that two American medical workers have been infected with the deadly Ebola virus. The two are part of a medical team that was in Africa to treat patients. Since their return to the U.S., the experimental drug regime that has been administered seems to be stopping the course of the disease.
People may not be aware, however, that the treatment for Ebola was developed in Winnipeg at the Public Health Agency of Canada's National Microbiology Lab in collaboration with the University of Manitoba.
In June, 2005, two University of Manitoba researchers made international headlines for a breakthrough in the battle against Ebola and Marburg, two of the world's deadliest viruses: Steven M. Jones and Heinz Feldmann announced the development of vaccines that were amazingly 100 per cent effective in protecting monkeys against infection from the viruses. These were the first vaccines to protect nonhuman primates from Ebola and Marburg – and their success was a highly promising indicator of the potential for the vaccines in protecting humans, since primate symptoms are similar to those observed in humans infected with Ebola or Marburg.
In June, 2005, two U of M researchers made international headlines for a breakthrough in the battle against Ebola and Marburg, two of the world's deadliest viruses.
Ebola comes from the Filoviridae family of viruses, and is named for the Ebola River in Congo where the virus was first discovered in the mid-1970s. During the past 50 years, it has caused epidemics in Congo, Uganda, Gabon and Sudan, with a high mortality rate, The virus can cause a painful death that includes massive hemorrhaging. The Ebola vaccine's success in monkeys was unparalleled, with 100 per cent effectivity in the 12 macaques studied. Each was given one shot of the vaccine followed by a high dose of the virus; none developed fever or other symptoms associated with vaccination.
In the 2005 study, researchers developed the vaccine by replacing a surface protein in an animal pathogen called vesicular stomatitus virus with a surface protein from the Ebola virus. The researchers' breakthrough was published in the journal Nature Medicine and received worldwide attention, as the breakthrough raised hopes of an effective human vaccine. When Jones and Feldmann announced the vaccine in 2005, they noted that it would be five or six years before the vaccines could be proven safe and effective for human use.
The development of the vaccines started in 2001 at the National Microbiology Laboratory (NML) in Winnipeg, in partnership with the then-Faculty of Medicine at the University of Manitoba (it's now the College of Medicine in the Faculty of Health Sciences). At the time, Jones was professor of immunology and Feldmann, a professor of medical microbiology. The research was supported by a Canadian Institutes of Health Research grant through the U of M. Following initial trials, work was carried out in partnership with the U.S. Army Medical Research Institute of Infectious Diseases in what was being considered a landmark in international scientific collaboration.
Fowke: "As with all viruses, Ebola mutates, so developing a vaccine is difficult. It's hard to keep pace with a changing virus."
Professor and current head of the medical microbiology Keith Fowke says Ebola has been difficult to study for several reasons.
He explains: "The Ebola virus is dangerous because it triggers a 'dysregulation' of our body's immune system, causing harm to our organs and leading to the devastating symptoms that we see in its victims."
Fowke adds: "As with all viruses, Ebola mutates, so developing a vaccine is difficult. It's hard to keep pace with a changing virus.
RELATED: When the daily news is overrun with health alerts like the Ebola virus story, anxiety can overwhelm
"Also, because it is so infectious, only one lab in all of Canada — the National Microbiology Laboratory in Winnipeg — can do studies on it. Not many labs are able to do the kinds of studies needed to develop a vaccine and test that vaccine. Only a handful of labs around the world are able to research on this highly infectious virus."
In animal models, the vaccine jointly developed by the U of M and NML researchers does protect against Ebola, but researchers are still working out the details of the exact immune mechanism. Although it is a vaccine, if used early enough it can be used as drug therapy — as soon as possible after exposure to the infection.
U of M researchers and their affiliates have been global leaders in Ebola pathogenesis and vaccine research for many years. Originally, Feldmann was the recipient of a grant from the Canadian Institutes for Health Research (CIHR) to study the glycoprotein, a surface protein, of Ebola in order to understand its role in how it leads to the disease. This initial study helped form a cluster of researchers at the NML, with members including Gary Kobinger, who is current director of its special pathogens unit and associate professor of medical microbiology at the U of M.
Feldmann is now at Rocky Mountain Lab in Hamilton, Montana, and is still collaborating with U of M researchers on studies related to Ebola research. He retains a U of M appointment as associate professor in medical microbiology. His research leading to the 2005 paper in Nature Medicine used a vesicular stomatitis virus vector to deliver the Ebola proteins as a vaccine.
Another approach under investigation by the group focuses on therapy. It is the vaccine that was used to treat the two Americans and was also partially developed and tested by Feldmann, Kobinger and their team. This approach uses three different recombinant (lab-produced) antibodies that recognize distinct regions of the Ebola glycoprotein, called ZMab. Antibodies are proteins produced by the immune system that bind to and inactivate infectious agents. Studies from the U of M-NML team have shown that this cocktail of three antibodies has limited disease in already-infected animals. Whether this experimental approach can be used more broadly is under consideration.
Currently, the U of M has two medical microbiology graduate students working on Ebola research projects at the NML and have received research grants focused on Ebola. Jim Strong, assistant professor in medical microbiology, also researches Ebola at the NML and supervises a doctoral student on virus-related research.
U of M Ebola research is conducted at the NML because of its status as a Level 4 facility. The highest-level secure laboratory at the Bannatyne campus is a Level 3 facility, which is capable of handling HIV, but Ebola can only be manipulated and grown at a Level 4 Facility. The U of M helped create an enhanced biosafety level 3 laboratory at the University of Nairobi in Kenya, funded by the Canada Foundation for Innovation. While this lab does have the capability to perform Ebola diagnostics, it cannot grow the organism, which limits the studies that can be performed there. The facility is ready for operation, but awaiting funding for ongoing operations.
Research on Ebola vaccination continues at the NML with U of M affiliated researchers. Kobinger supervises three to four doctoral students each year; in fact, under his supervision, two doctoral students are graduating Friday, August 8, 2014. One, Gary Wong, is graduating following the completion of his work in Ebola research.