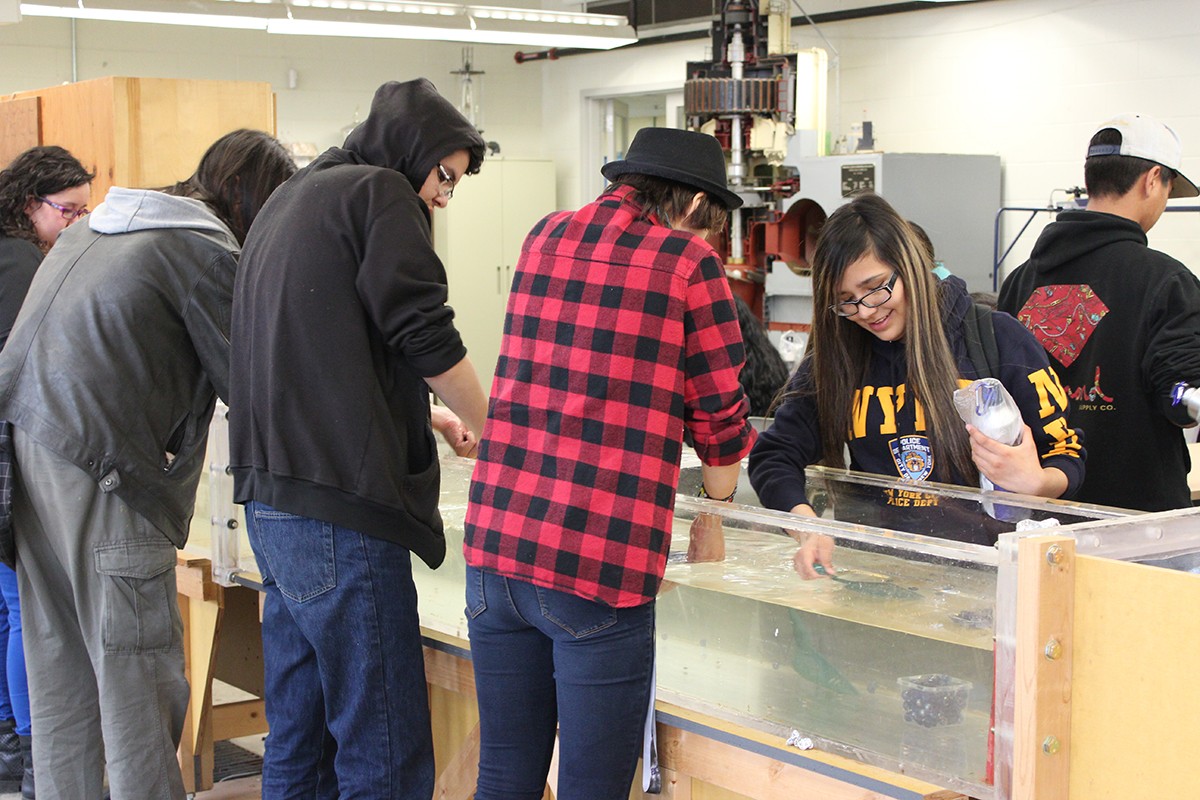 A taste of campus life
Indigenous high school students finish a year-long program with an interactive and fun-filled visit to the Fort Garry Campus
June 17, 2015 —
The University of Manitoba is home to one of the largest Indigenous student populations in Canada, with over 2,000 First Nation, Metis and Inuit students attending each year. This spring over 350 Indigenous students celebrated their graduation at the Annual Traditional Graduation Pow Wow – up from over 250 graduates in previous years. These numbers are expected to rise as more Indigenous students self-declare, and as the U of M continues to advance its goals around Indigenous student success.
As laid out in the U of M's strategic plan, a key goal in Creating Pathways to Indigenous Achievement is fostering K-12 Indigenous student participation in post-secondary education. One way the University works towards this is by creating Indigenous post-secondary clubs. Through a partnership between the student recruitment and Indigenous achievement, the U of M initiated a leadership program for students in Grade 9 to Grade 12 with monthly gatherings at four high schools in Winnipeg: Fort Richmond Collegiate, St. James Collegiate, Maples Collegiate and Garden City Collegiate. Student recruitment officers engage with these students through various activities to get them thinking about post-secondary education.
The program provides participating Indigenous students the opportunity to become involved in their schools, to build on their skills and to gain leadership experience. The activities are intended to encourage students to engage with their communities by fundraising or raising awareness for issues such as missing and murdered Indigenous women.
The program culminates at the end of the year with a day at the Fort Garry Campus where the Indigenous high school students get a taste of university life.
"We host them on campus to give them the opportunity to see the campus, to visit and to have a little bit of fun," says Chris Lagimodiere.
As the lead Indigenous student recruitment officer, Lagimodiere organized a number of activities for the group of about 40 students, to get a feel for what it would be like as a student at the U of M.
In the morning, Niigaan Sinclair, Associate Professor in the department of Native Studies, spoke with the students about course options in the department of Native Studies and delivered a sample class, providing hands-on experience in taking a university course. Students also participated in an engineering lab to give students insight into the sciences. The afternoon saw students explore the Active Living Centre, including the climbing wall, as well as play some traditional Indigenous games. The day closed with a smudge and sharing circle led by Carl Stone, a student advisor at the Indigenous Student Centre.
"I hope the students will start thinking of post-secondary and thinking of the University of Manitoba for the programs we offer," says Lagimodiere. "Even if we don't offer the programs that some students are interested in, I hope that the idea of coming to a post-secondary institution and seeing other students on campus, that it starts to spark ideas in their head of what they want to do when they graduate [high school] and maybe what some of those processes are if some opportunity is available to them. We are excited to have them here for those reasons."
The program has the potential to break down barriers and to open doors, in terms of the opportunities that high school students see for themselves.
"I think sometimes students don't envision themselves at university, maybe it's something they never thought of or something they never saw themselves going to," says Lagimodiere. "Having them here really gives them the opportunity to see themselves coming to the U of M."