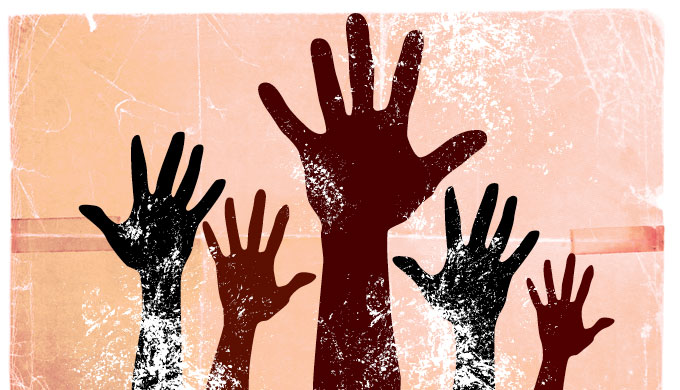 A reminder of the precarious nature of rights in a changing world
March 10, 2017 —
Five years ago professor Donn Short changed our national conversation by publishing the first edition of the Canadian Journal of Human Rights (CJHR).
Such an important journal didn't exist, which was basically the thrust of his argument to the University of Manitoba's Law School: Robson Hall needed to do this because no one else was.
The Faculty agreed and gave approval on Sept. 2, 2010. A confident Short, however, had already issued an international call for submissions with the help of then-student-editor-in-chief Corey Shefman. The journal was well under way in shaping international dialogue on human rights before it even officially began.
"I track, by country, all the visitors to our website and how often our articles are downloaded. I am amazed, still, at the high number of visitors we have from all over the world," Short says. "I think it's fair to say that given Canada's reputation for its contributions to protecting and articulating human rights, through the years, most people would have assumed that there was a journal in Canada focusing on human rights. But before the CJHR, there was not such a journal. It's been enormously rewarding to plant this flag on the world map and to have so many Internet guests visit us and read our work."
Short and his law students work on this journal all year, fueled by passion and duty. The difficulty with such a journal is reacting, sometimes preemptively, to the subtle and constant shifts in discourse.
"From the very beginning, I wanted the journal to explore human rights as a changing and contested concept. I feel that even the design of our journal reflects that – a raised non-racialized, non-gendered hand. But is it raised in protest, in solidarity, in seeking recognition, protection or something else?"
The symbolism of this ambiguity is not lost on its readers. As Dean of Law Jonathan Black-Branch writes in his foreword of the fifth-anniversary edition:
"Even though people speak of the universality of human rights and making constant reference to international conventions; by and large, human rights protections are down to the goodwill of individual governments. The principle of sovereignty, as we know it today, leaves the enforcement and protection of human rights as an internal State matter… we should remind ourselves of the precarious nature of rights in a changing world and the need to be vigilant in reaffirming our freedoms."
To help spread these crucial ideas, CJHR articles are available free on its website. Published by Robson Hall, Faculty of Law at the University of Manitoba, it is a peer-reviewed forum for scholars to explore concerns in human rights and humanitarian law and policy relevant to Canadian society.
Read, ruminate, and share
Here are some samples pulled from the journal's history, with help from its founding-editor Donn Short. Please: Read, ruminate, and share.
"This is our top downloaded article, directly from our website, of all time," Short says. "Of course, our articles are available in numerous databases, so there is no way of knowing which articles are downloaded how often in other ways."
"From the beginning, we have included interdisciplinary scholarship on human rights that directly addresses the situation in Canada or international issues that are of significance to Canada. This is our top downloaded article in 2.1," Short says.
"As a human rights journal, we are not a journal that deals only with 'equality' issues under the Charter," short says. "We are much broader than that. But we do embrace scholarship dealing with the Charter. The most frequently downloaded article in 3.1 is 'Under the Influence.'"
"This was a special issue dealing with human rights and solitary confinement and Michael Jackson is a leading global scholar in this area. His article 'Reflections on 40 Years of Advocacy' was a great gift to our journal," Short says.
"Professor Khoday's article dealing with refugees and the use of force as a basis to exclude refugees seeking status will always be relevant and important reading," Short says.
"I would recommend Dean Jonathan Black-Branch's Foreword as an articulate and passionate piece that introduces some of the key issues that arise in the study of human rights and also serves as a very good introduction to us, the CJHR," Short says. "In addition, I commissioned and was very happy to publish "Universities and Freedom of Expression: When Should the Charter apply?" The issue of whether or not the Charter should apply to universities has received new appraisal in recent years, particularly in light of student disciplinary matters. I was very happy to include this article in this edition."
CJHR is already hard at work on 6.1 and hopes to be ready for production by the end of summer or early fall 2017.