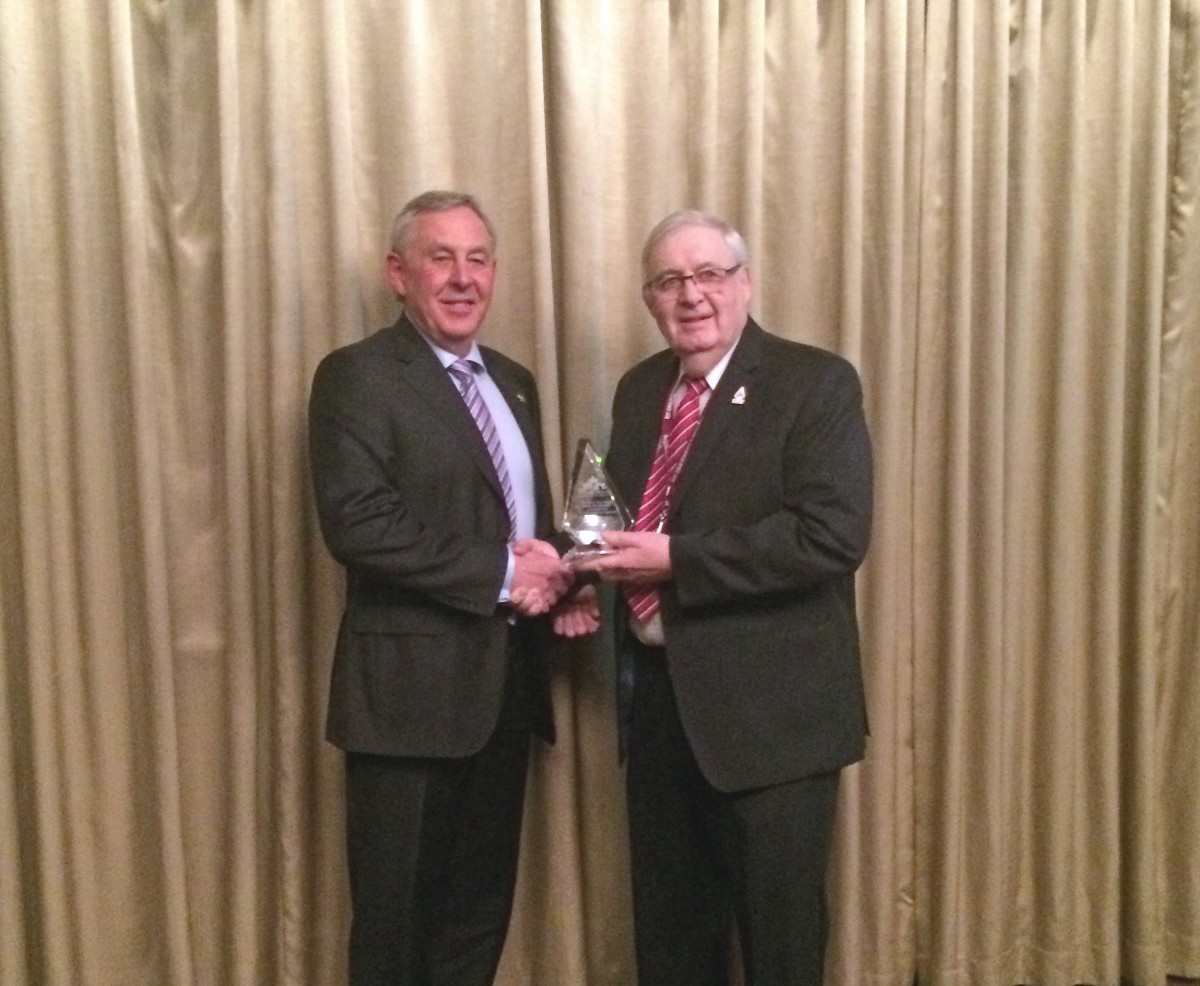 A passion for farm management
December 8, 2015 —
Terry Betker, farm management instructor in the School of Agriculture, received the Wilson Loree Award at the Agricultural Excellence Conference in Regina on November 26 in recognition of his visionary and leading-edge contribution to farm business management.
The award, presented by Farm Management Canada, was established to honour those that have made an extraordinary contribution to developing and promoting new and positive change in agricultural business management practices and expertise in Canada.
Terry, who is also the president and CEO of Backswath Management Inc., has an interest and passion in providing consulting expertise to farmers, focusing primarily on strategic business and succession planning, financial analysis, and risk management. He was a partner and director of practice development in agriculture at Meyers Norris Penny (MNP) for over 12 years where he had the responsibility for strategically positioning MNP at the farm, industry and government level within Canada. Terry initiated the development of the agriculture consulting practice across MNP.
Terry's 17 years' experience as a grain, oilseed, and special crops producer in Manitoba, gives him first-hand insight into the issues producers face. A popular speaker on management issues, Terry has delivered presentations to the Canadian Bankers Association, American Society of Farm Managers and Rural Appraisers, American Society of Agricultural Consultants, American Association of Production Executions, major farm lenders, international food product and supply companies, agri-marketing and farm management associations, and numerous farm groups. He has made presentations on farm management in the United States, the Netherlands, Chile, Mexico, and New Zealand.
Terry is also an alumnus of the University of Manitoba – he received a Bachelor of Science in Agriculture in 1973.
The award is named after Wilson Loree who retired as branch head of Agriculture Business Management after 27 years with Alberta Agriculture, Food and Rural Development.  He was a past director and one of the founders of the Canadian Farm Business Management Council (now Farm Management Canada).
Terry received the award from Mr. Loree himself at the ceremony.