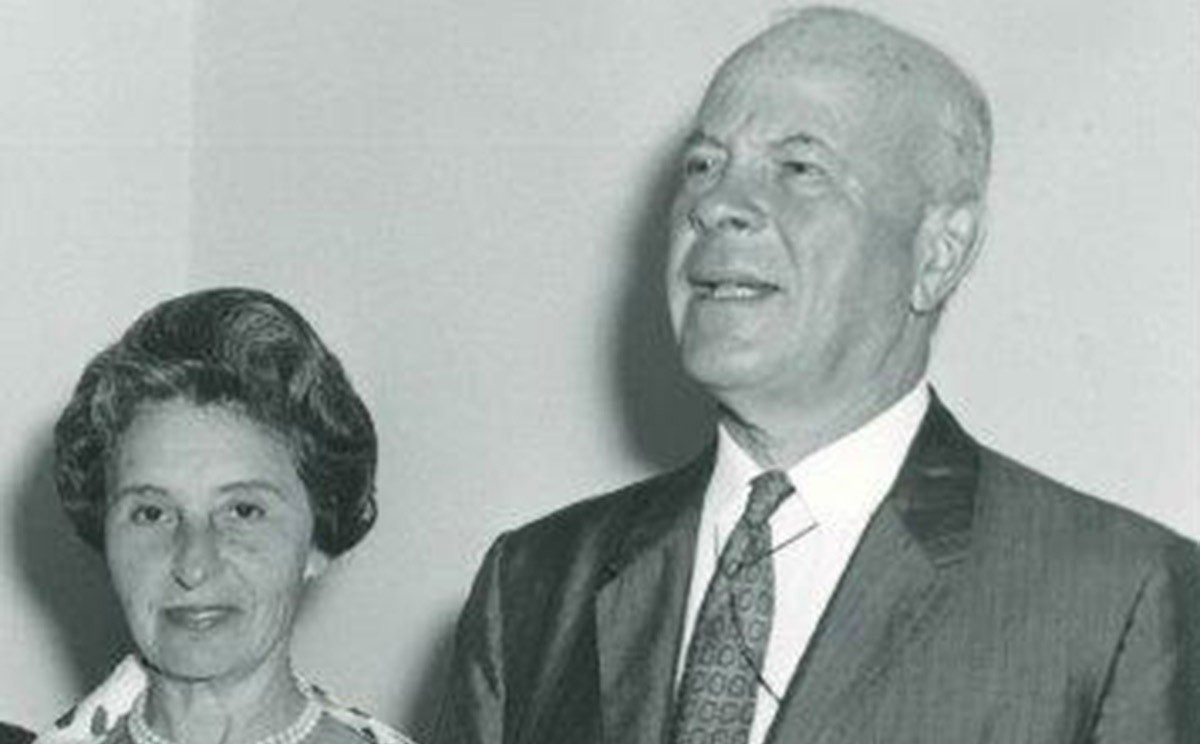 A Legacy 95 Years in the Making
May 18, 2016 —
In 1921, Max Rady graduated from the University of Manitoba's College of Medicine. Ninety-five years later, that college now bears his name. The Max Rady College of Medicine is one of five colleges within the Rady Faculty of Health Sciences. The naming of both is part of a legacy honouring Max and Rose Rady, cemented by Max's son Ernest Rady, who announced a $30 million gift to the faculty on May 12, 2016.
"Perhaps the most important lesson I learned from my parents was the joy of giving back and making a difference," Ernest Rady told the 106 graduates at the 2016 College of Medicine convocation.
Rady was in Winnipeg to announce the gift on behalf of his wife Evelyn, and the Rady Family Foundation.
"The College of Medicine is where my father got his start and allowed him to make a difference in the lives of so many people here in Manitoba, so this College is of particular significance to me and my sisters," said Rady, during an emotional speech.
Born Avraham Radishkevich, Max Rady changed his name when he immigrated to Manitoba from Russia in 1893. "I think you can guess why he changed his name," laughed his son. "I mean, who is going to remember to go see' Dr. Radishes and Cabbages'?"
The elder Rady came to Canada for a better life, first living in a spare room with his sister and brother-in-law, who were farmers. He worked as the secretary at Talmud Torah School and put himself through medical school at the U of M. "What an achievement that was," said his son. "There was a quota on how many Jews got in and he made it."
Max Rady graduated in 1920 and become an OBGYN. "At that time there was no such thing as an OBGYN, but that's the area of medicine he wanted to practice," said Rady. "When it later became a specialty, he was grandfathered in." Max soon met Rose Bronfman, who was working as a substitute teacher at the time, and they married in 1922.
Rose Rady was very active in the community and throughout her life she worked tirelessly for many charitable causes. "My father shared her values of giving to those in need; he did relief work during the Depression and he gave generously of his services as a doctor even to those who could not afford to pay him," said Rady. "He was a very kind man and a loving father to me and my sisters, and a caring husband to my mother."
His children – Ernest, Marjorie and Mindel – were young adults when Max's health began to fail. His son, still a teenager, began to take on a supporting role in the family.
"I was still in high school when I began running the family business, which was a small auto finance company, and I also undertook the task of managing the family's finances. My two sisters, their husbands, and I also came together to take responsibility for other day-to-day matters and to fill the emotional role of head of the family," explained Rady.
Despite the extra responsibilities, all three siblings earned degrees from the University of Manitoba, beginning in the 1940s. Sisters Mindel Olenick [BSc/45] and Marjorie Blankstein [BA/50, LLD/14] led the way for younger brother Ernest [BComm/58, LLB/62, LLD/15], whose wife Evelyn Rady is also a three-time alumna [BA/60, BSW/61, MSW/67]. But the family's ties go back almost a century to Max Rady, who passed away in 1964 at the age of 70. Rose Rady lived to be 90, passing away in 1988.
Well-known community-builders and philanthropists, the Rady siblings continued their parents' legacy of giving back, specifically in the area of medicine, both in Winnipeg and in Ernest's adoptive city of San Diego. In 2009, the Rady siblings together donated $904,985 to establish the MINDERMAR Professorship in Human Simulation at the University's now Max Rady College of Medicine. Since 2006, Ernest and Evelyn, through his company, American Assets, Inc., and the Rady Family Foundation, have donated a total of $180 million to the San Diego's children's hospital and Rady Pediatric Genomics and Systems Medicine Institute.
To conclude his May 12 speech, Rady thanked the University of Manitoba for giving him the opportunity to honour his parents through the gift and naming. To the graduates he said: "I hope you will all follow the example of the two people our family is honoring here today, and give back. Make a difference in someone's life. Do that, and it will make a difference in yours."