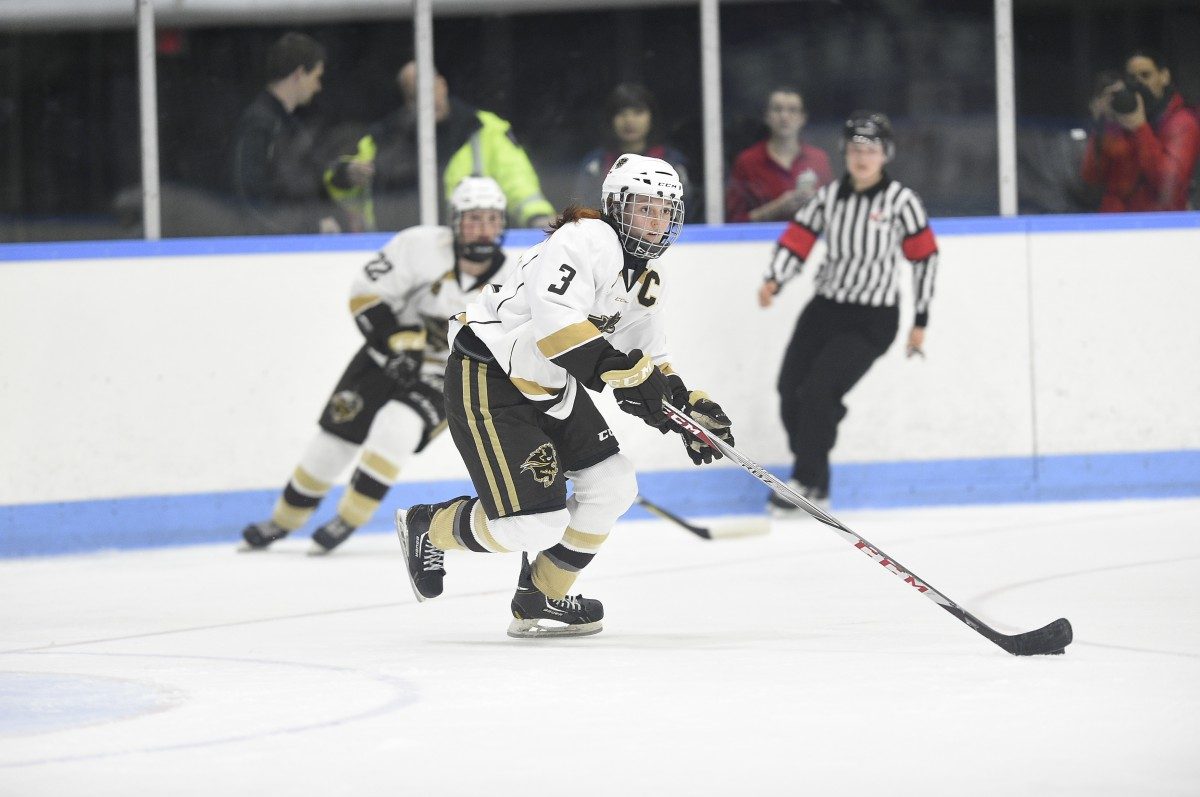 A game-changing gift for Bison captain
November 1, 2017 —
Caitlin Fyten is the first to admit she never really liked school.
Growing up in rural Alberta, she'd much rather be lending a hand on the family ranch or playing three-on-two with her brothers on dad's homemade rink.
All five of the Fyten kids were raised on hockey. Thanks to Bison Sports donors and Women's Hockey coach Jon Rempel [BA/95, BRS/00], Caitlin was able to follow her passion at the U of M.
It was back in Alberta, when Fyten was playing for her high school team, that Rempel scouted her out. After seeing her play, he asked if they could meet for coffee.
Fyten had no idea he was going to offer her a scholarship to play for the Bisons. Funded by donations from the U of M's extensive Bison community, that scholarship has helped the environmental studies student reach her potential on the ice and in the classroom.
"Getting the scholarship was huge for me because my parents and I were not sure what we could afford for university," says Fyten. "When Jon offered me what he did it ended up being a huge benefit in the long run because for a while I had virtually no income from my parents."
In her rookie year, Fyten's dad was diagnosed with cancer.
"Not only could he not work but my mom had to take a lot of time off to care for him," explains Fyten. "As a student, you can only make so much in a summer to help you out, so the scholarship was huge. I honestly don't know if we could have made it work if it wasn't for that."
In the two years before her dad died, Fyten's Bison scholarship kept her focused and motivated.
Until then, she'd never considered what she could accomplish in school. But because she needed to maintain good grades she began to realize her potential as a student.
Now in her fifth year of Environmental Studies, Fyten hopes to get into either oil and gas consulting or agrology when she graduates.
As for hockey, she started this season as captain of the Bison Women's team. Both are successes she attributes to receiving her athletics scholarship all those years ago.
"I honestly never thought I'd be captain of the Bisons. The fact that that scholarship made it possible makes you realise there may be other girls out there with the skill and potential to be great hockey players but they don't have the finances to make it happen. These scholarships can give girls a chance to have the same opportunities as I've had."
Donations to Bison Sports help build leaders of tomorrow by rewarding outstanding performance and potential. To support women's hockey or other Bison teams, visit give.umanitoba.ca/ag/bisons