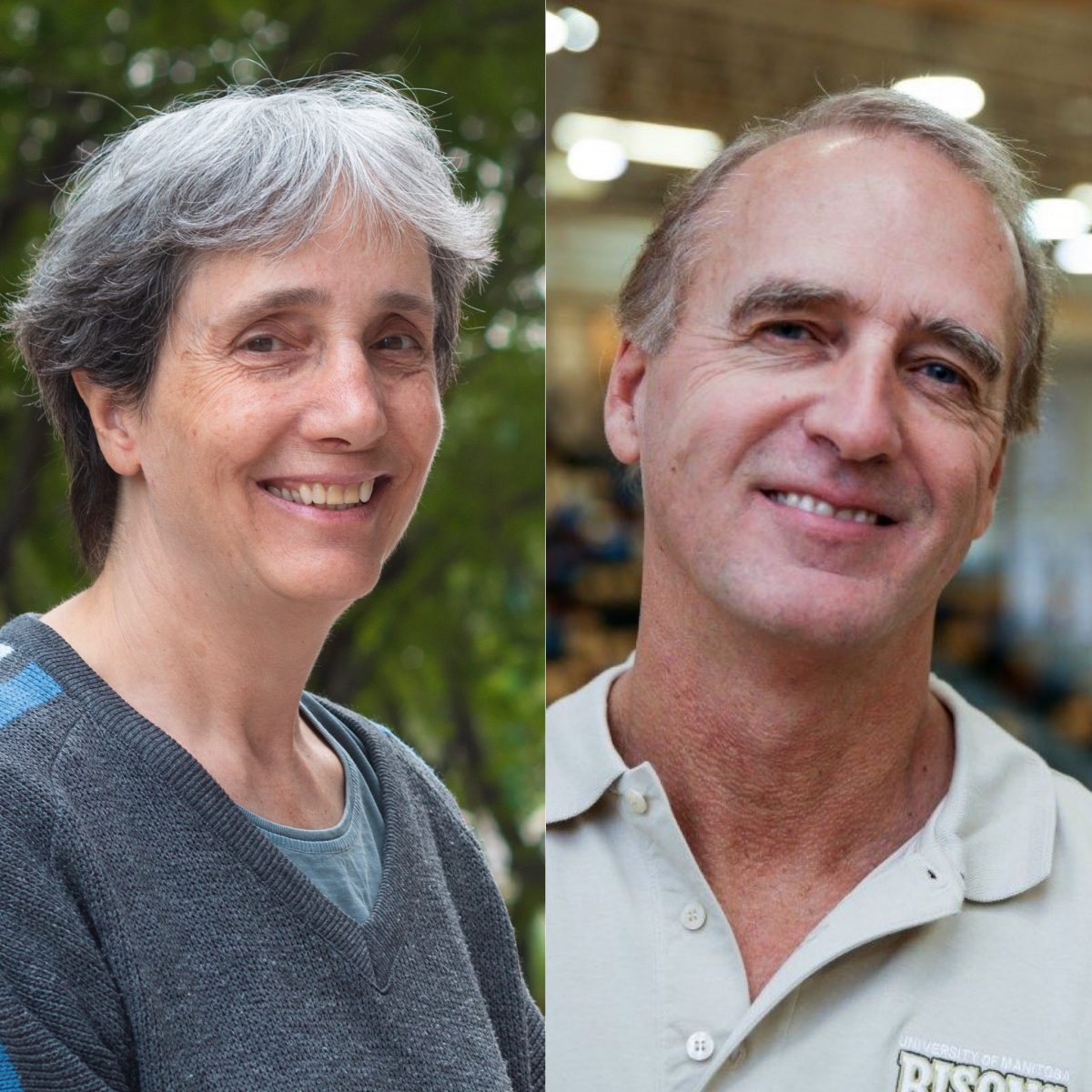 A closing chapter for two Faculty of Kinesiology & Recreation Management pillars
June 30, 2020 —
June 30 marks a significant milestone for two prominent Faculty of Kinesiology and Recreation Management figures.
Joannie Halas, a professor who's dedicated her career to improving access to quality and culturally relevant physical and health education for Indigenous youth, and Garth Pishcke, perhaps the most successful collegiate coach in North American history, are retiring.
Their names have become synonymous with the faculty. Within their respective spheres, they have made national, if not global, impacts on the communities they dutifully served.
A professor in the University of Manitoba's Faculty of Kinesiology and Recreation Management and lifetime physical educator, Joannie Halas' early career teaching in the public school system provided the genesis for a future research program that would investigate ways to create more inclusive spaces in physical education and health.
Since joining the U of M in 1999, Halas' community-based research and scholarship has focused on preparing undergraduate physical education students to work with diverse youth populations in ways that affirm their cultural identities. She has been instrumental in developing recruitment and retention strategies for Indigenous and other youth who are racially and economically disenfranchised. A major outcome of this research has been the establishment of the Rec and Read/Aboriginal Youth Mentorship Programs, where university students and community members work with Indigenous and inner-city youth from diverse populations to develop and deliver an after-school physical activity, nutrition and education program for early years children.
Building on the success of the mentor programs and in consultation with Indigenous educators and communities, she developed the Sport, Physical Activity and Recreation in the Community (SPARC) Certificate, a transition year program designed for Indigenous students that has potential to transform the cultural landscape of physical education for generations to come.
"If you worked with Joannie, you learned from Joannie. She is a generous and provocative colleague. She not only pushes students to confront the reality of systemic racism and white privilege in Canadian society, she pushes faculty colleagues and university administrators to find and support solutions to address systemic racism," said Douglas Brown, Dean, Faculty of Kinesiology and Recreation Management.
Joannie's commitment to social justice will continue to have a profound impact in our faculty for years."
Garth Pischke closes his coaching career at the University of Manitoba as one of the most successful coaches in North American history. He became the coach of the Bisons men's volleyball team in 1979 at the age of 23, and, under his guidance, the U of M has been viewed as one of Canada's most elite programs.
During his 38 years as the Bison men's volleyball head coach, the Bisons have qualified for the U SPORTS National Championships 27 times, including a streak of 14 straight years winning a medal at the Championship as well as a streak of 19 straight seasons of qualifying for the National Championship.
In 2014, Pischke's Bisons topped the University of Regina in straight sets to notch his 1,240th win. That victory meant he became the all-time winningest collegiate coach in North America — topping Al Scates, who led UCLA's men's volleyball program to 19 national titles.
"While the records are impressive, Garth's impact on the volleyball community in Winnipeg and Manitoba cannot be measured or counted. His leadership of the Bisons Men's team, Garth produced generations of alumni who are dedicated to the growth and sustainability of the sport," added Brown.
"Garth, and his family, shaped a culture for volleyball in Manitoba that is supportive and highly engaged in the development of future champions. For this, the Bisons Men's program will continue to be strong and successful."