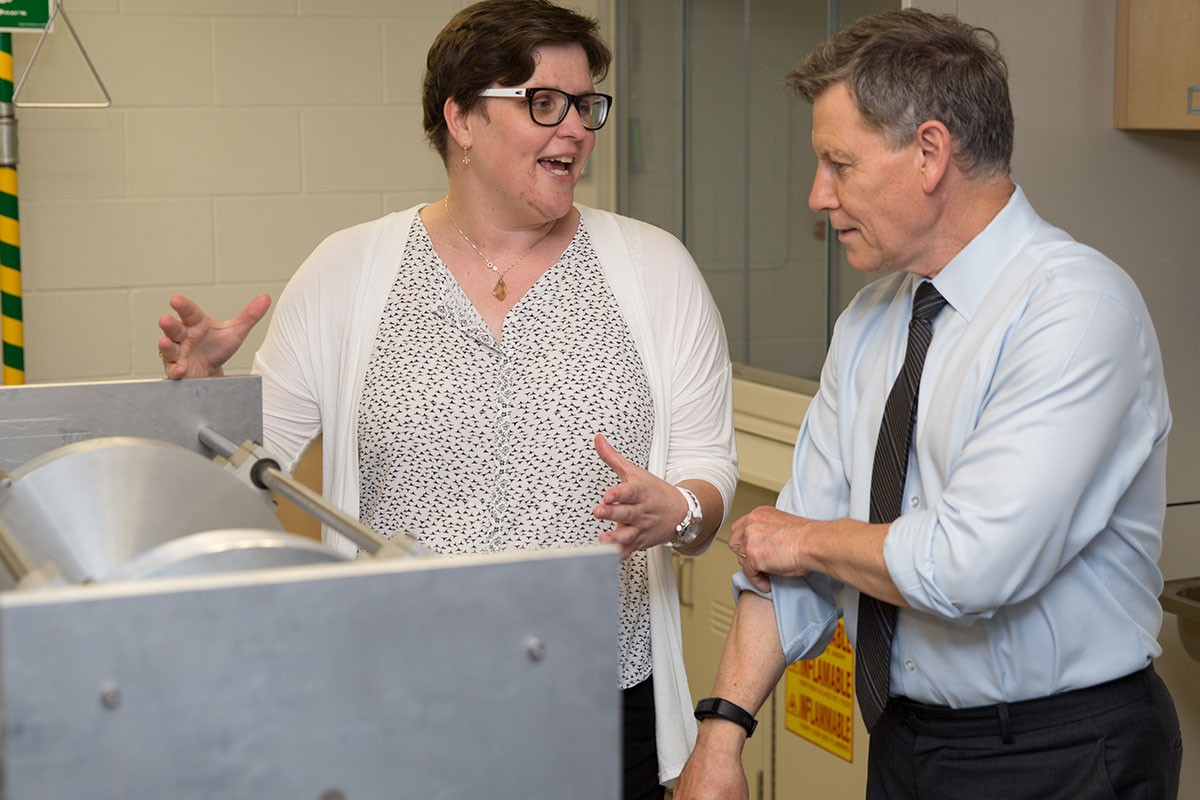 $8 million in funding to support research at U of M
August 22, 2016 —
The Government of Canada today announced $8,138,046 in funding to the University of Manitoba to support the essential research activities and expenses of its research enterprise: everything from repairs, upgrades and maintenance of research labs and equipment to keeping the lights on to supporting research development, regulatory aspects and commercialization of ideas.
"It's so important to ensure that our educational and research facilities receive the level of funding they need to maintain a world-class environment. The Government of Canada is proud to support the necessary and exciting work taking place at post-secondary institutions across the country," said Terry Duguid, MP for Winnipeg South, and Parliamentary Secretary to the Minister of Families, Children and Social Development.
Duguid spoke on behalf of Navdeep Bains, Minister of Innovation, Science and Economic Development.
The Government of Canada's Research Support Fund (RSF) assists Canadian post-secondary institutions and affiliated research hospitals/institutes with indirect costs associated with federally funded research, helps them in achieving research excellence and maintaining world-class research environments.
"The support of the federal government of all research at the University of Manitoba, through the Research Support Fund, is critical to our success," said Dr. Digvir Jayas, vice-president (research and international) at the University of Manitoba.
A tour of the recently upgraded research lab that benefited from the RSF support took place following the news conference.
"Our research develops custom spectrometers to study the movement of molecules at a microscopic level," says Jennifer van Wijngaarden, professor in the department of chemistry, Faculty of Science.
"We do fundamental science, some of which has applications in the field of astronomy: ground and satellite-based telescopes measure rotational frequencies emitted from objects in space (clouds, atmosphere of planets, tails of comets, etc.) and in order to identify the species present, they need laboratory spectra for comparison. This is what we can provide with our custom instruments," says van Wijngaarden.
"The upgrades to our lab space are critical to the optimal function of these 21st century instruments."
She adds that the chemistry in space occurs under very unique conditions (temperatures and pressures). Molecules that wouldn't normally be found on Earth can be stable and participate in reactions.  Therefore, the need for custom-built sources in her lab are required to generate these prototype astronomical species under low temperature and pressure conditions and then measure their rotational frequencies directly.
Her equipment was acquired with funding from the Canada Foundation for Innovation and Research Manitoba.
The RSF grant is used to maintain and upgrade labs and equipment, provide access to up-to-date knowledge resources through libraries and information technology upgrades, provide research management and administrative support, meet regulatory and ethical standards, and transfer knowledge from academic to the private, public and not-for-profit sectors.
This year's allocation goes in large part to support research facilities ($3.7M), followed by management/administration ($1.9M), regulatory requirements ($1.3M), and the remainder allocated to research resources ($0.89M) and intellectual property management ($0.33M).
RSF funds are administered by the Tri-Councils (Canadian Institutes of Health Research – CIHR, Natural Sciences and Engineering Research Council – NSERC, and Social Sciences and Humanities Research Council – SSHRC).
Further information on the Research Support Fund can be found here and here.

Research at the University of Manitoba is partially supported by funding from the Government of Canada Research Support Fund.