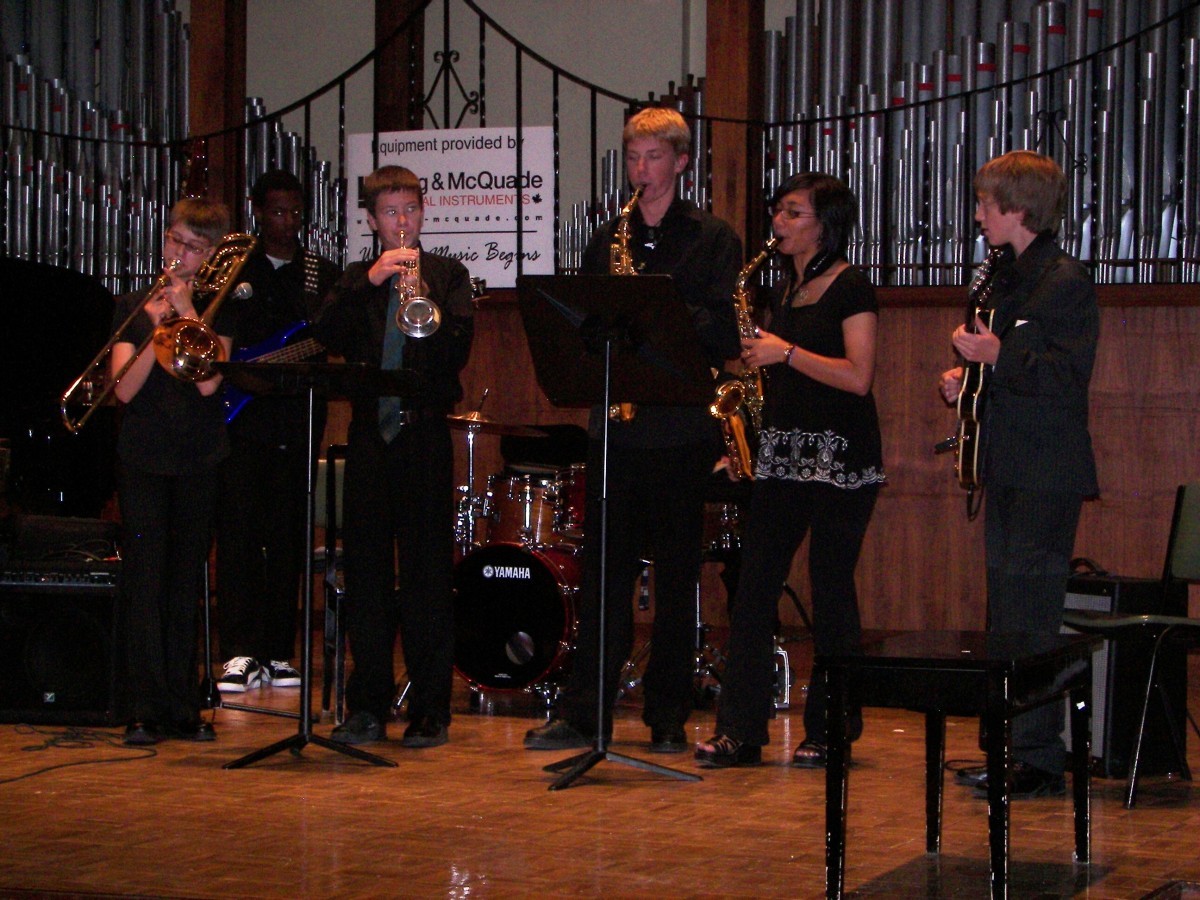 Jazz Camp celebrates its 20th season
June 6, 2013 —
The 20th season of Jazz Camp gets underway this August 18 to 25.
When the first Jazz Camp started as an idea by the Faculty of Music's Bernie Rose and Richard Wedgwood, it was because the faculty was looking for a way for young student musicians to increase their understanding and appreciation of jazz and improve their solo and performance skills. The pair approached Extended Education's summer session to develop and administer the camp with the Marcel A. Desautels Faculty of Music providing the instructors.
The first Jazz Camp attracted 34 students.
This year, Jazz Camp will max out with 100 students. Participants include high school students, university students, and even elementary-aged kids, teachers and parents. In fact, anyone can attend with some basic skills regardless of their age. All of them learn how to hone their jazz skills and have the chance to perform on stage.
During the first day of camp, students go through a basic audition to determine their ensemble group placement. "Every skill level is welcome," says Warren Otto, Program Administrator for Jazz Camp, who has also been involved from the start, organizing camp details, including the end of camp student concert.
"We've had some very talented students attend camp over the years, and, thanks to Steve Kirby, Jazz Camp attracts some of the best musicians from the world of jazz as guest instructors. Jazz Camp gives students the chance to learn from some of the best jazz musicians anywhere," says Otto.
Over the years, Jazz Camp has seen a wide range of students too.
There's the music teacher, who comes every year, and the father who drove from Portage la Prairie every day with his 9- and 12-year-old daughters and jammed with his family.
Most of the students come for the chance to play with some of the best names in jazz and to have fun. Many come back year after year and have gone on to make jazz a part of their lives and careers.
Some notable Jazz Camp alumni include: Curtis Nowosad, a U of M graduate and Jazz Camp instructor, who was recently admitted to Manhattan School of Music as an elite fellow on a full scholarship; Will Bonness, U of M graduate and now U of M faculty; Devon Gillingham, recently won the internationally renowed Essentially Ellington student composition contest; and Connor Derraugh, a talented 17 year old piano and saxophone player who has attended Jazz Camp since he was 10.
And there's the long list of guest instructors that reads like a who's who of jazz. In past years students played with the likes of Peter Appleyard (a Canadian legendary vibes musician), Steve Turre, "who's played with everyone" notes Otto, "you might know him as the trombonist in the Saturday Night Live Band," and multi Grammy nominee and renowned saxophonist, Miguel Zenon. "This year's special guest instructors are trombonist, Wycliffe Gordon, who's played with Wynton Marsalis, Dizzy Gillespie and Shirley Horn, and saxophonist, Steve Wilson, who has an equally impressive resume, including gigs with Chick Corea and Dave Holland.
The two 20th Anniversary guest instructors will join Jazz Studies staff Steve Kirby (bass), Quincy Davis (drums), Derrick Gardner (trumpet), Will Bonness (piano) and Anna-Lisa Kirby (vocals).
Every year the camp features a faculty concert at the Winnipeg Art Gallery and ends with a student concert. This year watch for noon-hour concerts on campus featuring Gordon, Wilson and Jazz Camp instructors and students.
"19 years ago jazz in Winnipeg was hard to find," says Otto. "Today, you can find jazz being played somewhere in town every weekend. You can see the popularity of jazz grow through the efforts of Steve Kirby and the Jazz Studies faculty. The growing popularity of Jazz Camp is another example of that."
The U of M Jazz Camp is a partnership between the U of M's Faculty of Music, Jazz Studies and Summer Session in Extended Education, with support from Pepsi Bottling Group, Long and McQuade Musical Instruments, and St. John's Music.
This article first appeared in the June 6, 2013 edition of The Bulletin.