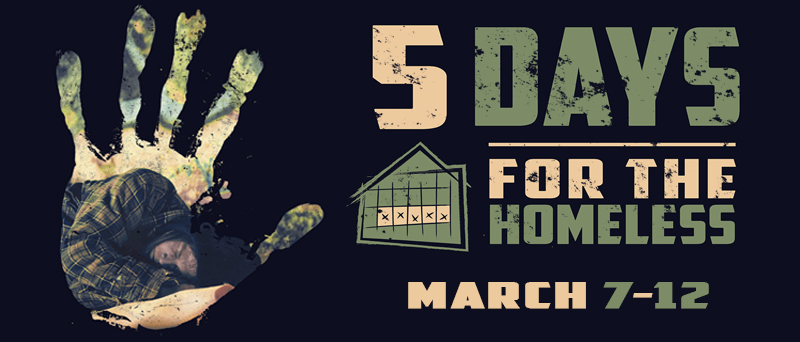 5 Days for the Homeless
U of M students to spend five nights living outside to support homeless youth
March 2, 2016 —
Six University of Manitoba students will give up the comforts of home and live outside on the University of Manitoba Fort Garry campus for five chilly nights from March 7 to 12. They are joining 26 Canadian universities for the national 5 Days for the Homeless campaign, which aims to raise awareness and funds to fight youth homelessness.
This marks the ninth consecutive year that students from the U of M's Asper School of Business have run this campaign. They're raising funds for Resource Assistance for Youth, Inc. (RaY), a local charity that helps homeless and marginalized young people achieve independence.
During the campaign, Noah Yagi, Ashley Richard, Cam Teschuk, Nancy Barajas, Zach Leclerc and Chris Moskal must fulfil their duties as students and attend all their classes. They will not be able to shower and carry any cash or identification, and can only eat food that has been donated to them.
Several events have been planned throughout the week to help the campaign reach this year's goal of $25,000:
5K for the Homeless run/walk
Sunday, March 6, 11 a.m., on campus, register at runningroom.com
Popcorn Sale
Monday, March 7, 10 a.m. – 2 p.m., Drake Centre
University of Manitoba Marketing Association Grilled Cheese Sale
Tuesday, March 8, 11:30 a.m. – 2 p.m., Drake Centre
Bake Sale
Wednesday, March 9, 9 a.m. – 2 p.m., Drake Centre
University of Manitoba Leadership Organization Waffle Sale
Thursday, March 10, 10 a.m. – 2:30 p.m., Drake Centre
"5 Acts for the Homeless"
Friday, March 11, 8 p.m. – 2 a.m., Nicolino's, tickets available in the Drake Centre for $10
Silent Auction
Prizes on display all week in the Drake Centre, auction at 5 Acts
Media and guests are invited to visit the homeless students throughout the week at their shelter on the east side of University Centre, and to attend Opening Ceremonies on Monday, March 7 at 12 (noon) in Drake Centre (181 Freedman Crescent). Refreshments will be provided by the Asper School of Business, one of the campaign's many supporters.
5 Days for the Homeless was founded as a local initiative by University of Alberta School of Business students. The initiative expanded to a national scale in 2008. To date, the campaign has raised over $1,462,500 for charitable organizations across the country and has raised awareness about youth homelessness from coast to coast.
Resource Assistance for Youth, Inc. (RaY) is a non-profit street-level agency working with street-entrenched and homeless youth up to the age of 29. RaY is non-judgmental and non-partisan, employing a harm reduction approach to all interactions with youth in need.
For more information, contact:
Cassidy Coutts
External Marketing Coordinator
204-770-8365
cassidycoutts [at] gmail [dot] com
twitter.com/5D4H_WPG
instagram.com/5D4H_WPG
facebook.com/5dayswinnipeg
View Photo Album >
View Photo Album >
Media Coverage