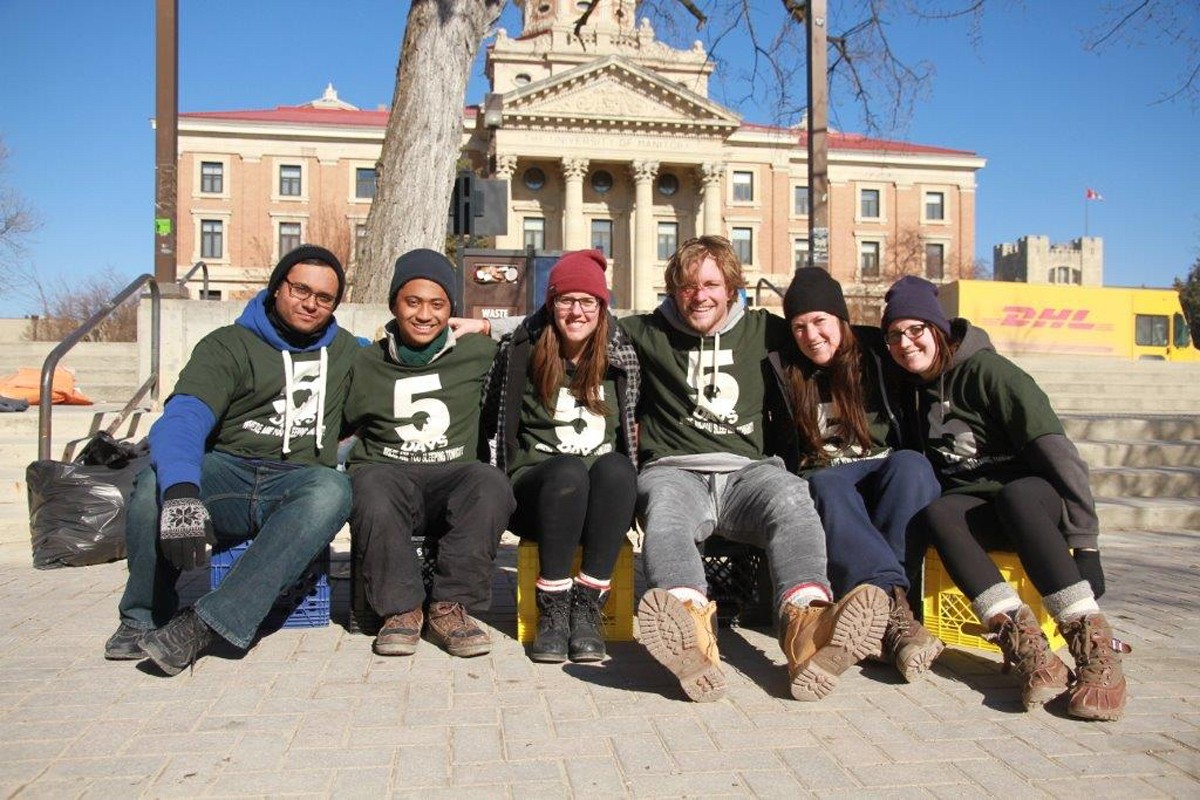 5 Days for the Homeless makes final push
March 25, 2015 —
With less than a week remaining, the University of Manitoba's 5 Days for the Homeless fundraising campaign has raised $18,000 – "just shy" of its $20,000 target, says co-chair Chris Kirk-Fisher.
The annual fundraiser, organized by the Commerce Students' Association at the Asper School of Business, generates much-needed funds for Resource Assistance for Youth (RaY), a local organization supporting homeless youth in Winnipeg.
Four Asper students and two students from the Faculty of Arts slept outside University Centre from March 15 to 20 to draw attention to the campaign and raise most of the funds. Kirk-Fisher says there's still time to meet or exceed the target. Donors can make a donation at  5days.ca/manitoba  up to and including Tuesday, March 31.
Kirk-Fisher says the campaign's success owes a great deal to the enormous generosity of Asper faculty and staff, including Dr Lukas Neville and Dr Hari Bapuji, "who offered us the opportunity to speak to their classes about our cause, and then personally matched any donations made by their students."
Hari Bapuji, Associate Professor, Business Administration, invited one of the five outdoor sleepers to talk to his International Management class about poverty's impact on cognitive ability.
Fourth-year Marketing and Finance student Alannah Matte told students about "how the interior lights were throwing her off after all the sunlight, and how she was finding it harder and harder to concentrate on anything for any amount of time," says Kirk-Fisher. "Afterwards, she told me she thought her speech went better than she was expecting. I told her she couldn't stop rambling and kept going off on tangents — basically proving exactly what Dr Bapuji was talking about with his class."
Bapuji says he wanted to show students how "being poor, even for a few days, changed her thinking and behaviour. She discussed how what most of us take as normal was a luxury; a good night's sleep was not possible with traffic passing by." He says Matte also told the class how, in the past, she would "ignore or look past a homeless person cleaning the windshield for a quarter. But now she would see a person."
Matte's visit also helped Bapuji indelibly impress upon his students an important concept in international business: "We teach that profit maximization is the goal of corporations. But, profit is not generated in a vacuum. It is created by coming up with something useful to people. That is why international business is focusing increasingly on growth through serving the poor, by making them entrepreneurs and consumers."
Lukas Neville, Assistant Professor, Business Administration, says he was moved by how "incredibly committed Asper students were to making a difference for RaY. In addition to the sleepers braving the cold outside, our students were busy selling sandwiches, running auctions, and making very persuasive in-class pitches. My Organizational Behaviour and Negotiation students really demonstrated their generosity, making gifts between $120 and $160 per class. I was thrilled to match their contributions and help them make an even bigger impact for RaY. The campaign is within striking distance of its $20,000 goal, so I hope the Asper community can make a big effort in its final days of online fundraising to push them over the top."