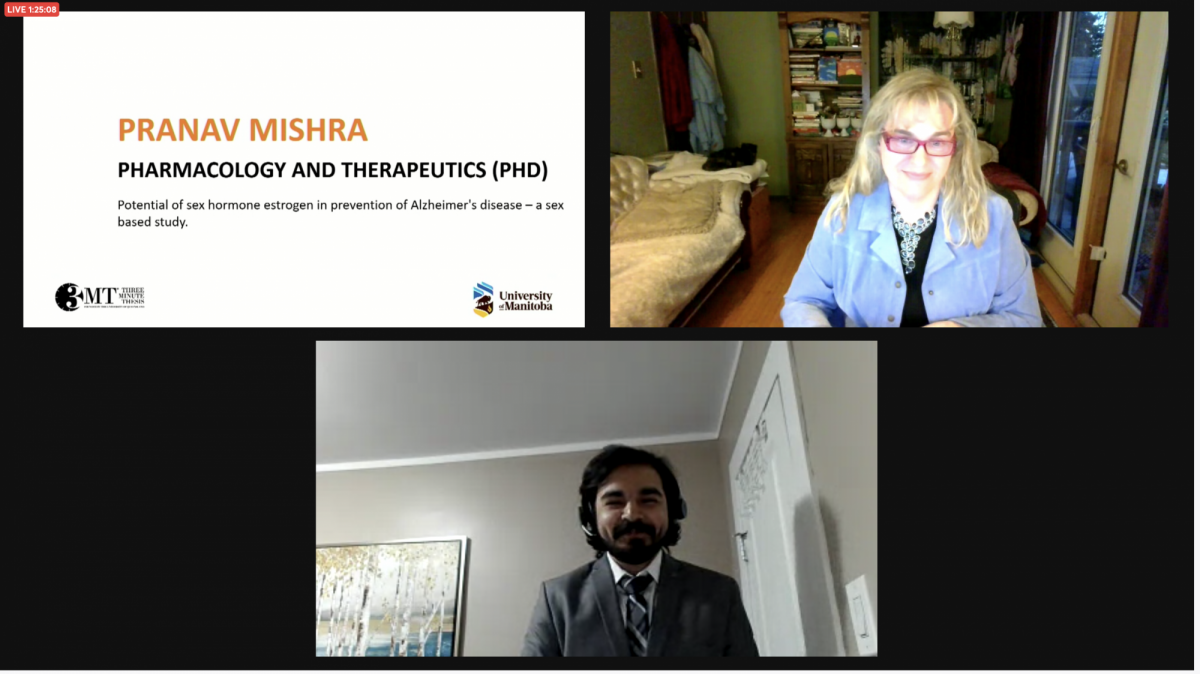 3MT winner looking forward to continuing research in fight against Alzheimer's
Four grad students take home top prizes at UM 3MT final
April 8, 2022 —
A PhD student in the department of pharmacology and therapeutics won first place and the Archie McNichol Prize at the UM Three Minute Thesis finals on April 7, 2022.
Pranav Mishra is a third-year student at the Max Rady College of Medicine, with advisors Drs. Paul Fernyhough and Benedict Albensi. Mishra's research involves working with the sex hormone estrogen to see how it can decrease inflammation and increase mitochondrial function in the brain, consequently improving the survival of brain cells.
He explained his thesis on the prevention of Alzheimer's disease to a panel of judges and a viewing audience online, competing against eleven other graduate students from a variety of disciplines.
Mishra received $2,500 for first place in the competition, which received over 2,100 views online.
On receiving the award, Mishra said: "I am glad that my efforts paid off. There is this sense of achievement that I can feel right now, and I am glad I could make my advisors, family, and friends proud.
Even though it was very challenging to summarize a complex research project in simple terms, I enjoyed doing that. To be able to present my work to such a large crowd was amazing. I have received a lot of appreciation and wishes for winning the finals and this makes me even more enthusiastic towards my research project. Listening to other researchers and getting to learn about their work was fascinating."
CTV News Winnipeg's Colleen Bready [BA(Adv)/03] hosted the online competition. Students were judged on comprehension, engagement, ease of communication by the judging panel which included Joe Funk [BSc/89, MBA/96], Assistant Deputy Minister of Advanced Education,; Coleen Rajotte [BA(Adv)/89], Artistic Director of the Winnipeg Aboriginal Film Festival and CEO, Vitality Television; and Mark Evans [PhD/88], President & CEO of Conquest Planning Inc.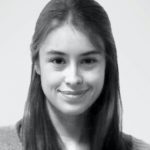 Shayna Giesbrecht received the University of Manitoba Retirees Association Prize for Second Place ($1,250) for her work on the prevalence of sexually transmitted blood-borne infections in Canadian waste water samples.
She said: "It is so exciting to be chosen as the 2nd place competitor. I came into the finals as a wildcard selection, so I honestly didn't expect to win anything. It was such a special experience to me because I was watching it with my whole family. I also had some of my track teammates, friends, and co-workers watching, and my grandparents were watching it remotely, so I really got to celebrate with my whole support system. I really enjoyed getting to watch others talk about the research that they are a part of here at UM, and the finalists had so much passion for their research. It was great to be able to share my research with so many people."
Third place winner Kaitlynn Weisgerber received the Third Place Prize ($750) for studying wild and hatchery-raised Lake Sturgeon in Manitoba.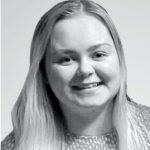 Weisgerber said: "It feels incredible to win and represent the biological sciences department. This is arguably one of my greatest achievements to date. I really enjoyed that 3MT provided a diverse platform to disseminate research and engage with the public. It was exciting to test my communication skills in a competitive way. I will be continuing to assess lake sturgeon populations across the province and hope to find myself working in the fisheries industry in the near future."
The online audience voted Chioma Victoria Nwachukwu as People's Choice for her presentation about using electrical stimulation to allow walking after spinal cord injury.
"The way I felt on hearing of my win was inexplicable. I got very emotional on seeing that I had won the "People's Choice Award". It was satisfying to know that my project and presentation were applauded by the viewers. I truly appreciate my family, friends, supervisors, and colleagues for all their support throughout the competition. I could not have achieved any of these alone. What I enjoyed most about 3MT was the task of breaking down complex scientific concepts of my project into simple comprehensible terms and analogy. It was not an easy thing to do, but I liked the fact that it challenged me to think more about my project and how best to present it to a lay audience. I also enjoyed the creative and innovative ways the other challengers presented their works. I am very proud of everyone that participated in this year's 3MT competition."
A list of all the challengers and their research topics can be found here.
Kelley Main, Acting Dean of the Faculty of Graduate Studies thanked all the competitors for their hard work. "This event is such a testament to the research being done at UM and it allows our graduate students to take the stage and show the broad community the passion they have for their research. It is no easy task to speak to such a diverse audience and these students excelled at their communication and engagement. To all the competitors, I would like to say thank you."
Following his win, Mishra will go on to represent UM at the Western Regional Competition hosted by the University of Winnipeg on May 6, 2022.
Three Minute Thesis 3MT® is an annual competition where challengers have three minutes to explain their research and its importance or relevance, using only a single static image or slide to illustrate their topic. At the University of Manitoba, 3MT® is part of an overall strategy to highlight our graduate students, promote research at the University of Manitoba, and connect with the community.
Research at the University of Manitoba is partially supported by funding from the Government of Canada Research Support Fund.