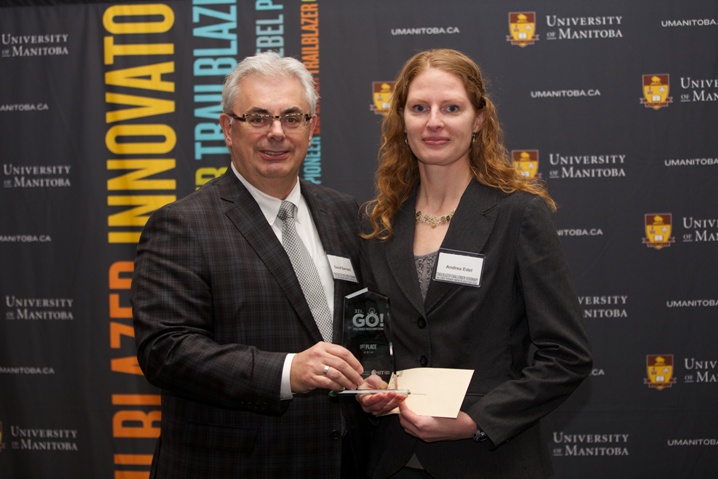 3MT application portal opens Dec. 10
Grad students: Want a chance to win $5,000 and an iPad mini?
December 8, 2014 —
Do you "know your stuff" well enough to explain your research to a non-specialist audience?
Three Minute Thesis (3MT®) is open to all University of Manitoba graduate students in thesis-based programs. Each challenger has three minutes―using only a single static slide as an illustration―to clearly explain the nature, goals and significance of his or her research.
"Excellent communications skills are an essential requirement in every graduate student's skills 'toolbox'," says Jay Doering, vice-provost (graduate education) and dean of graduate studies. "3MT® provides graduate students the opportunity to enhance and refine these skills in a way that allows others to understand the nature of research."
Doering notes that today's graduate students are the future leaders whose innovations will allow Manitoba to compete on a global scale.
He adds: "Participation in 3MT® is challenging, rewarding―and looks great on a resume. I know that prospective employers often have watched 3MT® challenger videos to assess job applicants' communication skills."
Doering's comment about 3MT® being very challenging is key to understanding the competition. It can take years for a thesis to be researched and finalized―so condensing it to only three minutes in order to get the information across to a non-specialist audience is quite a task. Challengers are evaluated by a panel of judges, with the audience voting for the People's Choice winner at the Final Competition.
The online application portal will open on December 10, 2014, and the application deadline is noon on January 12, 2015. Successful challengers will be notified on January 16, 2015.
Students can access the online application through the 3MT® website. Once there, in addition to personal and contact information, students need to identify their advisor, their department, and whether they are working towards a master's degree or a doctorate. Finally, applicants need to indicate their availability for heat dates, and then upload a 30-second video, a new requirement for this year. This video can be shot on any video recording device―even a smart phone. If students don't have access to a recording device they can borrow an iPad from the Faculty of Graduate Studies.
There are four heats scheduled between February 10 and 13, 2015; two on the Bannatyne Campus and two at Fort Garry.
The Final Competition will be held on February 25, 2015, from 7:00 to 9:00 p.m. at the Robert B. Schultz Lecture Theatre at St. John's College on the Fort Garry Campus. The public is invited to cheer on the challengers as they compete in the finals. Doors open at 6:30 pm.
The top three winners from each heat will receive an iPad mini, while the prizes for the Final Competition are: $5,000 for First Place, $2,000 for Second Place and $1,000 for People's Choice.
The University of Manitoba includes 3MT® as part of an overall strategy to provide career building opportunities for graduate students, promote research at the University of Manitoba and also connect with the broader university and surrounding community.
Last year, 135 graduate students applied for the 3MT® competition at the University of Manitoba. In 2014, Andrea Edel, a doctoral student in physiology, was awarded first prize for her presentation titled "Flaxseed: A Modern Prescription for High Blood Pressure and Cholesterol." In 2013, Leah (Wong) Guenther won first place for her presentation "Engineering a synovial fluid analogue for the wear testing of orthopaedic bearing materials". Their presentations can be viewed here.
Regional 3MT® championships were held in Canada for the first time in 2014, followed by a national competition. Edel went on to the Western Regionals to take People's Choice and third place overall.
Research at the University of Manitoba is partially supported by funding from the Government of Canada Research Support Fund.