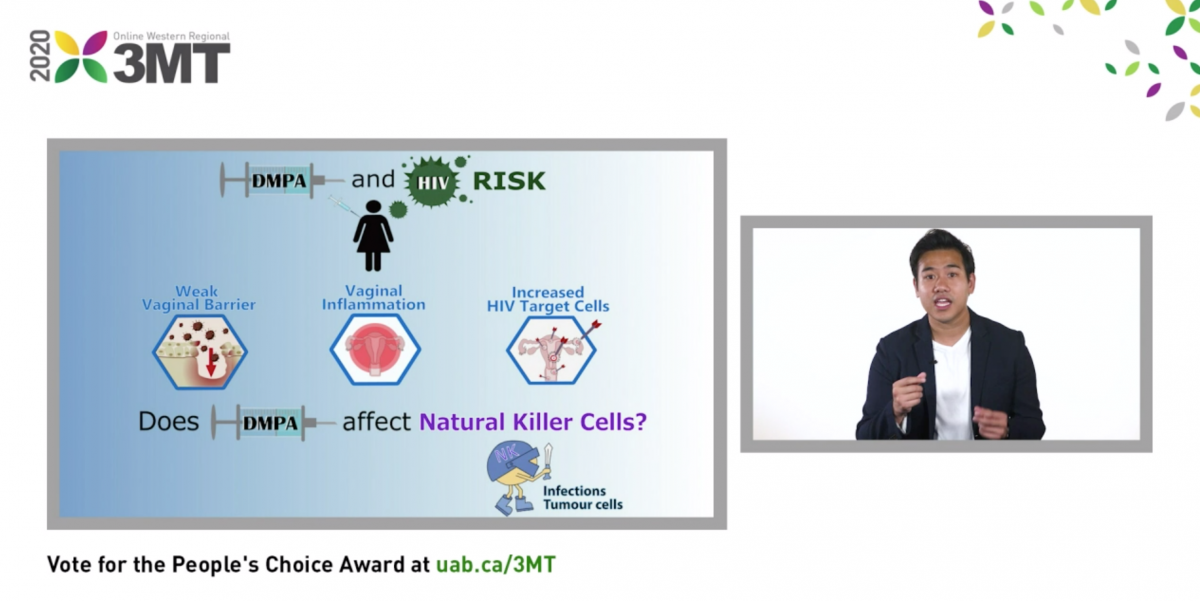 3MT a learning experience for Rady master's student
October 2, 2020 —
Toby Le's experience at the 3MT Western Regional Finals on Sept. 23 was not only valuable and memorable, but also eye opening. Competing in the 3MT competition this year taught the master's student a lot about being an effective communicator.
While he didn't place in the top three this time around, it didn't detract from his take-aways.
"I learned so much," said Le, a graduate student in the department of medical microbiology and infectious diseases, Max Rady College of Medicine. "3MT taught me about how you engage an audience without a scientific background and how you summarize all the work that you do into points that are important to know and that will impact your audience."
Le's research aims to understand how the hormonal contraceptive DMPA is linked with HIV risk. He turned this complex research into an informative and engaging three-minute presentation that helped him win the UM 3MT finals in June.
To develop an immersive presentation Le thought deep about his research and asked himself a couple of questions: "Why do people care?" and "Why should anyone sit there and listen to my three-minute talk?"
"From that realization my presentation evolved in such a way that now when I give a presentation on my research, and perhaps future research, the goal is to help my audience understand why my work is important to them," Le said. "I also want to help them appreciate the importance of research in addressing health concerns faced by our participants and their communities."
At the 3MT Western Regional Finals, he competed against 15 other graduate students from across Western Canada. The finals were scheduled to take place at the University of Alberta, but because of COVID-19 the competition went online and competitors submitted a video of their talks.
"I really missed the audience," Le said. "I'm so used to presenting to an audience and being able to use body language and see people's reactions. I definitely missed that part."
However, Le said that learning how to present to a video camera will help him as he begins his PhD and as he enters his career as a scientist. He sees the future of science communication taking place more and more online.
"The ability to disseminate information across online platforms and to engage people online is an important skill to develop," Le said. "With online videos, it's challenging to engage your audience. People can easily feel disconnected from online presentations."
The 3MT Western Regional Finals honourable mention was Shelby Bennett from Trinity Western University; the runner-up was Martha Ruiz from the University of Alberta; and the winner and People's Choice Award selection was Elana Varner from Simon Fraser University. Watch a replay of the 3MT Western Regional Finals.