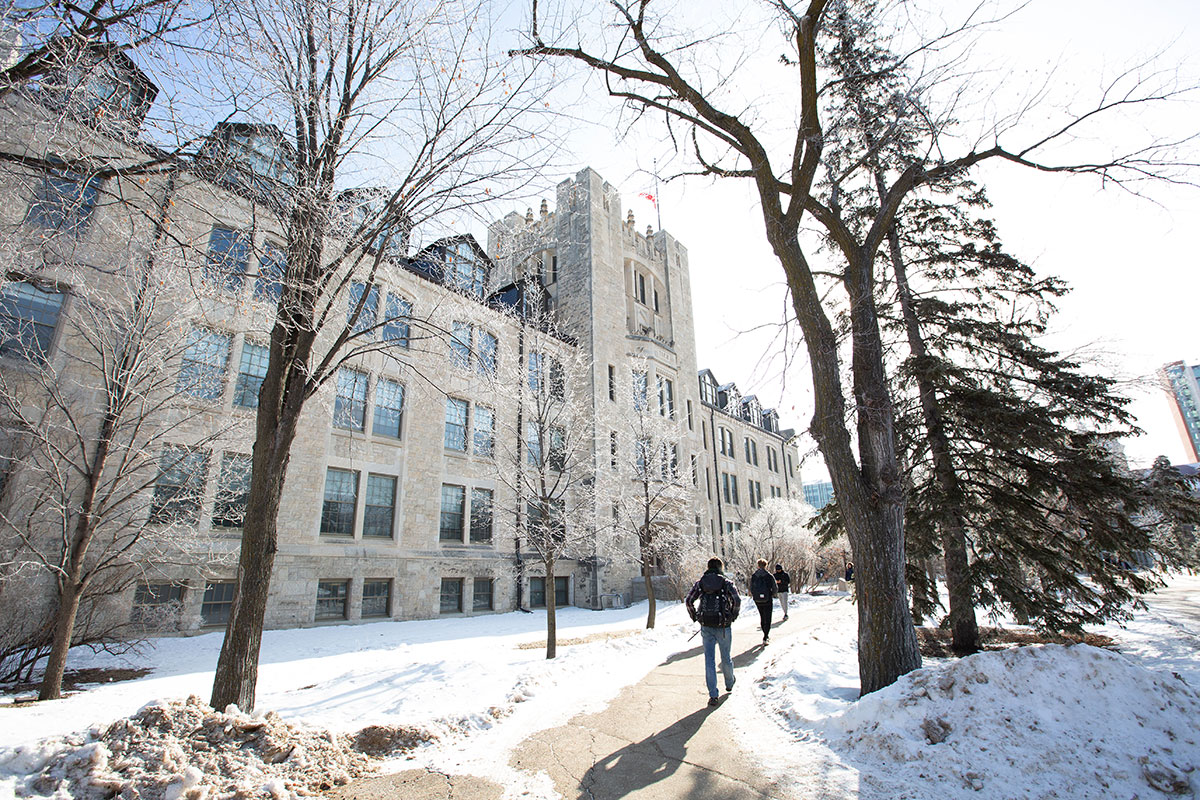 UM 2023 Sustainability Award Winners
March 27, 2023 —
Each year the university celebrates students, staff and faculty who are actively working towards bettering sustainability on campus. The following winners of the 2023 Sustainability Awards were selected by a committee and received their awards at UM Sustainability Night on March 8.
Student Group Sustainability Award
Award Recipient: UMEarth
The Student Group Sustainability Award recognizes a group of students who have led an initiative or project to advance one or more of the Sustainable Development Goals. This group also has made and will continue making a lasting positive impact on the environmental, economic, and social well-being of students at the University of Manitoba.
UMEarth has many projects that contribute to the UN Sustainable Development Goals such as their Wintergreen project which focuses on helping to solve food inaccessibility in Canada's northernmost communities and their Solar Gravity Lamp which helps solve the issue of battery storage for solar installation projects. UMEarth engages with the broader UM community through events, workshops, technology social fairs, and social media.
Staff Sustainability Award
Award Recipient: Alexa Hardwood-Jones
The Staff Sustainability Award recognizes an individual staff member's efforts to educate, advocate and advance one or more Sustainable Development Goals within their department and/or unit. This person shows a keen interest in campus-related activities and sustainability as a whole. Sustainability may or may not be defined in this person's job responsibilities.
Alexa has spearheaded a variety of Green Office efforts within the Drake Centre, including putting together an outreach survey for all staff and faculty in the building, initiating an internal green action team, preparing engagement materials to connect staff with information, and exploring a building-specific carbon footprint audit. Alexa has demonstrated significant initiative and commitment to elevating sustainability within the business community at the university.
Faculty Sustainability Award
Award Recipient: Bruno Dyck
Bruno has a broad understanding of sustainability that encompasses virtually all of the Sustainable Development Goals, especially goals related to sustainable business and economic well-being. He was also instrumental in the introduction of two undergraduate courses Corporate, Social, and Environmental Responsibility and a mandatory course called Sustainable Business. Bruno has developed numerous innovative assignments and opportunities for experiential learning in his courses. He is passionate about sustainability and has had a tremendous impact both of business students and colleagues at the Asper School of Business.
Undergraduate Sustainability Award
Award Recipient: Sharon Felix
The Undergraduate Sustainability Award recognizes an undergraduate student who has led an initiative or project to advance one or more of the Sustainable development Goals. This initiative or project can be a part of coursework or take place outside of the learning environment.
Sharon demonstrated exceptional leadership and dedication in promoting sustainable living practice at the University of Manitoba. Her personal commitment to reducing waste, reusing materials, and educating others on the importance of sustainability has had a significant impact on her personal network and the broader campus community. Overall, Sharon's initiative and dedication to promoting sustainability at the university serves as a model for others to follow.