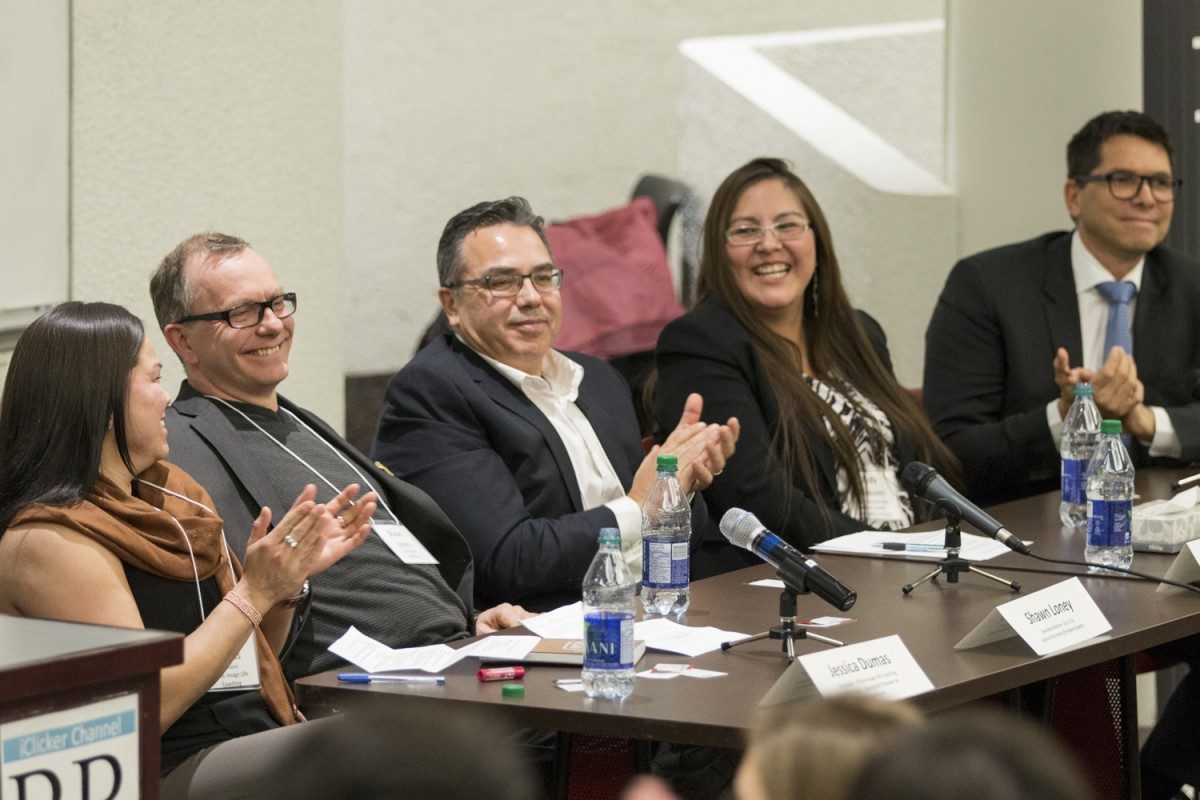 20/20 Vision
Indigenous participation is key to economic success
March 7, 2017 —
On February 28, the Asper School of Business hosted a panel discussion focusing on the critical need to engage Indigenous participation in Manitoba's economy.
20/20 Vision: Indigenous Participation: Key to Success of Manitoba's Future Economy brought together business, community and government leaders with expertise in Indigenous business and community engagement to explore directions forward during what is proving to be a pivotal moment in our national and provincial history. The federal government recently said it plans to invest $8.4 billion over the next five years in improving the socio-economic conditions of Indigenous peoples and their communities. Over the next 20 years, Indigenous people will grow to comprise 20 per cent of Manitoba's population.
Panelist Jamie Wilson, deputy minister of growth, enterprise and trade for the Province of Manitoba, spoke about how a number of policies enacted by government over past decades have removed Indigenous peoples' entrepreneurial spirit– but that "times are changing." For instance, at age 49, he is among the first generation in his family who will receive an inheritance from his parents. "There's a new group of Aboriginal people showing up, and neat things are happening with young people who are not carrying the full impact of Indigenous history with them."
Judy Klassen, interim leader of the Manitoba Liberal Party and MLA for Kewatinook – a region that includes 14 First Nations, Churchill, and Gillam – told the audience that many people are surprised to learn she's a third-generation entrepreneur. "I grew up knowing that business is possible because my parents owned a mom-and-pop shop."
Unfortunately, due to fears of participating in an education system that once included residential schools, many members of her community lack basic financial literacy. "I'm approached by constituents who ask if they are allowed to open up bank accounts." Klassen said she was eager to implement financial literacy learning modules in her communities' education systems.
Jessica Dumas, past chair of the Aboriginal Chamber of Commerce and president of Prime Image Life Coaching, said that training, housing and childcare were critical issues for Indigenous communities to overcome in order to achieve economic success. She said she sees many businesses that want to hire Indigenous people but don't know where to start because "they're afraid of being scolded at by the Indigenous community by not following protocol." One solution, she said, is to find ways to encourage businesses who are already hiring Indigenous employees to share best practices with the wider business community.
Shaun Loney, executive director of B.U.I.L.D. and author of An Army of Problem Solvers, said, "It's important for us non-Indigenous people to know where our privilege comes from. I've done research on both sides of my family and learned how privileged we have been because of the broken relationship with Indigenous people." Loney's organization, B.U.I.L.D. (Building Urban Industries for Local Development), is a social enterprise non-profit contractor and a training program for people who face barriers to employment. Loney said the company lowered utility bills in 17,000 low-income homes by employing primarily Indigenous people with criminal records. To boost economic growth in Indigenous communities and First Nations, he suggested that governments promote social enterprises "rather than throwing money at problems."
Loney was also adamant that government empower communities to offer driver's licensing because "75 per cent of jobs require a driver's license. For many people living in First Nations communities, having a driver's license is comparable to a master's degree."
The final panelist, Robert Campbell, is national director of Aboriginal services for MNP, a company focused on ensuring positive outcomes for Indigenous people and communities. Campbell said MNP "has turned down millions of dollars from companies if they don't do good for First Nations," adding that for Manitoba's economy and First Nations to prosper together, "we need to listen to the needs of Aboriginal communities. For too long, we've been prescribed what we need and what we should be doing." He also recommended promoting careers in accounting to today's Indigenous youth.
When asked by a member of the audience – which included U of M students and faculties, as well as members of the broader community – how Asper students and grads could encourage Indigenous people to participate in the province's economy, the panelists suggested a variety of actions.
"Educate yourself on the TRC [Truth and Reconciliation Commission] call to action, the history of Canada, and residential schools," said Jessica Dumas.
Robert Campbell recommended people "insert themselves in a discussion when you hear someone describe Native people as lazy, for instance. Raise the consciousness of society and set the story right."
Judy Klassen said, "Smile at Indigenous people you meet in the workplace, and encourage them."
Looking back on the event, panelists say they are hopeful it will result in positive steps forward.
"The more people talk and share, and appreciate the challenges faced by Indigenous people in Manitoba, the more society gains in understanding," says Judy Klassen. "Let's take that understanding and get to work for the equal benefit of all Manitobans."
"The Aboriginal community has been excluded from the economy for too long, and this has contributed greatly to many of the challenges they face today," says Rob Campbell. "If we want to improve lives and create opportunities, we must all be part of the economic engine. The government and the private sector are responsible for ensuring this happens. It is good for our people and good for the country as a whole."
Shaun Loney says a new problem-solving paradigm is emerging. "I'm envious that Asper students are entering the workforce now and can put their business skills to work making the world a better place for people living on the margins of society."
20/20 Vision was a student-driven initiative that was quickly embraced by Aboriginal Business Education Partners (ABEP) and the Asper School's Career Development Centre (CDC), who co-hosted the event.
The event's emcee, fourth-year Asper student Carter Wilson, is president of the University of Manitoba Indigenous Commerce Students (UMICS) group. He knows first-hand how engagement creates opportunities for personal and professional growth – not just for students, but for business and community leaders.
"It makes good sense for business leaders to know how to properly engage with Indigenous communities," he says. "If you fail to connect, you're limiting your opportunities for success."
The timing of the 20/20 Vision event is no accident, he adds.
"This year we celebrate Canada's 150th anniversary, and the U of M celebrates its 140th anniversary. This is the perfect moment for our communities to come together as one, look back on what has led us here, look hard at who we are today, and look forward to creating a better future."
A networking reception catered by Feast Foods followed the event.
Event Photos