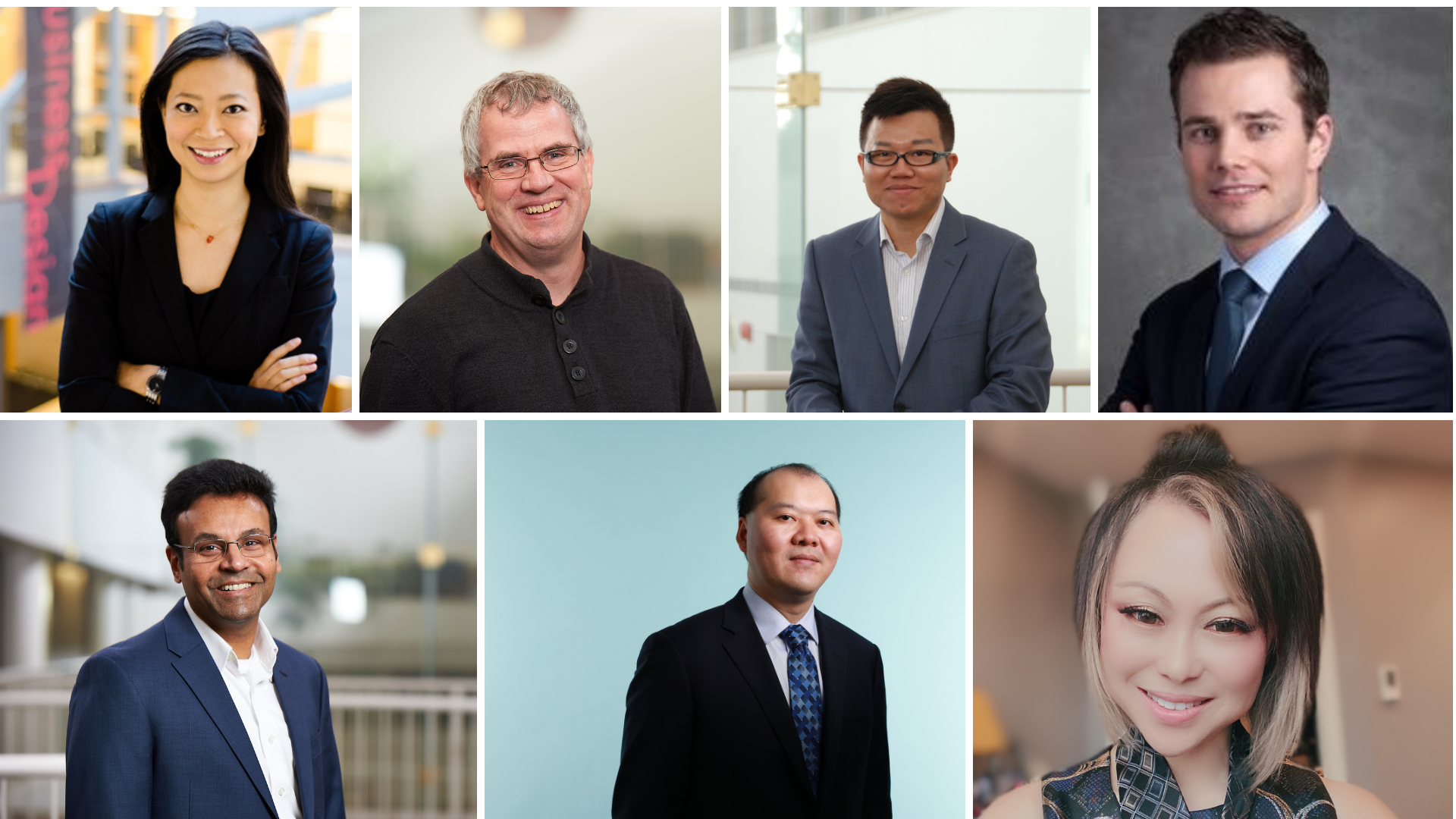 2020 Associates Achievement Awards
Asper faculty recognized for outstanding research, teaching and engagement.
November 23, 2020 —
The 2020 Associates Achievement Awards were held virtually on November 20th to recognize faculty members who achieved outstanding performance in research, teaching and engagement. Unique to this year, the Associates presented three additional awards to recognize Asper faculty who have provided outstanding contributions beyond their normal research and teaching roles, during the pandemic.
In his first official event as Chair of the Associates, Andrew Stibbard [BComm.(Hons.)/97, MAcc/98, CA/01] presented the awards, each valued at $5,000.
"I would like to take this opportunity to thank you, the faculty, for your dedication and efforts on behalf of the school. In particular, during this past year which has been very challenging. I applaud you for your efforts in ensuring that education does not halt. In fact, more so than ever, it's become incredibly important in connecting with students."
2020 Associate Achievement Award Recipients
Associate Achievement Teaching Award: Dr. Bruno Dyck, Department of Business Administration
In 2019/2020 Dr. Dyck received two international teaching awards: the Expanded Reason Award for Teaching, which recognizes his innovations in bringing sustainability-related issues to the classroom and the 2019 Book of the Year Award from the International Humanistic Management Association.
Dr. Dyck also had a successful year in the classroom, where 100% of students rated him as "very good" or "good" in his teaching of LEAD 3030 "Corporate Social and Environmental Responsibility."
Associate Achievement Engagement Award: Dr. Chi Liao, Assistant Professor in the Department of Accounting & Finance
Dr. Liao's research on behavioral and household finance has provided her opportunities to engage with the public. During the COVID pandemic, Liao connected with the media to comment on financial markets, financial planning, and human behavior. She also engaged with the Associates, most recently via a presentation on behavioral finance and the role of gender in finance as part of the Emerging Topics Series.
Associate Achievement Research Award: Dr. Lei Lu Associate Professor in the Department of Accounting & Finance
Dr. Lu's research on asset pricing, behavioral finance, household finance, and international finance was published in four academic publications. Management Science, Journal of Financial and Quantitative Analysis, Journal of Corporate Finance, and Journal of Economic Dynamics and Control. Dr. Lu also presented his work at primary academic conferences and served as an ad hoc reviewer for a range of academic journals and conferences.
Associate Achievement Research Award: Dr. Changmin Jiang, Associate Professor in the Department of Supply Chain Management.
Dr. Jiang's research on transportation, logistics and supply chain management involves issues in the transportation sectors, particularly economic and policy analysis. Dr. Jiang published seven journal papers in 2019-2020, which cover topics in management decisions and their consequences in the aviation and the maritime sectors. Jiang investigated investment decisions of seaports in capacity expansion, natural disaster prevention, airlines' baggage fees and airlines' strategic responses to emission-cutting policies.
Associate Achievement Award in combined categories of Teaching and Engagement: Mr. Justin Price, Sessional Instructor in the Department of Accounting & Finance
As a part-time sessional instructor, Price excelled in 2019-2020 academic year as a teacher and mentor, proven by his excellent course evaluation results and his continued dedication to supporting students at the University of Manitoba.
Price is an Executive Director in the Global Investment Banking division at CIBC, which enables him to bring practical capital markets experience to the classroom while providing access to the corporate community for his students. In his first term, Price has been instrumental in enhancing the capital markets profile of the Asper School of Business including supporting the increase in Asper students pursuing and working in capital markets jobs across the country.
COVID-19 Achievement Awards
Associate Achievement COVID-19 Award – First Place: Dr. Subbu Sivaramakrishnan, Associate Dean – Undergraduate and International Programs
Dr. Sivaramakrishnan was integral in assisting the Asper faculty adjust with the move to online teaching by organizing and conducting multiple tutorial sessions and developing instructional videos to help faculty within Asper and the U of M deliver their courses and exams online. He also recruited and managed a pool of graduate students to provide in-house tech support during online exams. Sivaramakrishnan also saved the University over $50,000 by negotiating a heavily discounted price with Zoom, not just for Asper, but also for six other faculties.
Associate Achievement COVID-19 Award – Second Place: Dr. Fang Wan, Professor in the Department of Marketing
Dr. Wan has made an outstanding contribution to the Asper School and the business community during the pandemic. Wan started teaching her MBA class on Friday, March 13, 2020, the second day after the first confirmed case in Manitoba. Her class was the first on campus that moved to an online format and her efforts in Zoom teaching have won rave reviews from her MBA students and have received media attention.
Wan volunteered to teach the Small Business Consulting Course, an important outreach effort for the School to give back to the business community. As a guest, she appeared on national and local media networks and spoke on issues such as online teaching, business continuity and COVID message communication. She organized an online forum–'Business Continuity and Fighting COVID' for the Chinese business community in Canada and gave four webinars on topics related to how companies can connect with consumers on social media during the pandemic.
Associate Achievement COVID-19 Award – Third Place, Dr. Shiu-Yik Au ("Yik"), Assistant Professor of Finance
Dr. Au was nominated for the COVID-19 award due to his invaluable assistance during the pandemic. In the rapid transition to online teaching, Au helped train other faculty and instructors on the WebEx through a workshop, follow-up instructions, and recorded videos.
Au was also active in the community during the pandemic. He participated in a Bloomberg conference on how to use Bloomberg in the online classroom and wrote an opinion piece for CBC on the dangers of austerity during the pandemic. Au also volunteered to help with Asper's Small Business Consulting Course.
—
Comprised of more than 300 senior executives, The Associates have been a driving force since 1982 advancing business education at the I.H. Asper School of Business. Giving back to the Asper School of Business and business community are the hallmark attributes of the Associates.