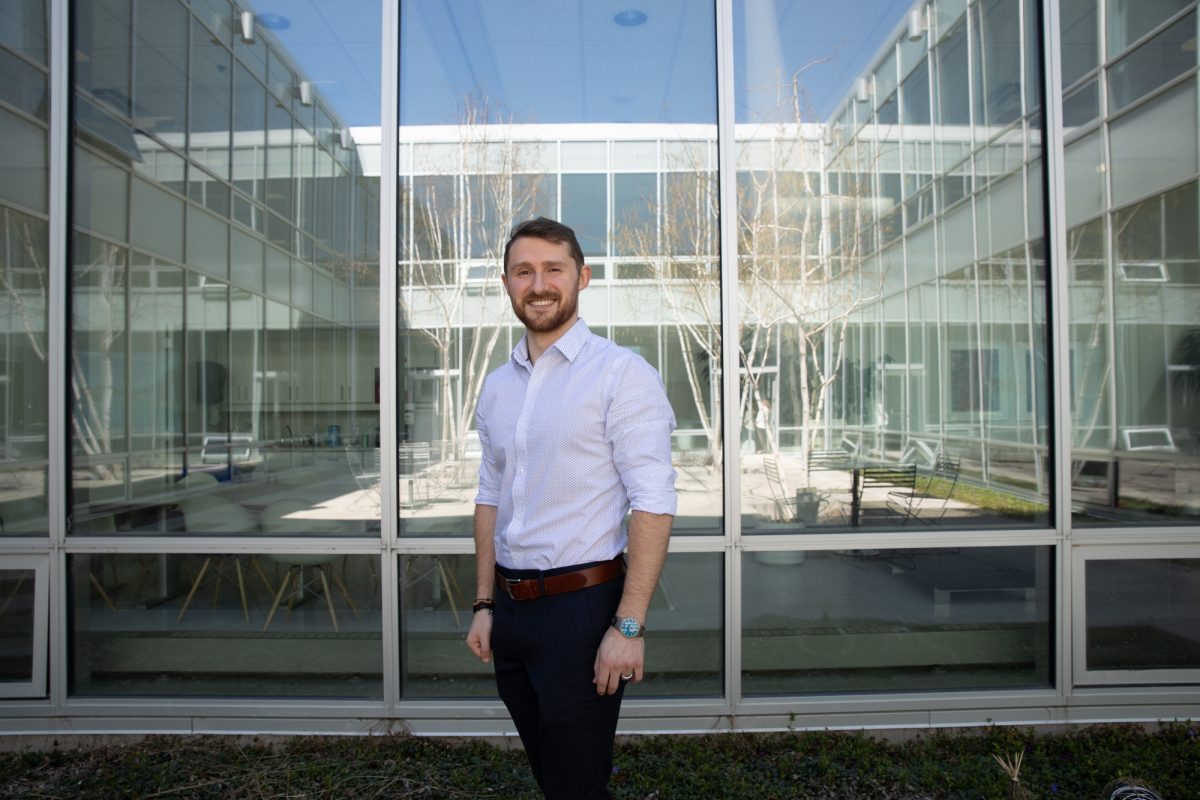 2019 Vanier Scholar: Andrew Hogan
Hogan will be conducting his research in the Faculty of Science's Department of Microbiology
May 16, 2019 —
Andrew Hogan is one of six 2019 Vanier Canada Graduate Scholarship recipients from the University of Manitoba – a record setting year for the university.
These awards, considered the Canadian equivalent of the United Kingdom's Rhodes Scholarships, help recruit and keep in Canada top doctoral students from across the country and around the world. Each recipient will receive $150,000 over three years toward her research.
Hogan will be conducting his research in the Faculty of Science's Department of Microbiology. UM Today caught up with Hogan to chat about how the Vanier Scholarship will help his thesis Combining Traditional Labwork with Artificial Intelligence to Discover New Antibiotics.
Tell us about your thesis.
So essentially we're looking for novel antibiotic compounds and new antibiotic targets to treat a highly resistant pathogens.
What got you interested in that?
From really as far back as I can remember I've always been interested in the tiny little details on how things actually work. I was never really OK with letting people tell me these things, I had to go figure them out myself and seeing how things work is always really amazing. And then of course I just kept building up and building up throughout school and then eventually I started in biochemistry in my undergrad and then had a little sprinkling of microbiology on top and then eventually I just I came here and started doing microbiology full time.
Are you from Winnipeg?
No I'm not, I'm from very far away, St. John's, Newfoundland.
What made you come to the U of M?
It was a combination of the school and the professor that I'm working with and it was a plan that worked for my partner as well.
How's the experience being here on campus for you?
It was very different than Newfoundland! It's beautiful. The city is great. The campus is wonderful. The U of M is quite a bit bigger than Memorial [University]. The research experience is great. Here in microbiology we're like our own little family, we're the only standalone microbiology department in all of Canada. So we have a great little group of people who are all dedicated to studying at least similar aspects of how microbes work.
How's the thesis going so far?
It's going pretty well. We've just laid the foundations and validated them and we've published a little bit on that and making collaborations and networks with other people because we're developing tools to help probe different bacteria and how they respond to different antibiotics. And so because we're developing tools we've had some people come to us like, 'hey we have this interesting antibiotic but we don't know how it works, can you guys find out how it works, please.'
What kind of tools are you building?
So our tools aren't like power tools! The tool that we're building is actually an enormous collection – what we call a library – of individual mutants of every single gene in a genome, all collected together. So there's hundreds of thousands of them and each of them will behave differently because they have a different gene that's been disrupted so they'll respond differently to a particular compound that you throw in and when you look at all the genes across the genome on how each of them changes in the different mutants how their survival changes you can get an idea of how that particular molecule is working right.
What does it mean to win a Vanier scholarship?
It is truly amazing. It's quite humbling to not only think that I'm super passionate about what we do but that people in the higher pus and the tri council and the government of Canada also believe strongly about the importance of what we're doing. there were certainly some heart pounding moments after reading that I received it.
Where do you see yourself in 5 to 10 years?
If I would say I've 100% decided I'd probably be fooling myself, but most-likely doing post-doc somewhere and then doing academia.
Meet our other University of Manitoba Vanier Scholar recipients:
Elena Bilevicius
Ley Fraser
Aleah Fontaine
Kyle Monkman
Allison Balasko