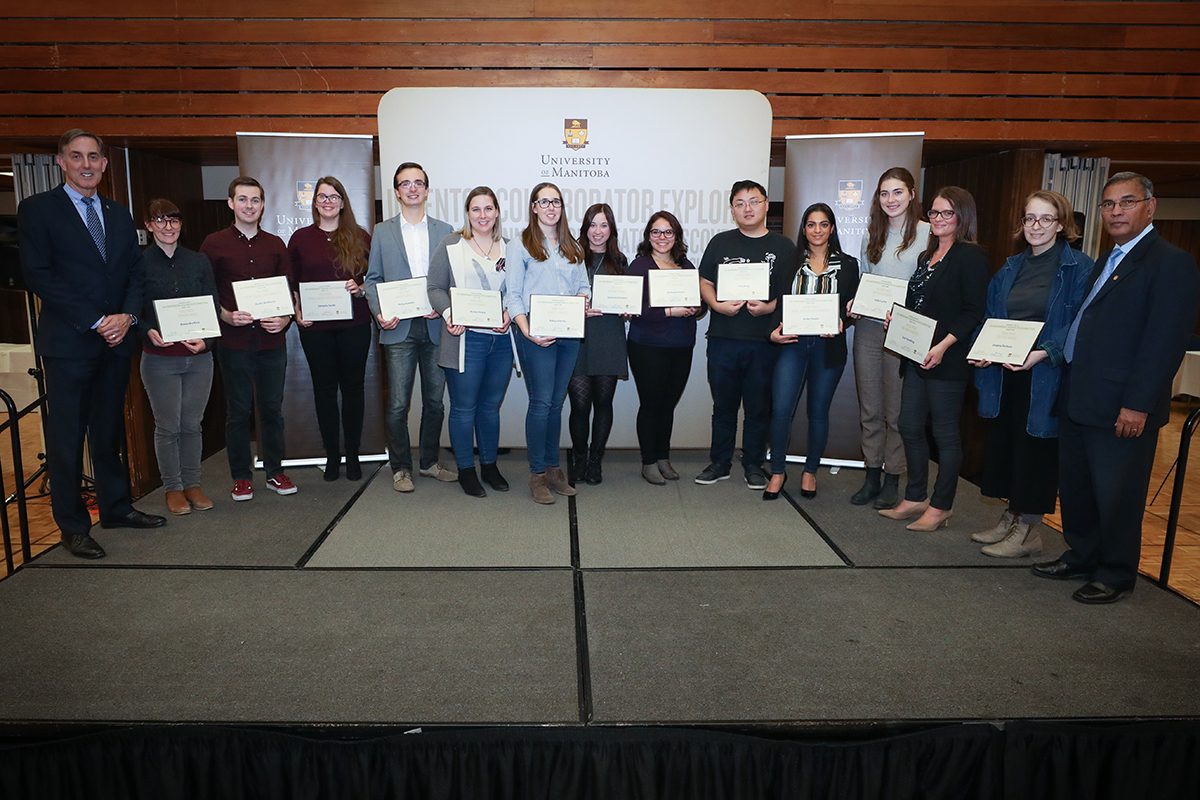 2018 Undergraduate Research Poster Competition winners selected
October 30, 2018 —
More than 125 U of M undergraduate students had the opportunity to practice their presentation skills at the annual 2018 Undergraduate Research Poster Competition, now in its 13th year. The format provides a unique opportunity for students to present their research in an event that focuses on the discoveries these students are making.
Judges assess each project based on official judging criteria determining winners for cash prizes in five different categories: applied sciences, creative works, health sciences, natural sciences, and social sciences and humanities. The competition is sponsored by the office of the vice-president (research and international).
The 2018 Undergraduate Research Poster Competition winners were named in the following categories:
Applied Sciences
1st– Gabrielle Fontaine (Physics and Astronomy)
Project: Lung Tumour Motion Tracking and Compensation With an Optical Flow Algorithm
Research Supervisor: Dr. Stephen Pistorius
2nd– Julia Lucht (Microbiology)
Project: Transformation; Expression and Purification of Clostridium thermocellums Lactate Dehydrogenase
Research Supervisor: Dr. Richard Sparling
3rd– Robyn Ritchie (Statistics)
Project: Nonparametric Scoring Rate Estimations in the English Premier League
Research Supervisor: Dr. Alexandre Leblanc
Creative Works
1st– Alexandra Ross (School of Art)
Project: Old Order; New Order: The creative process behind making a ceramic sculpture about chaos
Research Supervisor: Dr. Grace Nickel
2nd– Yang Peng (Environmental Design)
Project: The History and Myth of Lu Ban
Research Supervisor: Dr. Lisa Landrum
3rd– Océane Perham (Architecture)
Project: The Architecting Protagonist: RE-TELLING ANCIENTS NARRATIVES
Research Supervisor: Dr. Lisa Landrum
Health Sciences
1st– Philip Kawalec (Human Anatomy and Cell Science)
Project: Cell Death Mechanism of Irinotecan in Combination with Temozolomide in Human Rhabdomyosarcoma Cells
Research Supervisor: Dr. Saeid Ghavami
2nd– Michaela Palmer (Biological Sciences and Microbiology)
Project: Evaluating the Impact Diminished FBXO7 Expression has on Chromosome Instability in Colorectal Cancer
Research Supervisors: Drs. Kirk McManus and Mark Nachtigal
3rd– Kirsten Fleury (Community Health Sciences)
Project: Métis Culture and Youth Wellness
Research Supervisor: Dr. S. Michelle Driedger
Natural Sciences
1st– Kat Kratzer (Biology)
Project: An extreme bottleneck in the founding of a population of invasive ground squirrel (Atlantoxerus getulus)
Research Supervisor: Dr. Jane Waterman
2nd– Cobi Wiwchar (Biological Sciences)
Project: Expression of Cortisol Related Genes in Lake Sturgeon Using an Alternative Embryo Rearing Technique
Research Supervisor: Dr. Ken Jeffries
3rd– Erin Dowling (Psychology)
Project: Testing the Roles of Generation and Fluency Heuristics on Memory for Event Durations
Research Supervisor: Dr. Jason Leboe-McGowan
Social Sciences and Humanities
1st– Austin McWhirter (Economics)
Project: Go Big and Get Paid: The Effect of Firm Size on Executive Compensation
Research Supervisor: Dr. Janelle Mann
2nd– Anika Dhalla (Food and Human Nutritional Sciences)
Project: Examining the acceptability of a sugar-sweetened beverage excise tax in Karnataka; India: An ethnography
Research Supervisor: Dr. Natalie Riediger
3rd– Adrienne Sande (Education, early years stream)
Project: Indigenous Children's Artworks from Residential Schools
Research Supervisor: Dr. Joanna Black
Research at the University of Manitoba is partially supported by funding from the Government of Canada Research Support Fund.