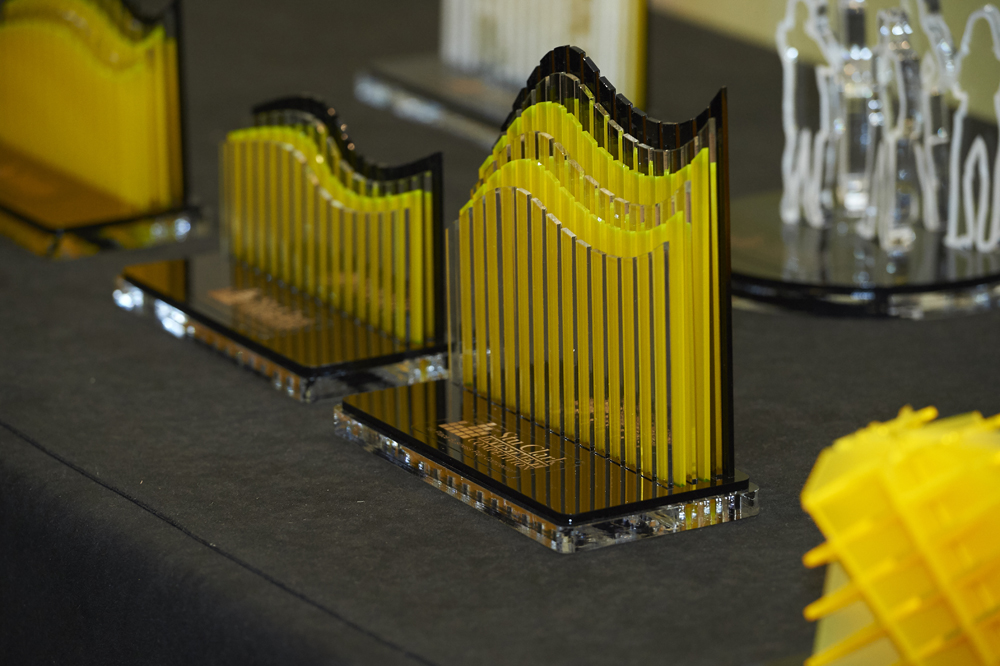 2018 Stu Clark Investment Competition Results
March 16, 2018 —
The Asper School of Business was the battleground for 16 graduate student teams from across North America vying for top honours at the 14th annual Stu Clark Investment Competition on March 9 and 10.
Hosted by the Stu Clark Centre for Entrepreneurship, the competition awarded over $50,000 in prizes to teams presenting the best idea pitch, company logo and business plan. The competition's judges include 23 local business professionals from a broad range of public and private sector organizations.
"It was a common consensus amongst the judges that these were some of the strongest teams competing to date," says SCCE program coordinator Amy Briscoe. "We were extremely impressed by the depth of research and vision exhibited by the presenters and the viability of each company."
Lapovations, LLC, from the University of Arkansas, won best business plan for their company, which is developing a platform of innovative products that improve laparoscopy, a surgical procedure in which a fiber-optic instrument is inserted through the abdominal wall to view organs in the abdomen.
The University of Manitoba's ioAirFlow Inc. was named top Canadian team, and pitched an automation software application that integrates with the hardware used in a building's existing HVAC infrastructure.
Mechanodontics from the University of California, Los Angeles won the top idea pitch. Mindful Mix from the University of Louisville won top logo.
---
Championship Round Judges
STU CLARK
Philanthropist & Entrepreneur
Stu Clark is a Calgary oil and gas entrepreneur. He is a director and Chairman of the Board of Storm Resources Ltd.,a TSX listed oil and gas exploration company as well as Chairman of the Board of Alliance Trust Company, a private trust and shareholder services firm, servicing public and private entities in Alberta, Saskatchewan and Manitoba.
Mr. Clark was born and raised in Manitoba and educated in Brandon and Winnipeg, before beginning his entrepreneurial career in the oil and gas industry in Calgary. He earned his B. Comm. (Hons.) from the University of Manitoba in 1976, and in 2011 was recognized by the University of Manitoba with an honorary Doctor of Laws for his contributions of time and resources to the University, the I.H. Asper School of Business, and the Stu Clark Centre for Entrepreneurship.
Over three decades, Mr. Clark translated his education into starting, running and then selling several oil and gas exploration companies. Mr. Clark moved to Calgary in 1984 with the Northland Bank. In 1986 he founded Pinnacle Resources Ltd. and raised $2 million of shareholder capital. In 1998, Pinnacle was sold for over $1 billion. Mr. Clark has been involved in the start-up and reorganization of a number of Calgary-based public and private entities during his career.
A renowned entrepreneur, philanthropist and volunteer, Mr. Clark is recognized for his tireless dedication to supporting a variety of charities and educational institutions in Canada. His donation to the University of Manitoba enabled the establishment of the Stu Clark Centre for Entrepreneurship in the I.H. Asper School of Business. Mr. Clark has been a strong supporter of the Canadian Museum for Human Rights.
Mr. Clark remains active in the Calgary business community and continues to support his philanthropic interests in Alberta and Manitoba.
CHARLES (CHUCK) LAFLÈCHE, CPA, CMA, FCMA,
Executive Vice-President & Senior Consultant, Global Philanthropic
Charles (Chuck) LaFlèche currently serves as Executive Vice-President and Senior Consultant. Chuck has a proven track record of raising significant money for health care, and is widely recognized as a leader in health care fundraising in Canada. He has spent 35 years in progressively senior positions in public and private industry, including recently as the President and CEO of St. Boniface Hospital Foundation in Winnipeg. During his tenure at St. Boniface Hospital Foundation (2010-2017), annual revenues nearly tripled to more than $15 million and funds on deposit increased from $25 million to more than $60 million. Prior to joining the St. Boniface Hospital Foundation Chuck worked as a VP-Finance for a publicly traded Healthcare Informatics firm, a professor at a Business School, and he founded Momentum Healthware, a health informatics company with sales in Canada, the US, Asia and Europe. Chuck has served on a number of IT and health industry related boards including the Conference Board of Canada Council of Foundation Executives. He served for 7 years on the Standards Council of Canada. In 2013 he was awarded the Queen's Diamond Jubilee Medal.
SILVIA DE SOUSA
Partner, Thompson Dorfman Sweatman, LLP
Silvia de Sousa is a partner at TDS Law. Her practice is concentrated in the area of business law with an emphasis on intellectual property law, life sciences law and technology law. Her practice also includes intellectual property transactions, commercial law, financings and licensing matters. Silvia is also a seasonal lecturer for the University of Manitoba, Faculty of Law. Silvia holds a B.A. and an LLB from the University of Manitoba, and is also the Chair of the Transactional IP Committee of the Canadian Bar Association, is a Member of the Associates amongst many other positions in the community.
JEFF RYZNER
President, North Forge Technology Exchange
Jeff Ryzner has been helping companies successfully commercialize technology for more than 20 years. He is a founding partner of three technology startups, including HealthLink Technologies, a top-tier SaaS solution for healthcare facilities in North America. As President of North Forge Technology Exchange, Jeff is leading a winning team that has introduced numerous new programs and resources that are accessible to entrepreneurs all across Manitoba. In 2016 Jeff accepted both the prairie regional and national awards for Entrepreneur Support from Startup Canada. Prior to joining North Forge Technology Exchange, Jeff served as president of The Eureka Project, Manitoba's largest and most successful technology incubation program.
---
Photo Album