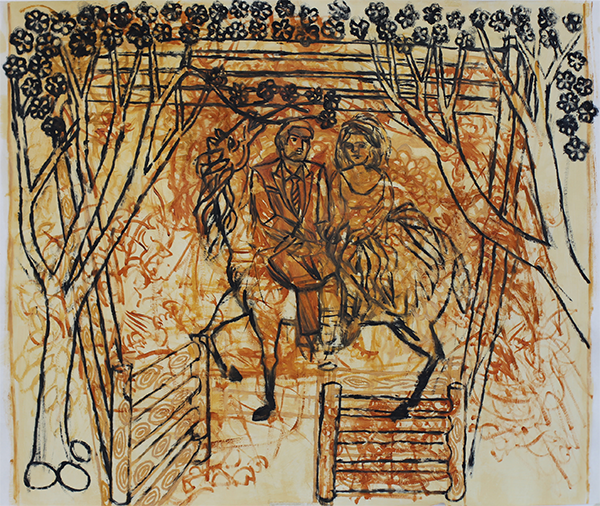 2017 MFA Exhibition: Part 2
Come see student art on display
June 7, 2017 —
The School of Art and School of Art Gallery are pleased to present Make Life Still, Part 2 of the thesis exhibitions and oral examinations by Master of Fine Art students Hassan Kamali Jamil, Lori Lofgren and Kelley Morrell.
Make Life Still: Hassan Kamali Jamil, Lori Lofgren, Kelley Morrell
June 13 – 23, 2017
Reception: Friday, June 16, 6:30 – 8:30 pm
Oral Examinations
The public is welcome to attend the students' oral examinations at the School of Art Gallery.
Hassan Kamali Jamil, Wednesday, June 14, 10:00 am
Lori Lofgren, Wednesday, June 14, 2:00 pm
Kelley Morrell, Friday, June 16, 2:30 pm
_______
Hassan Kamali Jamil: Alternate Reality
Alternate Reality is a psychoanalytic study in self-portraiture in light of a mirroring notion that can materialize thoughts and emotions, and represent out-of-place reflections of the portrait, surrounded by symbolically charged forms of animals and organic shapes. The mirrored image is in a permanent state of becoming, with death being the only concept that is absent. In this mirroring notion, the relationship between human and nature is a vision of humankind living in harmony with nature in a way that defies reality.
Hassan Kamali Jamil received his Bachelor of Fine Arts in Painting, and high school diploma in Graphic Design from Iran. He worked as a painter in conjunction with the art galleries in Tehran, his hometown, before coming to Canada. During his Master of Fine Art studies at University of Manitoba, he explored the study of self-portraiture through painting and drawing.
Hassan Kamali Jamil, Untitled, 2016, 27″x20″, oil on paper
Lori Lofgren: Duality
Lori Lofgren's thesis exhibition work investigates how light and shadow can alter our emotional perspectives, and change how we feel in our ostensibly safe places. A series of small-scale sculptures with their large-scale photographic counterparts, represents the dualities of emotion in relation to environment, scale, and the uncanny. Each piece is a representation of the moment immediately before, or following, a disturbing event.
Lori Lofgren specialized in Drawing and Graphic Design during her Bachelor of Fine Art Degree from North Dakota State University in Fargo, North Dakota. Lori also received a Visual Art Diploma from Red Deer College in Red Deer, Alberta, and a Diploma in Graphic Design from Red River College in Winnipeg, Manitoba. Lori is currently living in Winnipeg, where she is completing her Masters of Fine Art at the University of Manitoba. She was the recipient for the 2016/17 David and Gursh Barnard Graduate Scholarship in Fine Arts.
Lori Lofgren, The Hallway, photograph, 48"x 32", 2017
Kelley Morrell: Wāst
Wāst is a sculptural installation that evolved from a 54-week exploration in weight loss. Plaster body casts of the artist's torso were made at intervals during the year to document physical changes as he attempted to lose ¼ of his body weight. The research and resulting pieces were generated as the artist processed thoughts on accumulation, loss and identity.
Kelley Morrell is an educator and an interdisciplinary artist with a holistic approach to life and art. He received his Bachelor of Fine Arts from the University of Manitoba, Bachelor of Education at Lakehead University and is currently completing a Masters in Fine Art at the University of Manitoba. He recently returned from New Zealand following a three-month mentorship with monumental landscape artist Chris Booth, and Morrell's work is now featured in the Wharepuke Sculpture Park in Kerikeri, New Zealand. He is consistently a finalist in the annual Kenora Winter Carnival Snow Sculpting Competition. His random interventions exist throughout the places he has encountered.
Kelley Morrell: Wāst (detail), plaster
____________
Information:
For more information about the exhibition, contact Donna Jones, 204.474.9322
Donna [dot] Jones [at] umanitoba [dot] ca
For more information about the oral examinations, contact Catharine Plouffe, 204.474.8294
Catharine [dot] Plouffe [at] umanitoba [dot] ca
Visit: umanitoba.ca/schools/art/MFA_Exhibitions.html
School of Art Gallery
255 ARTlab, 180 Dafoe Road
204.474.9367
umanitoba.ca/schools/art
Hours
Monday – Friday, 10:00 a.m. – 4:00 p.m.
Closed on statutory holidays.
Parking: ARTlab is located on Dafoe Road next door to Taché Hall and Drake Centre. Find nearby parking by following this link:
umanitoba.ca/schools/art/facilities/parking.html
Mailing
School of Art Gallery
255 ARTlab
University of Manitoba
Winnipeg, MB R3T 2N2
Canada