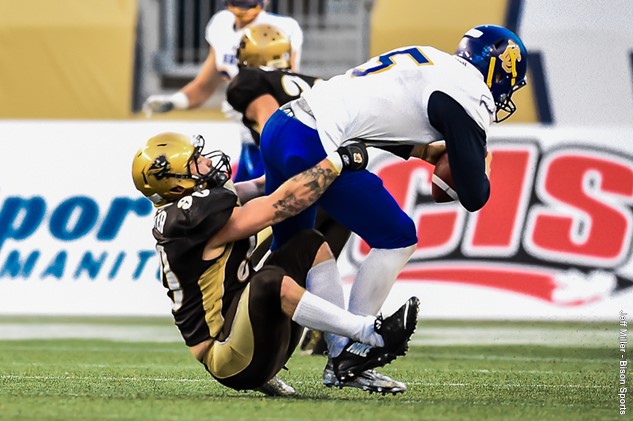 Bison open football training camp
August 12, 2016 —
Preparation for the 2016 CIS Football season began in earnest at the U of M as the Bisons squad opened training camp on Sunday, August 14. The first week of camp will feature two-a-day practice sessions at Investors Group Field as the team prepares for the grueling football season.
The Bisons will head off to Langford, BC for a pre-season game against UBC, the defending Vanier Cup champions, on Friday, Aug. 26. Dubbed the "Thunderbowl", this will be the first-ever CIS pre-season game to be played on Vancouver Island.
Heading into the 2016 season the Bisons will have an experienced core group as six of 12 starters on offence and 10 of 12 starters on defence are returning from the 2015 season. In 2015, the Bisons finished in third place in the Canada West conference, falling to UBC in the Hardy Cup semifinal.
The regular season kicks off on Thursday, September 1 as the Bisons will host the Calgary Dinos at Investors Group field for their home opener.