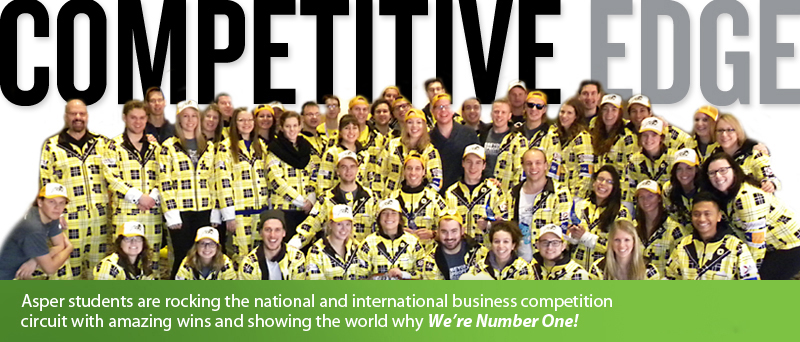 2013-2014 Competition Results
May 7, 2014 —
Talk about a banner year for Asper students, who rocked the national and international business competition circuit with amazing wins and showed the world why We're Number One!
Stu Clark Investment Competition
Hosted by the Stu Clark Centre for Entrepreneurship, the Stu Clark Investment Competition is Canada's premiere business competition, and is judged by senior leaders and executives from a variety of private and public sector organizations. This year, the competition welcomed 16 graduate student teams from across North America – and one from as far away as Thailand – to compete for a grand prize of $20,000 and a berth at the 2014 Global Venture Labs Investment Competition at the University of Texas this May.
Two Asper graduate student teams achieved excellence at the 2014 Stu Clark Investment Competition in March by presenting business plans for innovative new technologies developed at the U of M.
Exigence Technologies won the Environmental division in the business plan presentation round, which qualified them to compete in the championship round. They placed third in the idea pitch competition, fourth overall, and ultimately ranked as the top Canadian team.
Exigence presented a business plan for commercializing a treatment for hospital fabrics that completely eliminates bacteria. U of M researcher  Song Lui, from the department of textile science in the Faculty of Human Ecology, developed the technology. The team is now working in close collaboration with Lui and the U of M's Technology Transfer Office to commercialize the technology and incorporate the company.
The second Asper team, Don't Be Skiddish, took second place in the Safety & Technology division after a suspenseful tie-breaking round against a team from the University of Louisville. Don't Be Skiddish presented a business plan for magnetic sensor and Bluetooth technology that prevents truck and trailer wheels from skidding.
JDC West
Jeux du Commerce (JDC) West is the largest business competition in Western Canada: a three-day event that showcases academics, athletics, debate, and an out-of-the-box social competition. Nearly 650 students from 12 of Western Canada's top universities unite annually to compete. Under the guidance of faculty advisors Mary Brabston and Howard Harmatz, a team of 50 Asper students traveled to Regina's Paul J. Hill School of Business for this year's competition, where they did our School proud.
Decked out in Don Cherry-inspired yellow plaid suits, Team Toba rocked the house at the 2014 games in January, finishing first place in the social and business strategy categories, second in athletics, taxation and management information systems, and third in finance. For the second time in two years, Asper qualified for School of the Year – and took home the third-place trophy!
ICBC
The  Inter-Collegiate Business Competition (ICBC) is Canada's oldest and longest-running undergraduate business case competition, featuring competitive events in Accounting, Business Policy, Ethics, Debating, Finance, Human Resources, Marketing, and Management of Information Systems. ICBC is held annually in Kingston, Ontario at Queen's School of Business, and hosts over 100 competitors from the top business schools across Canada and beyond.
Eleven Asper students represented their School at the 36th annual ICBC in January 2014. The Business Policy Case Team and the MIS Case Team each took second place, and the Marketing Case Team took third.
Twenty-five universities qualified at least one team for the final – but with five teams, the Asper School had the most teams at the finals. In this round, each team had only five and a half hours to prepare a case analysis to present to a panel of industry judges. Of the 16 schools that had a podium finish, only one other university also had three teams place in the finals.
MIMC
At the 2014 Manitoba International Marketing Competition & Conference (MIMC), the Asper team came in first place. Run by students at the Asper School of Business, MIMC is the only international marketing competition and conference in Canada. Twelve teams from around the world participated in a competition that included an eight-week online simulation and a final round of presentations judged by members of the Winnipeg business community.
CFA Institute Research Challenge
The CFA Institute Research Challenge is an annual global competition that provides university students with hands-on mentoring and intensive training in financial analysis. Students assumed the role of research analysts and were tested on their ability to value a stock, write an initiation-of-coverage report, and present their recommendations. At this year's national round of the competition in Calgary, the Asper team, led by coaches Howard Harmatz and Ying Zhang, placed second!
GAAPS
The Asper School of Business Accounting Association (ASBAA) student group organized the 13th annual GAAPS (Gathering of Accounting Associates, Professionals and Students) Conference in Winnipeg this February. The highlight of the conference was an accounting case competition where 12 teams from schools in Ontario, Manitoba and Alberta competed for cash prizes. Three of the four finalist teams were from the University of Manitoba.
"It was great to see students at all stages in the business program participate – both accounting and non-accounting students," says Dr Robert Biscontri. "Asper students did an amazing job with their presentation to judges and ultimately claimed second and third places. In fact the team securing second place had never participated in a case competition before!"
Pitch Day
PitchDay is a dynamic event that allows anyone with a business idea to deliver two-minute pitches to an expert panel of judges and an audience from Winnipeg's entrepreneurship and innovation communities.
At the 2013 event, Peter Wheatley (MBA candidate) won first place overall and the people's choice award for his project on wireless rotational sensors for trucks to prevent blowouts. The idea was so impressive that three different financiers approached Peter and his team to invest in the product.
Patty Rosher (MBA candidate), Dr Song Lui and Zach Wolff (MBA candidate) took first place in the research category for their project on an antibacterial treatment for hospital fabrics that completely eliminate bacteria. Nick Danzinger [BComm(Hons)/2013] placed first in the student category.
"This was an impressive showing for our students," says Stuart Henrickson, I.H. Asper Executive Director of Entrepreneurship at the Stu Clark Centre. "The two MBA technologies both meet all the parameters for turning into legitimate companies as unique products with growing market potential, are financially viable, highly scalable, have strong management, are financeable in Winnipeg and both now have patents."
Wes Nicol Entrepreneurial Undergrad Competition
Hosted by the Stu Clark Centre for Entrepreneurship and open to all U of M undergrad students, the Wes Nicol Entrepreneurial Undergrad Competition challenges student to pitch their business ideas to a panel of business professionals, and reflects the real-world pressures entrepreneurs face when seeking financial backing and support for a new business idea.
Brendan McAndrew, a first-year BComm student, won the 2013 competition.McAndrew's business, White Pine Fixies, sells affordable new and restored fixed gear and single speed bikes in Winnipeg, and brands itself as an environmentally friendly business with a reputation for high quality products suited to its customers' lifestyles.
Winning the Wes Nicol Entrepreneurial Undergrad Competition qualifies McAndrew to compete for the Nicol Entrepreneurial Award, a national program designed to generate and reward interest in entrepreneurship in undergrad students in any faculty at participating Canadian universities. In late March, six winners will rendezvous in Ottawa and battle it out for the national title.
Ivey Business Plan Competition
The IBK Capital – Ivey Business Plan Competition is Canada's premier graduate student business plan competition, with entrepreneurial teams drawn from top graduate schools across North America. The competition offers students an opportunity to present innovative business plans to potential investors, while providing investors with an advance look at up-and-coming entrepreneurs and new ventures.
Two Asper MBA teams competed in the 2014 competition in January. Exigence Technologiesreached the semi-finals. Exigence presented a technology invented by U of M researcher Dr Song Lui, and the team is now working closely with the U of M's Technology Transfer Office and Dr Lui to commercialize the technology and incorporate the company.
The other Asper team, Don't Be Skiddish, not only won their division, they were the top Canadian team and the only one to make it to the finals.
MBA Games
MBA Games is the largest annual gathering of MBA students in Canada. It is an energetic weekend where MBA students from across Canada participate with integrity in Academic, Athletic and Spirit competitions, showcasing their abilities and ambition.
The Asper MBA had a strong showing at the 2014 Games in Toronto this January, finishing in the top five of several competition categories. This marked the first time a team from the Asper MBA took part in the games, an annual event hosted this year by Queen's University. Over 700 MBA students from 22 schools across the country competed in academics, athletics and spirit, as well as three "mystery events". Our team placed in the top five for academics and athletics, and took first place in one mystery event that required the team to design and pilot a boat using only cardboard and duct tape.
Team co-captain Amanda Gebhardt said the games were an empowering experience: "We were ambassadors for the Asper School of Business, and the recognition from our competitors – by means of chanting "Asper! Asper! Asper!" in the hotel halls and event locations – instilled a pride that will stay with our team forever. The 2014 MBA Games was the perfect platform to show Canada what our students knew all along; not only can the Asper School of Business compete with the best, we are one of the best."