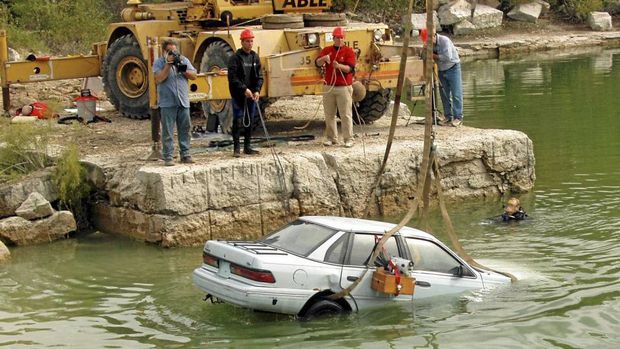 Your car starts to sink. What do you do?
December 5, 2019 —
Gordon Giesbrecht hits the return button on his computer's keyboard to play an audio recording. It's from a phone call, you can tell by the graininess of it. A voice filters through. "911, what's your emergency?"
"Help me. I don't know what to do. My car is sinking," shouts the panicked caller. She's just hit a body of water while driving. Water starts pouring into the vehicle. It's at her waist—and rising.
The woman survives, fortunately. She's lucky. Those who take the time to call 911 while in a sinking vehicle usually don't live to tell about it.
"You don't have that kind of time. You need to get out," Giesbrecht said.
Up to 10 per cent of all drownings occur in sinking vehicles. According to Giesbrecht, a UM expert who studies the effects of extreme environments on the human body, victims are usually uninjured and would have survived if they knew, or remembered, what to do.
Giesbrecht presents Creating the 'stop, drop and roll' of the 21st century: Operation ALIVE (Automobile Submersion: Lessons in Vehicle Escape) Thursday, Dec. 5, 2 p.m. at the University of Manitoba.
Operation ALIVE features research studies that support a new knowledge translation effort to help all vehicle occupants remember what to do. "Much like everyone knows what to do if their clothes are on fire," remarked Giesbrecht, a professor in the Faculty of Kinesiology and Recreation Management.
The presentation is open to the public and free to attend. The lecture is in 220 ALC.