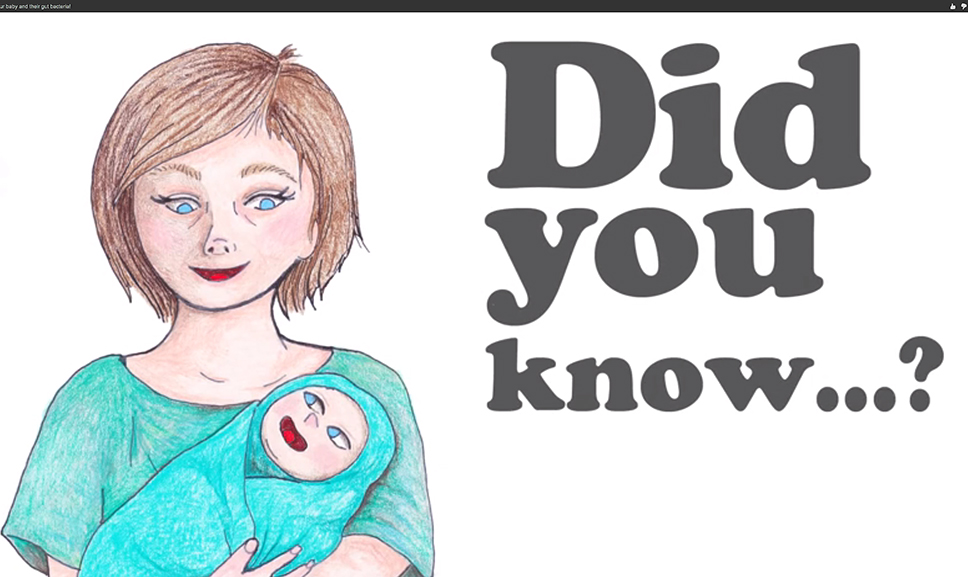 You can help these U of M researchers receive funding
December 15, 2014 —
The Institute of Human Development, Child and Youth Health (IHDCYH) has launched a new competition that allows the public to vote on videos by researchers seeking funding — and two U of M researchers have made the shortlist. Faculty of Health Sciences researchers Meghan Azad and Roberta Woodgate showcase their academic research in video form, a trend that's gaining traction around the globe. And you can help them win funding for their research by voting for their videos.
***
Meghan Azad, assistant professor in pediatrics and child health, College of Medicine, Faculty of Health Sciences, saw a video approach as a fun, quick and appealing way of presenting research information. Azad's research focuses on early-life origins of chronic disease, including environmental exposures, infant nutrition and the microbiome; her video, "Breastfeeding: good for your baby and their gut bacteria!" clocks in at about a minute and — surprise! — it's animated. Azad originally produced the video for a nutrition conference, and worked with a designer and an artist to produce the work. The video is "a way for moms to easily share important information," she adds.
Meghan Azad's research video:
According to its website, the objective of the IHDCYH Talks competition is "to encourage the production of videos that present evidence-based research to a lay audience and that incorporate a message designed to have a positive impact on the health of children, youth and families." It calls the videos "an opportunity to profile research within IHDCYH's mandate to improve knowledge translation and help demonstrate the value of reproductive, child and youth health research in Canada."
Online voting is valued at 10 per cent in overall scoring; videos will be posted for one month prior to peer review on the IHDCYH YouTube Channel to allow votes from the general public.
Other evaluation criteria are: 25 per cent for impact, or achievement of objective; 25 per cent for accessibility; 25 per cent for innovation & creativity; and 15 per cent for appearance, sound and image quality.
***
For professor in the College of Nursing, Roberta Woodgate, the video research approach is linked to her overall research methodology. She's used all kinds of participatory methods to involve study participants as contributors to subjects in which they also have a vested interest. And it was the participants who suggested video as a means of getting information out to other families.
Woodgate is also a CIHR Applied Chair in Reproductive, Child and Youth Health Services and Policy Research and has an appointment in pediatrics and child health, College of Medicine. In her research, she focuses on children and youth living with chronic physical and mental illness, disabilities and complex health needs and promoting health and access to health care for children and youth.
Roberta Woodgate's research video:
Those who are involved in her studies — families or children affected by chronic disabilities with complex health needed — are involved in the research-shaping right from the start. She says that they are asked about which research areas are important to them. "You don't want research that just sits in an article, so to speak. You want research that will be used. So it makes sense to get those most impacted involved up front, from the very beginning. It's very authentic."
Video carries the advantage of advancing knowledge beyond a select academic audience, says Woodgate. "It's a big landscape now, including getting knowledge out there to those who are impacted by the research."
Advancing knowledge translation and exchange is a stated goal of her research program, with research users integrated in all phases, ensuring that results are relevant to their needs and will be translated into policies, programs, and practice.
The YouTube videos she's done with families were a big part of the project; her current research may even end up as a play. "It depends on what the kids want," as she says.
For Woodgate, this kind of participation is essential: "The people in the study, it's their work too. So it's very important that they have a say in how we translate the knowledge."
You can see more of her videos here.
***
Both researchers agree that video can have a wide reach. Azad also sees video as another way to disseminate information.
"Though publications are a good way to put research out there, video is also a great way to reach the general public — as well as other researchers." She says that since entering the competition, she has gone to the website to watch research videos by other researchers, too.
Participants are asked to share the link as widely as possible to ensure the maximum number of votes — voting continues until January 8 at 8:00 p.m. EDT.
The Institute of Human Development, Child and Youth Health (IHDCYH) supports research that ensures the best start in life for all Canadians and the achievement of their potential for optimal growth and development.
Research at the University of Manitoba is partially supported by funding from the Government of Canada Research Support Fund.