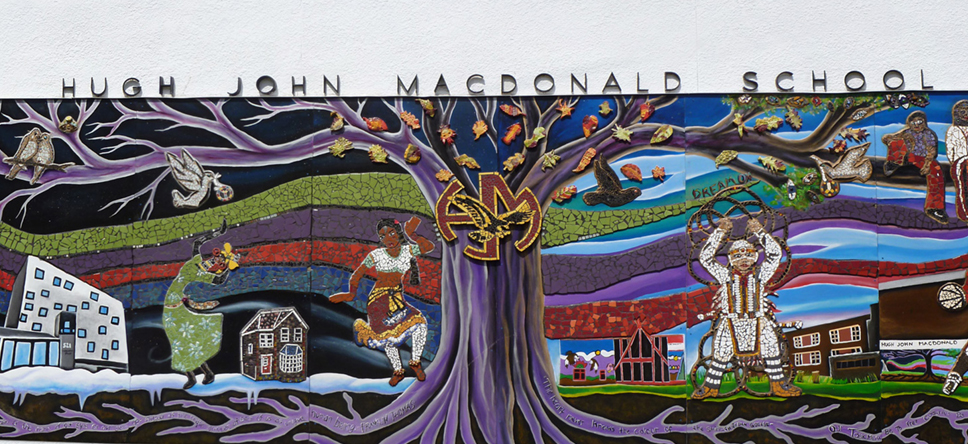 Worth the Walk
June 26, 2019 —
Rady Faculty of Health Sciences is located in a vibrant neighbourhood in the heart of the city. Summer is the perfect time to put on some walking shoes and explore the streets around us, so we've compiled a list of easy walks with fun destinations. If you have a favourite walk, let us know and we'll add it to the list! Email RadyFHScomm [at] umanitoba [dot] ca with your suggestions.
Manitoba College of Pharmacy Building
Since 2008, the College of Pharmacy has been located in the striking Apotex Centre at the Bannatyne campus. But did you know it started out in a tiny building just down Notre Dame Ave.? These days it's got a sign that says Winnipeg Modern Brush Co., but it used to be the original site of pharmacy education in Winnipeg – just one lecture room, lab space for 16 students and a small office. It's not open to the public, but it's still a fun glimpse into the college's history.
422 Notre Dame Avenue, Winnipeg
Distance, one way: 1.2 km (about 15 minutes)
Burton Cummings Community Centre
When a simple walk just isn't enough to get the blood pumping, head for the Burton Cummings Community Centre. They've got a half-mile track, four exercise stations and a tennis court. Free and open to the public year 'round.
960 Arlington Street
Distance, one way: 550 m (about 8 minutes)
Mural at Hugh John Macdonald School
Winnipeg is home to a wide selection of street art and we're lucky to have a great example right in our neighbourhood. Nearby Hugh John Macdonald School boasts artwork spanning 40-feet wide and 8-feet tall, painted by artists Ursula Neufeld and Annie Bergen, with the help of students and community volunteers. We're pretty sure you won't need help spotting it, but just in case, the mural can be seen from the corner of William Avenue and Kate Street.
567 Bannatyne Avenue
650 m (about eight minutes)
Urban Shaman Contemporary Aboriginal Art
If you're planning a longer lunch, why not take in some art? Urban Shaman Contemporary Aboriginal Art is a nationally recognized leader in Indigenous arts programming, conveniently located in the Exchange District. Exhibits change throughout the year, so visit their website to plan your visit. Gallery hours are Tuesday – Saturday, noon to 5 p.m. (Closed Mondays and Sundays).
290 McDermot Avenue, Winnipeg
Distance, one way: 1.5 km (about 20 minutes)
Sherbrook Pool
The Sherbrook Pool was developed as a relief project during the Great Depression that served as a recreational and public swimming facility, known then as a "Public Bath". Built in 1930 and opened in March 1931, this Art Deco style building was designed by Ralph Pratt and Donald Ross. The largest and finest pool in Western Canada at the time, it was Winnipeg's first Olympic-size pool and the site of many competitions. Sherbrook Pool was the first pool in Winnipeg to provide the Red Cross swimming program, in 1946. The building is a municipally-designated historic site.
381 Sherbrook Street, Winnipeg
Distance: 2.2 km (about 30 minutes)