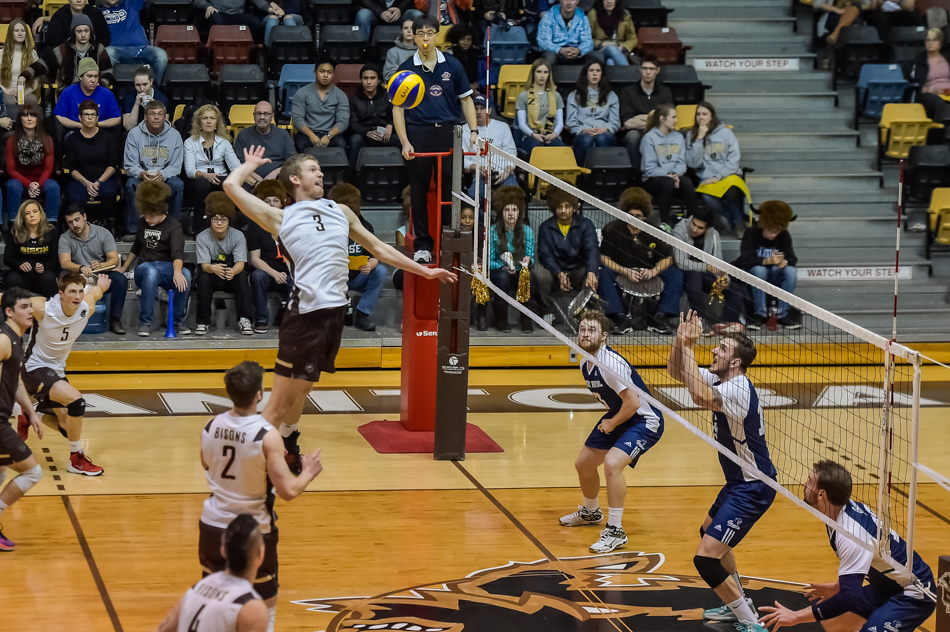 Working their way back to the top
October 6, 2016 —
In winning more than 75 per cent of their games last season, one would think that the Bison men's volleyball team would base future teams around last year's success. Not surprisingly, they are not. Fact is, the Bisons are striving to play much better than last season.
For head coach Garth Pischke, volleyball championships have become as much habitual as thrilling. Although winning never gets old.
However, in 2015-16, the Bisons were victorious in 14 of 15 matches at home, while taking seven of those matches in straight sets – numbers that are astonishingly good. However, after sweeping Mount Royal in the Canada West Quarterfinals, the Bisons were unable to find another playoff victory, dropping three straight sets to Saskatchewan in the conference Final 4, and then also losing 3-0 to Alberta in the bronze medal game.
"Moving forward we now know that we will do whatever it takes, and we'll stick together as a team in all situations."
In a sport that so desperately revolves around teamwork, fifth year right side and 2015-16 conference second team all-star, Devren Dear, knows that it was the attitudes and mindsets of his teammates that got the team to where it was last year, and now has the experience to push further this upcoming season.
"We just believed in one another and we knew what it would take to get the best out of every player," Dear said. "We always come into our games really focused on the task at hand, ultimately wanting to get the win. Moving forward we now know that we will do whatever it takes, and we'll stick together as a team in all situations."
Although mustering up quite a nice road record by finishing three games above .500 as visitors, the Bisons' home court advantage was extremely evident to both the fans and players last season. Dear can relate.
"Simply put, we just loved playing in front of our friends and family," Dear said. "We followed our specific pre-game workout schedule nearly to a tee every game. In doing so, it just happened to work out perfectly for us."
Working out perfectly is something that Bison fifth year middle blocker and co-captain, Ken Rooney, has taken a liking to this past off-season. Between sets in the gym and his cardio sessions, Rooney knows that there is a room to improve on heading into the 2016-17 season.
"I think last year we learned a valuable lesson about taking the opposition lightly," Rooney said. "We definitely gained some solid experience that will help us bounce back this season. We have to remember not to get too comfortable since we are such a strong team. If we do that, we will get the results we want."
"This year means everything."
And which results would that be?
"A national gold is the result we want," Rooney stated. "It is the last year for our core group of guys, so I guarantee there will be no taking anyone lightly. I won't let that happen, and I think all the guys are on the same page about it too. At the end of the day, all we can do is go all out day in and day out."
As Rooney alluded to, the Bisons enter the '16-17 season with seven players in their final year of eligibility. As many faces will be leaving the squad after this season, that fact alone may provide a sense of urgency to the veteran leaders on the team who have yet to win a national title.
Fifth year Bison setter, Luke Herr believes that there is no time like the present to take the bull by the 'Big Horns' and show the rest of Canada what the Bison men's volleyball team is capable of doing.
"This year means everything," Herr said. "This is our time to prove that we can play volleyball at the highest level in Canada and make it to the very top. But in doing so, we can always do things better that we did last year. We already have great chemistry on and off the court from playing with each other for years."
In pointing to the Bisons' 14-1 dominance at home, Herr was quick to credit much of his team's success to that of the raucous exuberance put forth by the dedicated Bison fans.
"The Big Horns have served a big role in supporting our volleyball team at all home games," he said. "They were a big reason why we had such a successful home record, bringing energy and support to every game."
Not only are the facts encouraging, but also, the opinions of the players unanimously point to a direct correlation between the fan support and the team's ultimate performance on the court.
Bisons fans, the ball is in your hands, what are you going to do?
Don't miss a single game this season! Check out the men's and women's Bisons volleyball schedule!