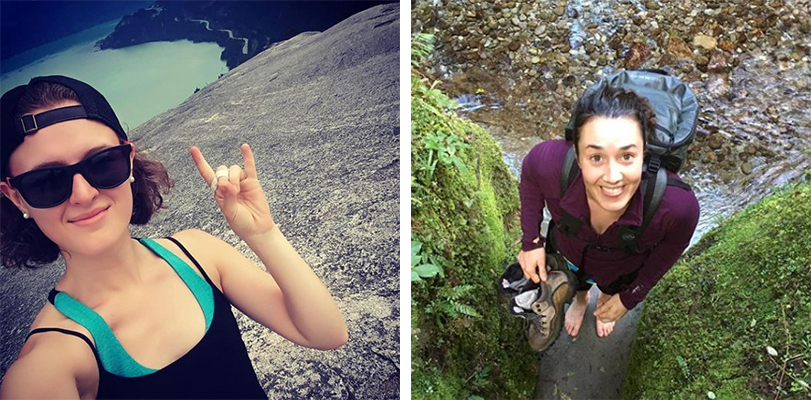 In a male-dominated sport, two UM route-setters are making their own path
February 14, 2020 —
Naomi Derksen and Gabrielle Lemiren are blazing trails in more ways than one.
To the untrained eye, the rounded, multi-coloured steps that speckle a climbing wall's uneven face might seem arbitrarily placed or permanently fixed. They're not. Routesetters, such as Derksen and Lemiren, are constantly designing and mapping artificial rock-climbing wall routes for people of all skills to traverse and navigate. And they're doing so in a male-dominated sphere.
"Most gyms are owned, staffed by, and routeset by men," said Lemiren.
The duo is part of the Recreation Services team that sets the routes of the Active Living Centre's (ALC) 35-foot climbing wall, a visual keystone of UM's Fort Garry Campus' fitness centre.
To hone their skills and develop a sense of community within the sport, the two attended a women's routesetter workshop in Victoria, B.C. this past summer. The event is a brainchild of The B.I.G. Initiative: a group aiming to elevate the role of women (or womxn, as stated on their website, to incorporate trans women) within the climbing community. The goal is to get more women hired in roles such as routesetting or coaching.
Topics covered included various types of settings, theory, and risk, intensity and complexity issues. But it was the interaction with other women routesetters which made the experience memorable.
"It was a little intimidating at first because everyone there was really strong and had been climbing for years. But at the same time, it was inspiring to be a part of a supportive, collaborative group of women sharing their passion for climbing," said Derksen. "It made me appreciate the environment of inclusivity at our ALC climbing wall."
While the camaraderie and story-sharing served to strengthen bonds with workshop attendees, Lemiren said it also broached the stark reality of climbing's gendered environment.
"It was really great to meet other women who are passionate about climbing and are making a living in areas like routesetting. It was also both affirming and discouraging to see that other women experience the same challenges I do in a male-dominated sport," she said.
Recreation Services' climbing coordinator, Kori Cuthbert, said many people apply to attend these events, and only so many are accepted. Cuthbert, like the B.I.G. Initiative, understands the importance routesetting diversity.
"Women are climbers, too. They may approach a boulder problem or route in a different technique or style than others. By having more women setting or coaching, we provide a more representative style of climbing for everyone who participates. This makes climbing more enjoyable and accessible for everyone as a result," he said.
"I'm so glad that they are able to help shape the climbing experience for our local community," added Cuthbert about Derksen and Lemiren's respective contributions.
If you're inspired to start climbing, you can contact Cuthbert at kori [dot] cuthbert [at] umanitoba [dot] ca, or check out Recreation Services' Annual Climbing Competition March 8 at the ALC climbing wall.