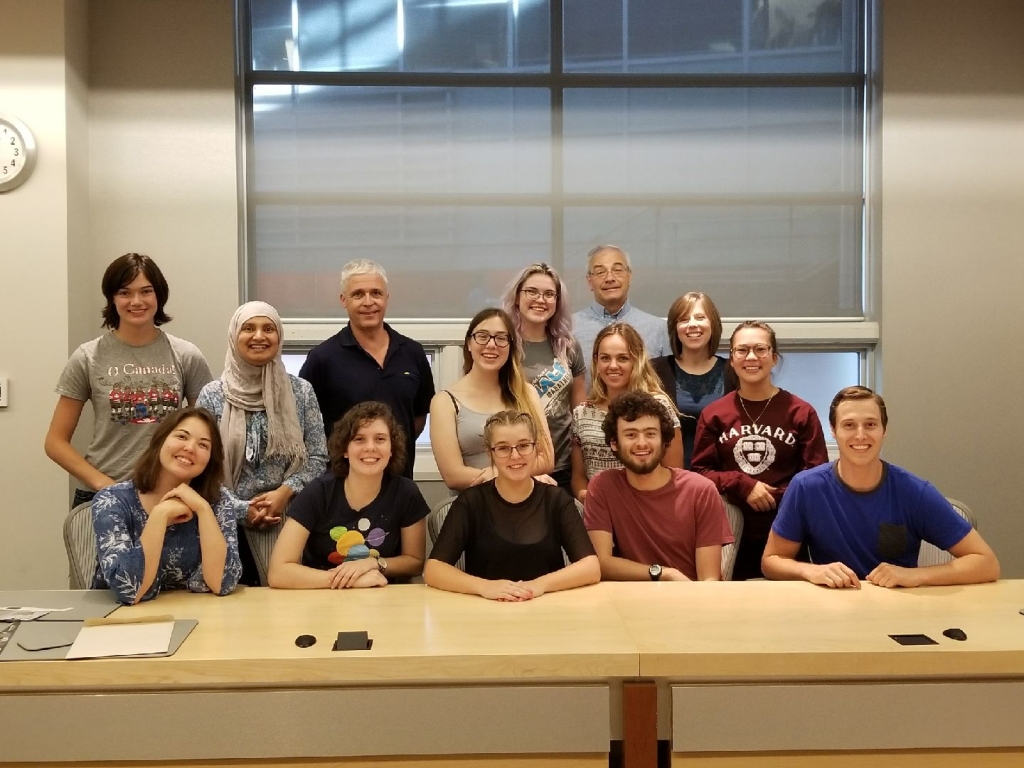 WISE Kid-Netic Energy Celebrates Successful Year of Student Outreach
September 1, 2017 —
WISE Kid-Netic Energy is wrapping up another successful year of STEM (Science Technology Engineering and Math) outreach to youth throughout Manitoba. The non-profit housed in the Faculty of Engineering delivered camps to 522 youth this spring and summer, and connected with over 25 000 Kindergarten to Grade 12 youth during the 2016 – 2017 school year, through its fun, hands-on curriculum-based workshops. In addition, they received the Science Teachers Association of Manitoba Achievement Award.
WISE Kid-Netic Energy was established in 1990 and has reached over 300 000 students through workshops and almost 6 500 campers in 40 different locations since 2004. The organization originated as a program with a small budget, but has evolved into a one of the biggest outreach programs in Canada with an over half million dollar budget designed to ignite an interest and life-long passion for STEM in all Manitoba youth – regardless of background, gender or socio-economic status. This year WISE traveled to 13 different communities including six First Nations. This short YouTube video will give you a small glimpse of our summer: https://youtu.be/bkbBNJBy0EQ
WISE Kid-Netic Energy has a number of exciting events coming up this fall:
Girls Club, designed for girls in Grades 3-8 will start meeting Saturday, September 23 (12:30 – 3:30 pm). Spaces are still available. To register visit wisekidneticenergy.ca/girls-club.
Go Eng Girl, a free event for young women in Grades 7-9 is taking place on Saturday, October 14. This event, held at the UM, will introduce students to the wonderful world of engineering. Girls will be grouped with current female undergraduate engineering students for a design-build-test challenge. While the girls are building and bonding, guardians will receive a presentation from the Faculty of Engineering. Morning refreshments and lunch are included. Spots are limited. To register visit http://www.wisekidneticenergy.ca/goenggirl/.
Engineering IS for Girls, presented by the Faculty of Engineering on Monday, November 27, is a free half-day (9:00 am – 12:45 pm) event for girls in Grades 9-11. This is an opportunity to meet the Dean of Engineering, current engineering students, and graduates who are now changing the world as professional engineers. A hands-on activity will take place, and lunch is included. Space is limited. To register visit http://www.wisekidneticenergy.ca/engisforgirls/.
WISE Kid-Netic Energy's All-Girls Robot Fight Club is designed for young women in Grades 7-12 who are interested in learning about coding and robots. Itruns seven Saturdays (12:00 – 4:00 pm) beginning January 20. Participants will learn how to code EV3 Lego Mindstorms, and will compete in the Manitoba Robot Games. Last year WISE Kid-Netic Energy teams took first and second in the Lego Mindstorms category. To register visit http://www.wisekidneticenergy.ca/all-girls-robot-fight-club/
If you are an undergraduate student in a STEM-related field looking for flexible, but meaningful work, WISE Kid-Netic Energy is currently accepting applications for Fall/Winter Workshop Instructors. The starting wage is $14/hr. Besides enthusiasm, all you need is at least one free morning or afternoon a week, a vehicle, and valid driver's license. Application forms are available at www.wisekidneticenergy.ca/employment.
In addition, WISE Kid-Netic Energy is hiring an events photographer. If you have solid photography skills, and are available the odd Saturday throughout the academic school year, this position is for you. This position also requires the ability to edit photos; the starting wage is $14/hr. Please visit www.wisekidneticenergy.ca/employment for more information.

written by: Jill Lautenschlager, WISE Program Administrator