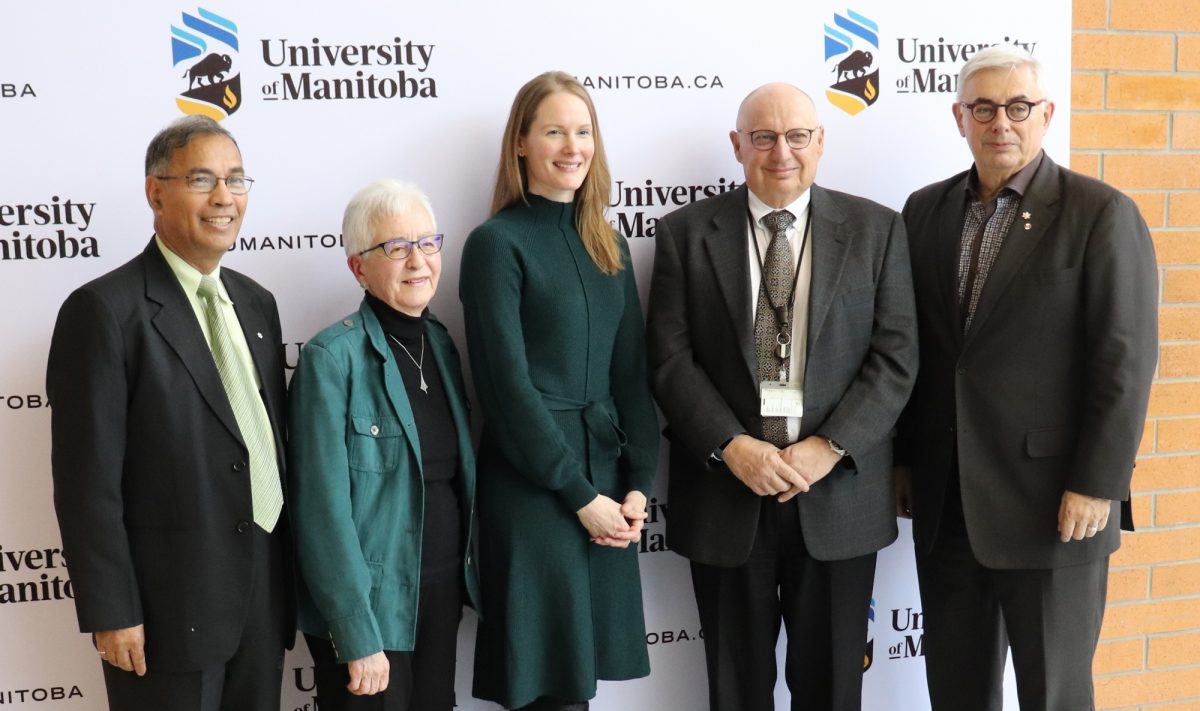 Winnipeg Rh Institute Foundation donates $1-M to support pediatric research at U of M
November 26, 2019 —
The Rady Faculty of Health Sciences announced the new Dr. John M. Bowman Chair in Pediatrics and Child Health research chair to improve care and treatment for childhood disease and disability Nov. 25 at Bannatyne campus.
The Winnipeg Rh Institute Foundation is supporting the Dr. John M. Bowman Chair in Pediatrics and Child Health through a gift of $1 million. This gift is the latest contribution announced as part of the University of Manitoba's Front and Centre campaign and brings the Foundation's total to $2,158,320 since the campaign begun. As well, the Department of Pediatrics and Child Health in the Max Rady College of Medicine and the Robert Wallace Cameron Fund provided funding to establish the new chair.
The Rh Foundation's gift honours the legacy of Dr. John M. Bowman, a 1949 University of Manitoba MD alumnus, who was best known for pioneering the discovery and treatment of the Rh hemolytic disease in newborns in the 1960's, saving hundreds of thousands of babies' lives. He continued to lecture and teach about the cure for Rh isoimmunisation at neonatal centres across Canada until his death in 2005.
Dr. Bowman served as medical director of the Winnipeg Rh Lab, as a professor of pediatrics at the University of Manitoba, and was co-founder and chair of the Winnipeg Rh Institute.
"This generous gift to the University of Manitoba honours Dr. Bowman's legacy of service to the medical community and to the thousands of lives saved through his pioneering work," says Dr. David Barnard, UM president and vice-chancellor. "I thank the Winnipeg Rh Institute Foundation for their leadership and continued support of research and scholarly initiatives in our community."
Dr. Kristy Wittmeier, assistant professor with the UM's department of pediatrics and child health and investigator with the Children's Hospital Research Institute of Manitoba, was announced as the inaugural Dr. John M. Bowman Chair in Pediatrics and Child Health.
"I'm honoured and humbled to be the recipient of the inaugural Dr. John M. Bowman Chair in Pediatrics and Child Health," Wittmeier said. "Dr. Bowman's work exemplifies the role of a dedicated clinician researcher – that is, a clinician, or healthcare provider, who applies the scientific method to answer important clinical questions, so that we can provide better care."
As a physiotherapist for over 17 years, Wittmeier brings her experience in patient care at the Children's Hospital to her research. Wittmeier has explored topics such as knowledge translation and patient involvement in health research, developing and testing a mobile app to help young men with mild hemophilia self-manage injuries, and improving access to physiotherapy for children with complex needs.
"I am grateful the role of a physiotherapy clinician researcher in pediatrics has become a reality and we can work to improve quality of life and outcomes for children and youth in Manitoba who have neurodevelopmental and rehabilitation needs," said Wittmeier, a three-time graduate of the University of Manitoba, where she earned a bachelor of medical rehabilitation in physical therapy, master of science in medical rehabilitation and a PhD in physiology.
"We know that Dr. Bowman's work continues to make a real and tangible impact on the lives of Manitobans," said Dr. Juliette Cooper, Board Chair, Rh Institute Foundation. "We're pleased to be able to support in this way, and we look forward to the impact of Dr. Wittmeier's research that will continue to improve outcomes for children facing serious health issues."
This investment from the Winnipeg Rh Institute Foundation brings the University of Manitoba closer to its $500-million fundraising goal for the Front and Centre campaign with a new campaign total of $370,507,253.00.