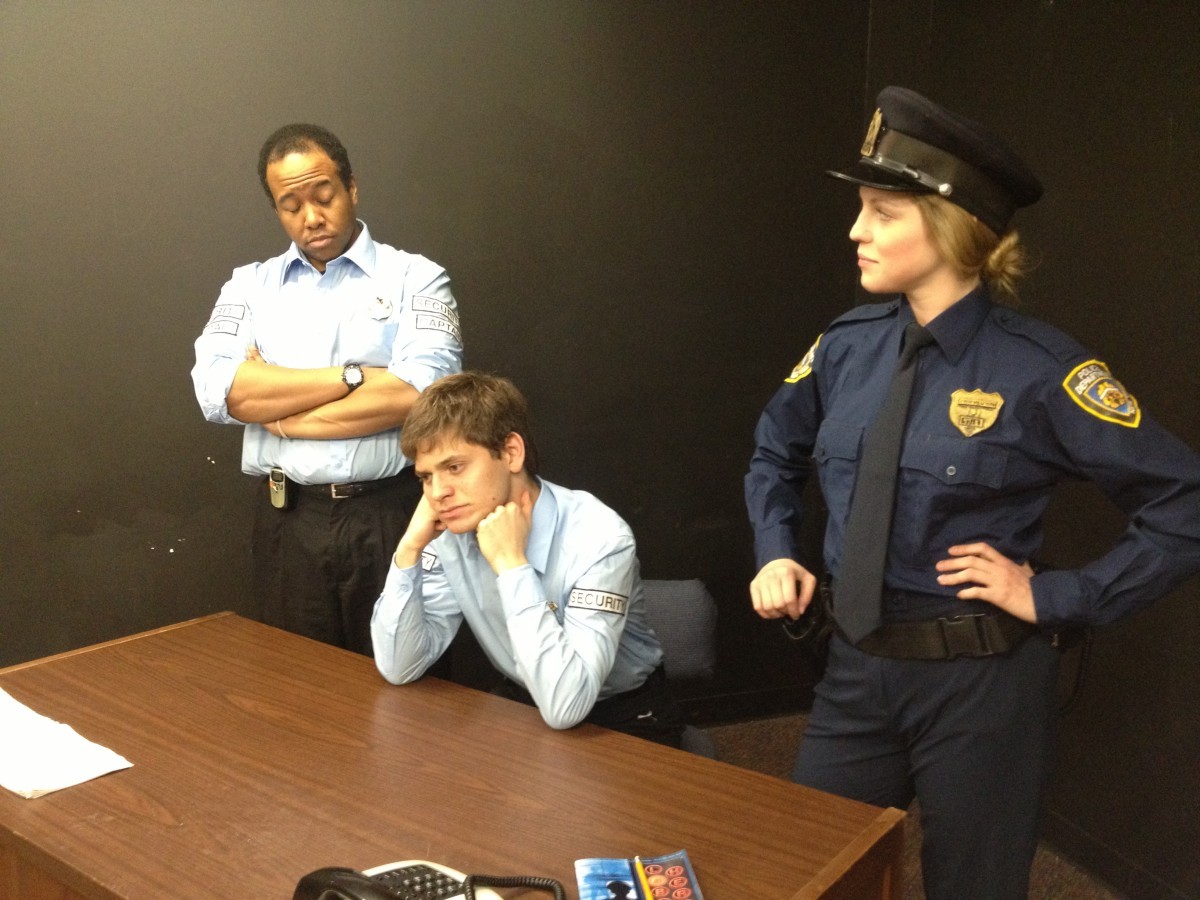 Winning combinations: Toles and son collaborate on play
May 23, 2013 —
Long-time theatre director and distinguished professor in the department of English, film and theatre, George Toles, directs his son along with other Black Hole Theatre alumni in a play that was called a masterpiece when it debuted Off-Broadway on March 13, 2001. The Winnipeg six-show run of Lobby Hero continues until May 26 at The Forest Nickerson Theatre (Manitoba Center for the Deaf), 285 Pembina Highway.
A tight four-hander with twists and turns to rival any rollercoaster, Kenneth Lonergan's Lobby Hero follows Jeff (played by Thomas Toles), a hapless young security guard drawn into a love triangle, as well as a murder investigation that involves his supervisor and a rookie policewoman who idolizes her cop-partner.
Toles calls it a great play — "great" in the sense of it being "one of the very few great American plays to have appeared in the last 25 years," he says. "It is powerfully realistic in its language, characterization and milieu, but it has a cunningly artful structure in which all the seemingly 'slice of life' elements are beautifully patterned and integrated."
Though the action unfurls "loosely and casually," says Toles, suddenly "everything tightens with supreme ethical and dramatic logic. [At the centre of the play is a] dilemma in which a character attempts to do the right thing with ever more drastic, troubling consequences."
What's it like for son and father to work together? Toles describes his 22-year-old son's approach as an actor as "exceedingly conscientious and disciplined" — and so any concerns about nepotism are unwarranted. He adds, "[Thomas] would be mortified if any of his fellow actors thought for a moment that he was being allowed to get away with anything."
Other actors in the show are Stephanie Moroz, who just graduated from a three-year acting program at Studio 58 in Vancouver, Ray Strachan, who's worked at the Manitoba Theatre Centre and Justin Fry, another Black Hole alumnus who's worked with Thomas before.
The role played by Thomas is the largest he's had in any of the shows father and son have done together, and he feels extra pressure, says Toles. "But I firmly believe that the role [of Jeff] is a natural fit, and that his best qualities as a person and a performer will be abundantly in evidence."
Toles admits that it's both exhilarating and strange directing his son in theatre productions. It's the third show to see the two as collaborators, and Thomas, who's heading to Oxford this fall as U of M's Rhodes Scholar, has also taken on a director's role for a play he produced as part of last year's Fringe Festival.
In fact, Toles laughs that Thomas's own director's eye is always "warily focused" on what Toles is up to. "He can see through many of my cherished stratagems for getting results. My authority persona is a laughable fiction, as he knows all too well, but he kindly refrains from letting others in on my uncertainty and core identity as a pushover."
Pushover or no, Toles is a wonderful, uncannily intuitive and generous director. Plays directed by him always evoke a sense of wonder at humanity.
The two obviously work well together, and both must be revelling in the opportunity for collaboration before the impending separation of the upcoming year. For his part, George Toles is cherishing the time he gets to collaborate with Thomas.
"We may not have another opportunity to work together for a very long time, and I'm conscious at every moment of what a rare privilege this collaboration offers me," says Toles. "What better way for a non-hockey fan father and son to have memorable days together than by a deep, shared commitment to a creative project?
"Oh yes, and he always makes me laugh," he says.
Lobby Hero, nominated for the Outer Critics Circle Award for Outstanding Off-Broadway Play, tells the story of Jeff, a luckless young security guard trying to get his life together after being thrown out of the navy. The lobby proves to be no sanctuary from the world, as Jeff is drawn into a local murder investigation involving his supervisor, a man called upon to bear witness against his troubled brother, and a rookie policewoman who is in over her head with her hero-cop partner.
Directed by George Toles
FEATURING:
Justin Fry – Bill
Stephanie Moroz – Dawn
Ray Strachan – William
Thomas Toles – Jeff
Tickets: $15
The Forest Nickerson Theatre (Manitoba Center for the Deaf)
285 Pembina Highway
Call 204-452-4791 for reservations.
Thursday, May 23, 8:00 p.m.
Friday, May 24, 8:00 p.m.
Saturday, May 25, 2:00 p.m. and 8:00 p.m.
Sunday, May 26, 2:00 p.m.
 This article first appeared in the May 23, 2013 edition of The Bulletin.