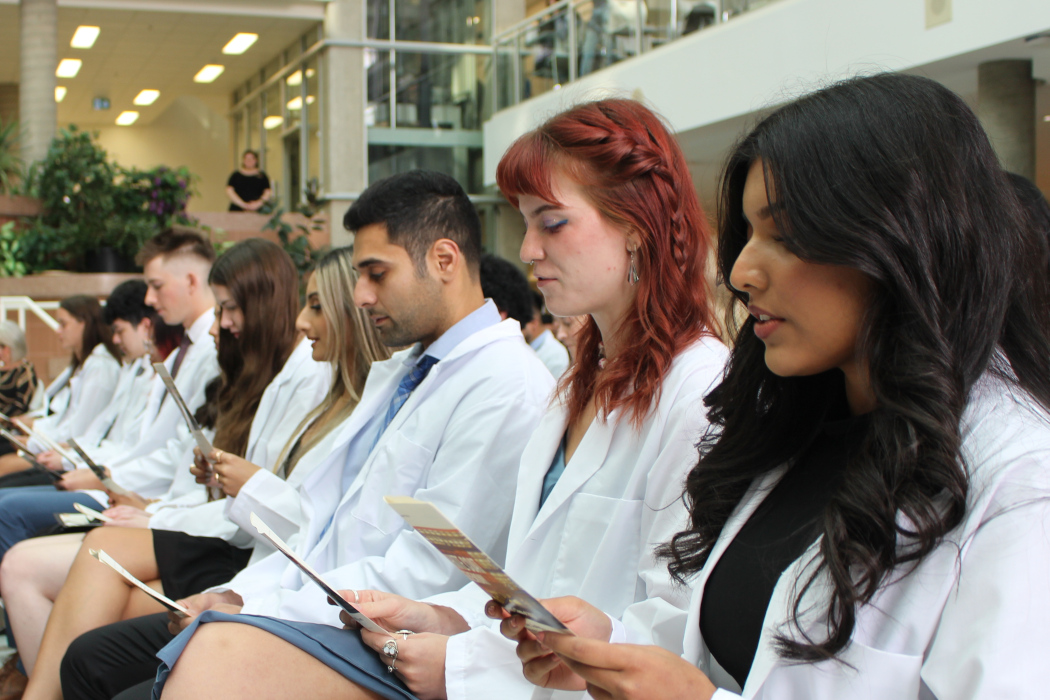 White Coat Ceremony an 'exhilarating' experience for pharmacy students
September 27, 2023 —
First-year doctor of pharmacy (PharmD) student Jaspreet Bhoondpal experienced a lot of emotions when he was on stage donning his white coat.
"It felt good to have the support of my family and everybody here. That's what calmed me down," he said.
On September 18, Bhoondpal and his 59 classmates that make up the PharmD Class of 2027 took part in the College of Pharmacy White Coat Ceremony in the Brodie Centre atrium on the Bannatyne campus. The event welcomed the students into the pharmacy profession with the cloaking of their first white coats and the recitation of the Pledge of Professionalism.
First-year pharmacy student Ashna Joseph said the event was exhilarating and donning her white coat was exciting.
"It's a moment we've all been waiting for. It felt good," said Joseph, who was a recipient of the William G. Eamer Community Leadership Undergraduate Scholarship.
Joseph chose to pursue pharmacy because she wanted to go into health care and was interested in biochemistry.
"I thought a career in pharmacy would be a good fit," she said.
Bhoondpal, who was born in India and immigrated to Canada in 2008, became interested in UM's pharmacy program when he was in high school.
"I knew I wanted to do something in the medical field, but I didn't necessarily know what. Pharmacy piqued my interest because all the prerequisite courses grabbed my attention," he said.
In her welcoming remarks, College of Pharmacy Dean Dr. Lalitha Raman-Wilms told the students that donning their white coat is an important milestone in their growth as health-care professionals.
"In a pharmacy tradition, the white coat is a symbol of dedication to responsibility, inspiration for excellence and a professional designation," Raman-Wilms said.
Lanette Siragusa, vice-dean of education for the Rady Faculty of Health Sciences, and chief executive officer of Shared Health, shared in her welcoming remarks some of the lessons she learned climbing Mount Kilimanjaro.
"The motivation that brought you here today will carry you past any obstacles that you encounter and propel you towards your destination." Siragusa said. "Keep your vision focused on the summit that represents your hopes and your dreams and your goals."
Jane Lamont, president of the College of Pharmacists of Manitoba, advised students to develop meaningful relationships with their peers and mentors because these connections will sustain them through the challenging days as a student and into their careers.
"Embrace this journey fully," Lamont said. "It will challenge you, inspire and shape you into the pharmacist and professional you aspire to be."
To begin the event, Elder Charlotte Nolin gave a blessing. Dr. Christine Leong, associate professor in the College of Pharmacy, led the students in the recitation of the Pledge of Professionalism, and Marc Herrera welcomed students on behalf of the University of Manitoba Pharmacy Students' Association.