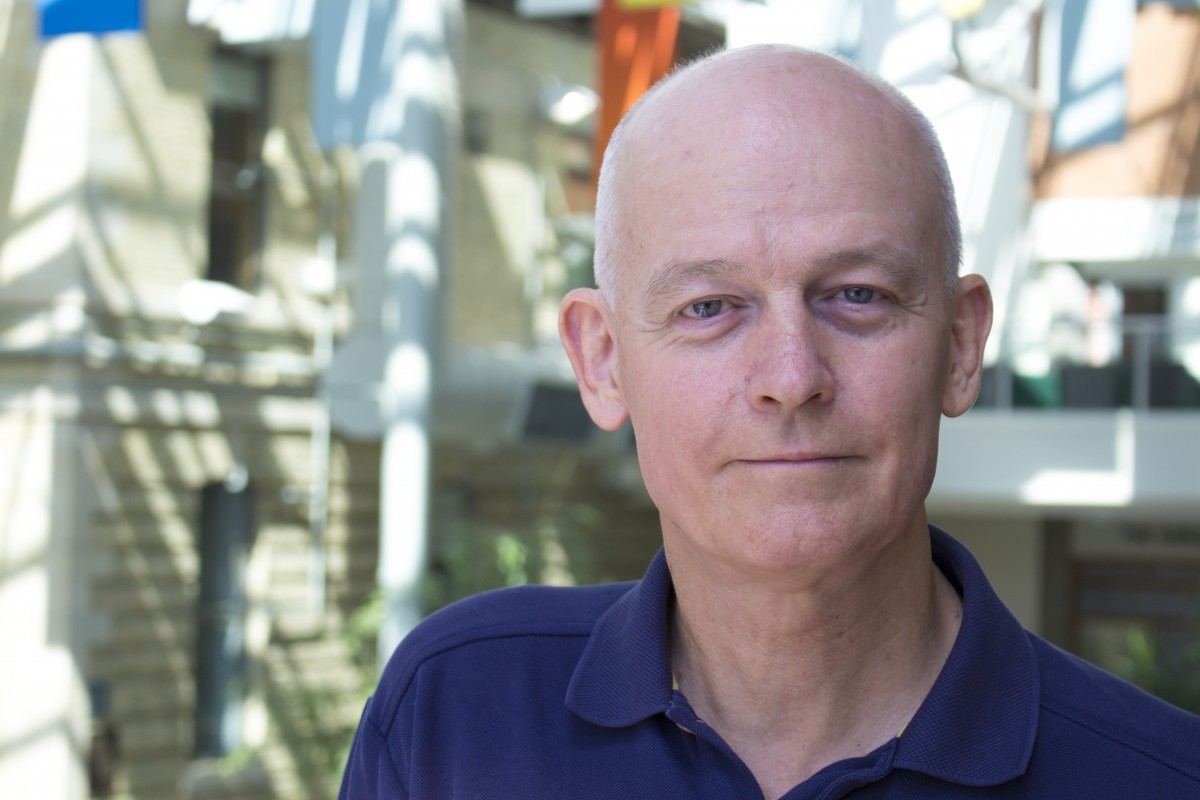 What a ride: An alum's journey from healing hippies to AIDS activism
March 24, 2016 —
It was the summer of 1970. A med student named David McEwan [MD/72] was working crowd control at Festival Express—the storied music tour that travelled by train to three Canadian cities boasting a roster that included top rockers like The Grateful Dead, The Band and Buddy Guy.
It wasn't the job McEwan had volunteered to do but there he was, working front-of-stage security, focused on festival-goers inching their way closer as one of the main acts hit the stage. That's when something cold and wet suddenly hit the back of his head. "I turned around to see what was going on and it was Janis Joplin slugging Jack Daniels from the bottle and spitting it into the crowd," he says with a laugh.
His desire to help others is what brought him to the show. In fact, he's built his whole life around helping those in need. In his early twenties, he helped found one of Winnipeg's first clinics aimed to improve quality of life for people of every age, background, ethnicity, gender identity, and socioeconomic circumstance. With that same pioneering spirit, he later shaped public awareness and support systems for a rapidly emerging health issue on the Hawaiian islands.
In the lead up to the Bomber Stadium mega-concert, McEwan had been approached by the Festival Express organizers to see if he and some classmates would be interested in running a first-aid tent; they had heard about a clinic founded by med students that was run out of an old gas station turned drop-in centre called Committee Representing Youth Problems Today (CRYPT).
While CRYPT had become a refuge for U.S. draft dodgers and runaways, the free medical clinic focused on helping transients and local youth with health-related needs.
"Naively we said 'of course we can do that.' They asked how much we would charge and I said 'Oh, it'll be $1,000' and they said that was ok," he recalls. "A lot of it was Band-Aids and sprained ankles but there were a few kids tripping out on various drugs, so we had a place for them to sit and talk if they were having a rough time."
It might be hard to imagine but the marijuana-scented, hippie-populated music festival and the small-time student-run clinic is how 'Klinic with a K'—a renowned local not-for-profit community health centre—got its start. The money earned from the entrepreneurial endeavour was the clinic's first source of funds.
In 1971, CRYPT had received funding from the Manitoba Health Services Commission to expand its basic medical services. By now the clinic was officially named "Klinic" and was offering counselling services and a 24-hour crisis line. The major focus of the crisis line was to help people who had ingested a wide variety of hallucinogens, stimulants and depressants and were experiencing difficulty as a result.
McEwan stayed on as a volunteer from Klinic's early days, right up until he earned his medical degree in 1972.
" I saw what the world was really like and it began to affect my thoughts about future plans for medicine."
Four decades later, he returns to his alma mater. It's a hot summer day in Winnipeg. Just fresh off the heels of his retirement, McEwan enters the University of Manitoba's medical college for the first time in 40 years. Today the campus is referred to as Bannatyne and a glassed-in atrium now sits in the middle of what was once a thoroughfare.
"Class of '72… there's me and that was at the Fort Garry Hotel," says McEwan, smiling as he points to his class picture mounted in the Joe Doupe Concourse. "I have a copy of this photo."
Soon after he completed his medical training McEwan went on a trip around the world. "I was hitchhiking—with a plane ticket—around the world," he says, as he lets out a chuckle. "I spent a year and a half on the road going to many, many places. I didn't really know much about life so that was a chance for me to grow up; I saw what the world was really like and it began to affect my thoughts about future plans for medicine."
The first place he visited was Hawaii, an island he had forever dreamed of seeing. "When I was a child of 12 I had read [James A.] Michener's book called Hawaii. At that time I had this fantasy that Hawaii would be a beautiful place to live and practice medicine," recalls the 69-year-old. "I was particularly impressed by the work of Father Damien, even though I'm not Catholic. He's a Catholic priest who I thought had incredible principals."
Father Damien, "the Leper Priest" or "the Hero of Molokai", was a Belgian priest who devoted his life to missionary work among Hawaii's leprosy patients. Father Damien was sent to Honolulu in 1864 (where he was ordained); he arrived on the island shortly after the government had started deporting leprosy patients. A lack of understanding of the disease and other factors led to the forced exile of patients to the secluded peninsula of Kalaupapa on the north shore of Molokai. Father Damien volunteered to take charge of the settlement and went on to serve as a pastor and physician, improved water and food supplies and housing, and founded two orphanages, receiving help from other priests for only six of the 16 years he spent on Molokai. In 1884, he contracted leprosy. He died in 1889 at the age of 45.
"When I eventually did pass through Hawaii, I fell in love with it but thought to myself it was impractical to move there, but then while I was doing my residency I thought 'Ok well let's just apply to a couple of places and see what happens because it's probably not going to work out,'" says McEwan.
But it did. He started work in Honolulu on Sept. 1, 1977 at the Honolulu Medical Group (in family medicine) and it wasn't long before his life's work started to mirror the work of Saint Damien.
"My time in Hawaii has been a unique experience that I could never have expected and it relates to Michener's book," he shares. "In the book, Father Damien worked with an ostracized group of people that had a disease that was not understood. Those people were oppressed and banned, put onto an island, a hidden piece of land. In 1980, I had patients with the early symptoms of the HIV infection and I had Hawaii's first case of pneumocystis pneumonia."
McEwan referred that patient—Hawaii's first AIDS case—to Dr. Donald Abrams, now co-director of the AIDS unit at San Francisco General Hospital, who was studying adult T-Cell leukemia virus.
"For me it was kind of an awesome moment. Dr. Abrams and I were looking at lymph node biopsy slides and he turned to me and said, 'David, I'm just doing my fellowship here. I don't have any
money… we can't get any serious money to study this but my early prediction is this new disease is caused by a T-Cell leukemia-like virus and that it's a sexually transmitted virus and it's a terminal illness,'" McEwan recalls, adding Abrams was right but no one was listening because he was a "nobody" at the time.
Not knowing then how the virus was spread, McEwan felt he needed to be proactive and get the message out. In addition to working as a full time physician, he did volunteer work and and cofounded Hawaii's first AIDS organization in the 80s—when the cultural stigma attached to HIV/AIDS was profound.
He'd spend the next 10 years volunteering tirelessly to establish an organization with sister organizations on the outer islands while simultaneously setting up his own practice. When Life Foundation reached a point of stability, McEwan started to think about what he could do next.
By 1990, he immersed himself in advocating for same sex marriage; that battle went on for years. McEwan says from the beginning his work with AIDS was all about understanding the science behind it and helping the ill. "I naively decided same-gender marriage would be a way to make hope and change. I really believed that and that's why I jumped on board behind the scenes and volunteered for 24 years," he says.
Same-sex marriage was legalized in Hawaii on December 2, 2013. "I'm just so very grateful for the next generation. It's profoundly going to change the rest of history for the world," says McEwan. "Mostly I am grateful to all my professors, classmates and friends at U of M who gave me so much and started me on this incredible journey."