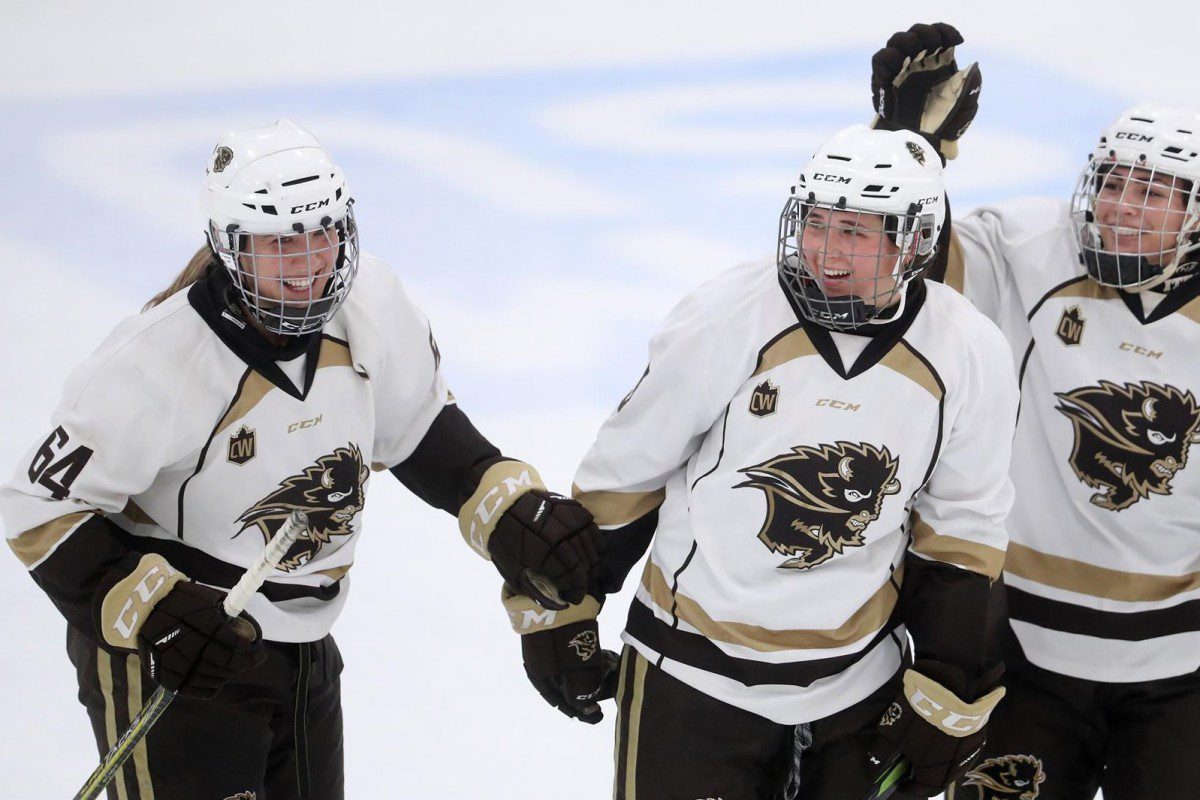 Well-traveled Bison hitting her stride on the ice
FKRM student-athlete Natasha Kostenko rediscovered her love of hockey after travelling the world & has been a driving force for Bison women's hockey
November 28, 2018 —
Fifth-year forward Natasha Kostenko has racked up her fair share of travel mileage over the years for both hockey and personal endeavours. Despite that, she wouldn't change her trajectory for the world, as it's helped mould her into the person she is today.
A native of Fannystelle, Man., Kostenko has been involved in hockey since she was five-years-old. She made it all the way to the final four in her grade nine year with the MacDonald Lightning. She then doubled up in grades ten and 11, playing high school hockey with Sanford Collegiate as well as midget with the Portage-based Central Plains Capitals, where she led the team in scoring in both 2008-09 and 2009-10.
Her senior year brought her to Wilcox, Sask., as she earned a scholarship to play prep school hockey with the AAA midget Notre Dame Hounds, one of the top teams in the nation at that age level. Kostenko enjoyable a memorable run with the Hounds, as the team went 27-0-1, capping their season with an Esso Cup victory at nationals.
"That was a great experience. It was an awesome school," Kostenko says of her time in Saskatchewan.
"It was hard going there my grade 12 year, because you go from having such freedom to nothing, so that was pretty difficult, but again it was great hockey and I had a great coach in Janice Rempel."
She also earned a spot with Team Manitoba for the 2011 Canada Winter Games, where she tallied nine points, despite not being 100 percent due to an elbow injury.
"That was mentally struggling, because you're not where you want to be. But it worked out okay and I played pretty well."
The good news kept pouring in for Kostenko, as around Christmas time of her senior year she committed to play for Bemidji State, an NCAA Division II team based out of Minnesota. She was with the team from 2011-13 and had a strong showing, including leading all BSU freshman in points in 2011-12, with 13.
"I loved Bemidji, she says joyfully. "Everything about it was awesome. I loved my coach and my teammates. Everything was great."
Despite enjoying her time in the states, a personal matter propelled her to leave, as she opted to enroll at the University of Regina. She redshirted the 2013-14 season and contributed ten points the following year. Unfortunately, things didn't quite click the way Kostenko had imagined.
"It was more stress than enjoyment. And at that point you kind of have to look at it and be like, is it worth it?"
She decided to leave Regina following her second year and also put hockey on the backburner, opting to take some personal time for herself to travel.
"One day I was at work and a girl was like, 'you've always wanted to travel. You just need to get away.' And I was like, you're right. So that day at work, I literally booked a flight on a whim to Dublin."
Kostenko spent the following 15 months travelling to places such as Australia, India and Nepal. It was one of the best decisions she'd ever made.
"I think it's so cliché to say that I found myself, but it's true. I honestly was so confused. I didn't know what I wanted to do. I was in such a slump after Regina that I literally didn't know what I was passionate about. I needed to find myself, literally, and that's what I did."
One moment that stood out for Kostenko was a visit to a school in Nepal, which helped her realize her passion of becoming a physical education teacher.
"I was like wow, this would be amazing once I get a teaching degree to be able to go get girls into sports and just help them. Sports helped me so much through a lot of stuff so to be able to give to give back to people is why I want to be a teacher. I want to be that influence that kids can look to to ask questions and be that ally to my students."
Kostenko returned home in December of 2016 with a new-found pep in her step. She applied to the U of M and also joined a women's league team with some friends, where she re-discovered her passion for hockey.
"I was like, my gosh I really missed this. I got back in with a good group of girls and realized this was the part of me that was missing still."
Not too long after, she reached out to Bison women's hockey head coach Jon Rempel to see if she could try out for the team in 2017. Rempel was very familiar with Kostenko and gave her a shot. It paid off.
"Turns out he was willing to take a chance on me. That also lit something inside of me. It was really nice to know that he believed in me that much to give me the opportunity. I respect Jon so much for that."
Kostenko became a valuable member during Manitoba's run to the national title last season, including netting the game-winning goal against Saskatchewan in game two of the Canada West finals.
"That was really exciting, because again, that's nothing I really expected to do," she says of the tally against the Huskies. "I pretty much just wanted to give my all every game and if I produce, I produce. So for me that was a highlight just being able to help the team out in whatever way I can."
Now in her final year of U SPORTS eligibility, Kostenko has personally noticed the change of maturity both in her game as well as her everyday interactions with her team compared to when she first started her university journey in Minnesota.
"I think I see myself more as trying to be that light in the dressing room," she says enthusiastically.
Before I was super serious, but now I don't mind being that funny character in the dressing room. I think maybe I was little bit more hesitant that first time, just because I cared more about people thought. But I can be more of myself this time around, and I think that helps with a lot of stuff in my game and my maturity in knowing when to let stuff go and knowing when to hold yourself accountable."