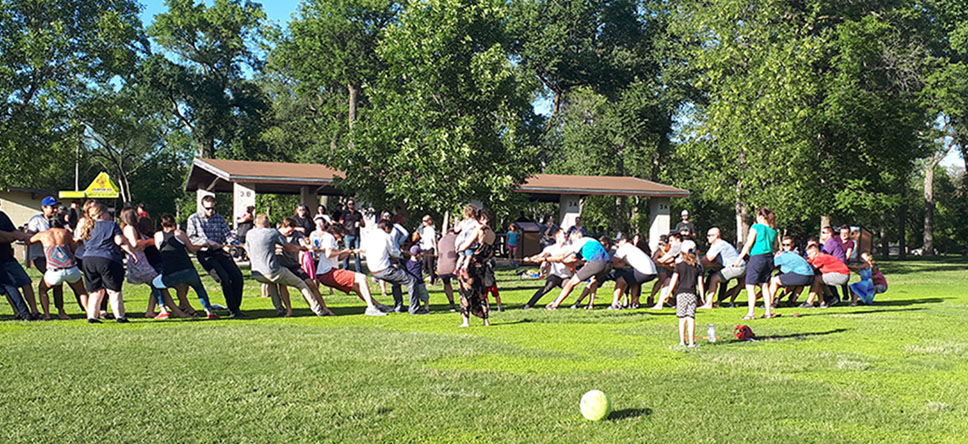 Welcome to the family:
Current Family Med residents share insights with R1s
June 13, 2019 —
At the end of June each year, new residents from across the province and beyond join the department of family medicine. It's a big family – one of the largest units in the Max Rady College of Medicine – but they like to stay close.
On June 27, 54 new residents will take part in orientation and begin their family medicine residency programs. Some of their peers offered a little extra advice and insights to help them get started on the right foot. Here's what they said.
What makes your residency stream special?
"The Northern Remote stream is so unique in that its vision and training directly respond to the Truth and Reconciliation Commission of Canada: Calls to Action. It is a huge privilege to work alongside Indigenous communities to address the inequities in access to and quality of health care in remote Manitoba."
– Dr. Sara Matyas – Northern Remote Stream, first year
"In the Urban Stream, there is a focus on hospital-based medicine and psychiatry. You learn and understand that there are underserviced populations in need of better medical care right within Winnipeg."
– Dr. Sherry L. Bilenki – Urban Stream, first year
What have you learned so far that you carry into your daily practice?
"I've seen countless occasions where patients are faced with extensive barriers to care. I witnessed transgender patients driving through snowstorms for identity-affirming care; I've worked with patients who have lost digits due to lack of access to routine diabetic maintenance; and I have seen people struggling with illicit substances treated like their well-being was secondary to others'. I try to incorporate the lessons from these patient experiences into my every day patient care, and directly challenge those barriers to health and well-being."
– Dr. Richard Morrow – Northern Remote Stream, first year
For you, what's most exciting about being in family medicine?
"Family medicine allows you several snap shots over time, not just one as is the case for most specialists. In first-year residency I had a patient make several visits over the course of a few months. Her initial complaint increased in severity and other symptoms began to surface over time until we reached a point where I could make the diagnosis.
"I was able to grow a relationship with this patient to the point that she trusted me. She was ok with the uncertainty in the initial months of work up because of that faith and trust she had in me. I gained that trust by listening and allowing her to voice her fears, concerns and expectations. And that is my favourite part of family medicine."
– Dr. Sherry L. Bilenki – Urban Stream, first year
What are some highlights?
"A patient's landlord said she couldn't keep a pet in her new apartment. She was devastated since she was dealing with many chronic and debilitating conditions and had no family members or close friends. The pet was her means of emotional support and comfort.
"She asked if we could write a letter to her landlord asking for an exception and luckily, the landlord was willing. The patient came back and thanked my team and I for the difference it made it in her life.
"It made me realize that at times as family physicians, we are the sole advocates for our patients. Even if it may seem like something insignificant or minor, it can have a huge impact on a patient's quality of life."
– Dr. Samy Beshay – Urban Stream, first year
What advice would you give a new resident in family medicine?
"Residency can be a daunting experience at times and the transition from being a medical student to a physician is at times overwhelming. However, you will always have support and caring staff who genuinely want to see you become the best family physician you can be. Never be afraid to ask for help."
– Dr. Samy Beshay – Urban Stream, first year
"Be brave and confident in your knowledge and skills but humble enough to know your own limitations. And know that that's more than enough."
– Dr. Sherry L. Bilenki – Urban Stream, first year